As Queen Elizabeth II delivers her 64th Christmas Speech at 1500hrs GMT, addressing the British nation and the 52 member states of the Commonwealth, Alex Thomson, the British skipper lying second in the Vendée Globe solo round the world race should be passing Cape Horn.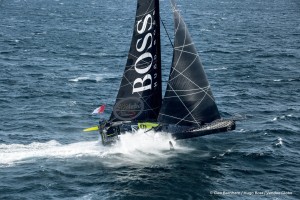 The terrorist threat, the election of Donald Trump as President Elect in the USA and Brexit are among the topics which concern Britons and the Queen may allude to in her annual Christmas address, but the Hugo Boss skipper Thomson has one item on his agenda: the release from the painfully complex Pacific and the stress of the lonely, hostile seascapes of southern oceans, and getting north into the Atlantic, heading for the finish line in pursuit of leader Armel Le Cléac'h. "I cannot wait to get to Cape Horn." "I am really looking forwards to getting there." "Cape Horn can't come soon enough." Thomson has been relishing the 'big left turn' for days. His daring stunts with his IMOCA 60 have rendered him an internet sensation, not to mention that over ten million people have already watched him doing his 'day job' filmed passing the Kerguelen Islands on December 1 but his Christmas Day passage of Cape Horn could not have been better timed. He should round about 50 or so hours after the leader Armel Le Cléac'h (Banque Populaire VIII). Le Cléac'h has been slowed since he rounded, now negotiating light, variable airs which are taking him east of the Falkland Islands. Thomson has gained more than 200 miles since Friday evening and this afternoon was making 21kts, fully foiling on his favoured starboard gybe, while the race leader was making 12kts.
The South Atlantic, northwards to Rio, is pock-marked by small transition zones which at the moment look like they will keep Banque Populaire to the east. Thomson is looking forwards to Rio from where he expects to be on his foiling tack, starboard. He noted today that he has managed to retract the stump of his snapped foil back into its housing. "I am going to have to wait until Rio to get on to starboard tack and then from Rio, most of the way home will be on starboard." Thomson said in his own Christmas message, "Now it is a straight run in to the Horn and I should be there on Christmas Day. I am really looking forwards to getting there. I had a problem yesterday all the wind readings, sailing on wind angle, for some reason all the wind readings, the wind speed and direction readings were all rubbish, so the pilot could not drive and so all night I had to be up tending to the boat sailing upwind in 35kts of wind, it was not the best of nights. But the wind does seem to be working now. It is a bit of a concern going forwards. If I can steer on compass that is great. But steering on wind angle is very important if I am upwind, or downwind sailing with a spinnaker, then wind angle is very important. The good news is that Mr Stump, the stump of a foil, I tried to pull into the boat yesterday and it came in and so there is nothing now sticking out and slowing me down. I have not had to cut it off. I have not had to risk anything, so I am very, very happy about that."
Festive Fever
The biggest and best Christmas present will be Thomson's Cape Horn. He will connect with his young family as he passes close to Cape Horn. But with no major weather situation affecting the fleet right now, festive cheer has been plentiful among the 19 skippers still actively racing. Eric Bellion and Alan Roura met up 350 miles south of Tasmania and sailed enough close enough to each other to sing a Christmas duet. More significantly they have pledged to join Irish skipper Enda O'Coineen who has no computers now, to negotiate a big depression which is expected Tuesday, to sail as a triumvirate.
Conrad Colman, the first New Zealand skipper to compete in the Vendée Globe, passes the longitude of New Zealand on their Christmas Day. Colman admitted he had mistakenly already eaten his Christmas dinner: "Being alone on the ocean has been reality for weeks now, but now it is nice to be here and enjoying a little Christmas cheer. It would be nice to at the beach enjoying a barbecue with my family as well. I have only 20kts of wind and that feels like a flat calm compared to what we have had. But Christmas Day I will just crack on. It is hard to celebrate on your own. I will trim the sails and wind some winches, get splashed in the face. It will be just like any other day. I think we miscounted and I have already had my Christmas dinner! So I have a small bottle of Champagne and will have that, but nothing too special. I am a little bit cold but I am very, very happy to be here in the Southern Ocean at this special time."
Sébastien Destremau anticipates a short pit-stop in Australia or Tasmania to double check his rig before he takes on the Pacific.
Paul Meilhat has officially retired
Four days after announcing damage to his SMA, Paul Meilhat officially informed the Race Directors at 1439 UTC this afternoon that he is retiring.
Paul contacted his team on 20th December to inform them of damage to his keel ram, when he was in third place in the rankings. He is now heading for French Polynesia and is expected to reach the islands on 28th or 29th December.
Quotes
Alan Roura (La Fabrique): "I'm going to have some simple celebrations; A tot of rum. Because it's good for your health and it's cold down here, so that will warm me up. I'm doing a simple mean tonight. In the end it will be a day like any other. I'm pleased to have the Indian behind me. I haven't yet opened my presents. We're going to stick with Eric (Bellion) to get through the low, as he doesn't have any weather info. We'll get back racing once the low is out of the way. We don't want to get the fifty knot winds that are forecast. I'm very proud of my Superbigou and want to look after her, which is why I don't want to expose myself to the worst of the weather."
Fabrice Amedeo (Newrest Matmut): "On Monday, we'll be getting some strong winds, up to fifty according to the weather charts. The further north you are the more you are away from that, but down in the South on the edge of the exclusion zone, you may sixty knots. So we need to decide where to place the cursor. The boat is already tired and I'm setting myself a maximum of 40-45 knots. It would be a pity to damage the boat now. I think we're all going to be reasonable. Alan is having a great race and should be proud. He's aboard a very old boat against more modern ones. I'll be in contact via Skype with my daughters tomorrow to find out what we have got for Christmas. Christmas is all about children so I'm missing them a lot. It's hard to get to grips with the fact that it's Christmas, when you're out here. Because we left in early November we missed all the shopping in the lead up to Christmas and the Christmas trees…"
Sébastien Destremau, (TechnoFirst-faceOcean): "After almost dismasting I almost capsized and broke my ribs. I hurt my ribs and I got sent flying inside the boat, but at least the boat is OK. We'll be heading towards the NE, as there are severe gales on the way tomorrow. I'm seriously thinking about carrying out a pit stop, stopping for 24 hours in a bay in Western Australia or Tasmania. I want to stop before entering the Pacific. I can't go to the top of the mast as the seas are too heavy. There's a lot of chafing. And it just takes one small thing and two minutes later, the mast is down. I don't have anything for Christmas. Every day is Christmas for me. Just being in the race for another day is enough for me."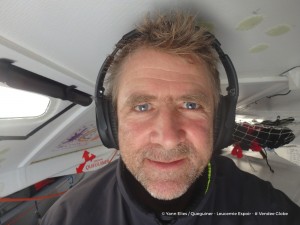 Yann Eliès, (Quéguiner-Leucémie Espoir): "It's tiring, because there's no wind and I have been in Figaro mode for 24 hours. I'm trying to make the most out of each puff to get away from this sticky patch. I went and got my presents out – they were all wet. I had a thirty minute video of the family and my wife's family and friends. That gave me a boost. I'm only twelve miles from the exclusion zone, so I have to keep playing around with the wind, current and swell. Jean-Pierre should get out some 300 miles ahead. He's already moving again. With Jean (Le Cam), we're going to get a low moving in on 26th or 27th. Jean may close the gap. The goal is to reach the Horn in a boat in good condition. The climb back up the Atlantic is the hardest part in terms of strategy. I can't wait to get back to more reasonable latitudes, but it won't be for another ten days."
Source: Vendee Globe
600
true
thumbnails
bottomright
300
true
800
none

600
true
dots
under
150
true
800
https://www.sualtigazetesi.com/wp-content/plugins/thethe-image-slider/style/skins/white-square-2
5000

fade

https://www.sualtigazetesi.com/deniz-kuvvetleri-kupasi-oncesi-murat-tan-atilla-gokova-yaris-ekibi-roportajlari/

5000

fade

https://www.sualtigazetesi.com/tayk-sunum-kuzey-kutup-dairesinden-guney-kutup-dairesine-gronland-ve-antarktika-prof-dr-talat-kiris/

5000

fade

https://www.sualtigazetesi.com/dadd-sunum-her-yonuyle-teknede-enerji-ve-enerji-sistemleri-zafer-turkmen/

5000

fade

https://www.sualtigazetesi.com/riza-epikmen-schuco-bayk-kis-trofesi-2-ayak-yarislari-oncesi-duygu-ve-dusunceleri/

5000

fade

https://www.sualtigazetesi.com/the-bodrum-cup-turkiyeyi-yelkencilik-dunyasinda-temsil-etti/

5000

fade

https://www.sualtigazetesi.com/banu-oney-ile-denizden-denize-marmarisden-seattlea-yelkenli-tekne-ile/

5000

fade

https://www.sualtigazetesi.com/rsx-kadinlar-sinifinda-2020-tokyo-olimpiyat-oyunlari%e2%80%99ndayiz/