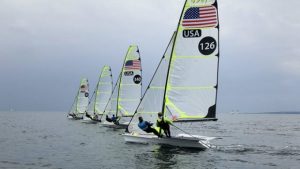 It's been a long time since the USA was a threat in the Men's Olympic 49er Skiff event, and after Judge Ryan narrowly missed out on representing the USA at the Rio 2016 Olympics, he has been part of a plan to change that. Here he explains:
The fast-paced 49er skiff made its debut at the Sydney 2000 Olympics, with American sailors finding instant success in this new-age class, medaling at three of the four World Championships during the 2000 quad. How'd they manage such a feat? Collaboration.
In the lead up to the Sydney Games, American 49er sailors formed a tight-knit group of about 10 boats who worked together to expedite the steep learning curve of the new 49er skiff. Recalled Charlie McKee, "The class was so new and fresh we were still trying to learn and develop as much as possible."
Charlie said how the group tirelessly trained with one another, sharing everything they had learned once back ashore. The goal was simple: medal at the Games.
The US trials for the Sydney Games was a two boat battle between American sailing greats Morgan Larson and Kevin Hall against Jonathan and Charlie McKee. When it came time for Olympic selection, the teams were dead even.
"Morgan and Kevin were slightly faster upwind while Jonathan and I had a small edge downwind," recalled Charlie. "Since the races finished downwind we narrowly won the trials."
Larson and Hall, who had won Bronze medals at the 1996, 1997, and 1999 Worlds, and were consistently one of the best 49er teams in the world, provided the McKees with the edge to win a Bronze medal in Sydney; the first and only medal for the USA in the class.
Charlie notes that Larson and Hall unselfishly helped them prepare for the Games, with Hall going so far as to fly to Sydney to help them with their final boat prep, while another top US team: Andy Mack and Adam Lowry, spent the final months as the their training partners. Collaboration……
Over the next 20 years, the US 49er class had its fair share of peaks and valleys.
The Athens 2004 Games saw Tim Wadlow and Pete Spaulding finish 5th, while Wadlow would sail the Beijing 2008 Games with Chris Rast to finish 6th. The two were in medal contention until their jib car blew out during the infamous Qingdao medal race.
At the London 2012 Olympics, Erik Stork sailed with the late Trevor Moore to finish 15th place. The Rio 2016 quad had five teams seek the bid, with Thomas Barrows and Joe Morris winning selection to finish 19th.
This was not progression to the podium, so the 2020 quad marked a change in thought and training style, with the American 49er sailors collaborating once again.
Coach Mark Asquith, a product of the highly accomplished GBR skiff program, has been the maestro of this orchestra. Brought on in early 2017, Asquith has worked tirelessly to bring together four young, talented 49er teams. His goal is simple: to get them working as one unit. One skiff squad working towards increasing the level of skiff sailing in the US.
Four teams, Ian Barrows/Mitchell Kiss, Nevin Snow/Dane Wilson, Harry Melges IV/Finn Rowe, and Judge Ryan/Hans Henken quickly bought in. Throughout the quad they organized training camps, logistics, housing, flights, road trips and everything in between as a group.
One team's strengths might be another team's weaknesses. The ability to have cohesive debriefs and training on the water has allowed the squad to progress quicker than if each team tried to go the road alone. But Asquith can only provide so much feedback and insight, and at a high level the teams begin to learn the most from one another.
"On any given day of training or racing, one of the teams can have a really good day or be going super quick and it's great to be able to come in and chat about it," said Barrows.
A lot of Olympic sailing is shrouded in secrecy, with International competitors sometimes unwilling to share their go-fast secrets. Also, having a support structure among your fellow countrymen really makes the Olympic journey more enjoyable and memorable.
"Being with your friends makes the months away from home easier," said Snow. "All of us get along well. Some days are easier than others, but we'll be friends forever."
This collaborative squad effort is also modeled from what other successful countries have done in the past three quads. Great Britain was the first team to implement this idea of establishing a high-level coach to work with three or four teams to progress forward as a group.
Recently, the most dominant squads in the 49er class have been the French, Kiwi, and German. Each squad boasts three, four, and sometimes even five teams who can make gold fleet and compete at the top. The French team of Frei/Delpech won a silver medal at the 2018 49er Worlds but just recently lost selection for Tokyo to fellow squad members Rual/Amoros. To say there is depth would be an understatement.
But while progress is occurring for the US team, it takes time and a shift in the methodology and culture to build a successful program, and it will take more than one quad to build a podium winning squad and a sustainable model.
The issue with past US skiff campaigners is that they gain four years of valuable experience, tech, data, etc., only to have no avenue or team to pass that information on to. A goal of Asquith's is to increase athlete retention. He explains, "We need to work towards extending the campaign life of US sailors. Winning a medal takes multiple quads."
It's a long road to winning an Olympic medal in the 49er class but Asquith's sailors already have their sights set on Paris 2024 and LA 2028. The focus will continue to be the same: keep the sailors working together and keep increasing everyone's game. With this new squad culture expect to see great things from current and future US 49er sailors.
Source: sailingscuttlebutt
600
true
thumbnails
bottomright
300
true
800
none

600
true
dots
under
150
true
800
https://www.sualtigazetesi.com/wp-content/plugins/thethe-image-slider/style/skins/white-square-2
5000

fade

https://www.sualtigazetesi.com/deniz-kuvvetleri-kupasi-oncesi-murat-tan-atilla-gokova-yaris-ekibi-roportajlari/

5000

fade

https://www.sualtigazetesi.com/tayk-sunum-kuzey-kutup-dairesinden-guney-kutup-dairesine-gronland-ve-antarktika-prof-dr-talat-kiris/

5000

fade

https://www.sualtigazetesi.com/dadd-sunum-her-yonuyle-teknede-enerji-ve-enerji-sistemleri-zafer-turkmen/

5000

fade

https://www.sualtigazetesi.com/riza-epikmen-schuco-bayk-kis-trofesi-2-ayak-yarislari-oncesi-duygu-ve-dusunceleri/

5000

fade

https://www.sualtigazetesi.com/the-bodrum-cup-turkiyeyi-yelkencilik-dunyasinda-temsil-etti/

5000

fade

https://www.sualtigazetesi.com/banu-oney-ile-denizden-denize-marmarisden-seattlea-yelkenli-tekne-ile/

5000

fade

https://www.sualtigazetesi.com/rsx-kadinlar-sinifinda-2020-tokyo-olimpiyat-oyunlari%e2%80%99ndayiz/