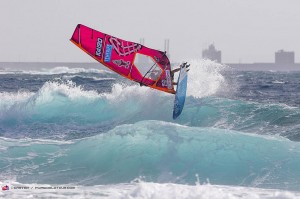 Day 4: Slow But Steady Progress Made in Men's Single Elimination With A Promising Forecast For Thursday to Come
Day 4 of the 2018 Tenerife PWA World Cup proved to be a little bit frustrating with a solid swell running in the morning, but very light winds, while in the afternoon the wind picked up, but the swell quickly dropped.
However, progress was still made in the Men's Single Elimination with all but one heat in the second round now completed. Meanwhile, the Women's fleet remained on hold for the day.
Men's
The opening two heats of the day – Heat 3 and 4 – saw by far the best conditions of the day with both wind and waves. Gollito Estredo (Fanatic / Duotone) looked incredibly dangerous in Heat 3 – landing a planing double forward to dispatch of Miguel Chapuis (JP / NeilPryde), while Kenneth Danielsen (Flikka / Simmer Sails) and Martin ten Hoeve (Simmer / Simmer Sails) enjoyed a close fought battle. However, in the end, it was ten Hoeve who came out on top after landing a frontside 360 off of a bowly section to earn 8.5 points. However, both Gollito and ten Hoeve were then eliminated in the second round.
The rest of the first round went pretty much according to plan with no real upsets taking place.
After a short break, the second round began and both Jaeger Stone (Starboard / Severne / SWOX / Shamal Sunglasses) and Moritz Mauch (Severne / Severne Sails) safely progressed from Heat 9 at the expense of Camille Juban (Quatro / Simmer Sails) and Jacopo Testa (RRD / RRD Sails / AL360). Both Stone and Mauch looked their usual stylish and explosive selves on the wave – both blowing out the fins on several occasions. They will now face each other in the last 16.
Heat 10 saw fireworks, but more after the heat had finished with Antoine Martin (NeilPryde) extremely disgruntled that he had been adjudged to have lost against Julian Salmonn (Bruch Boards / Gun Sails). However, to be fair to Salmonn he produced the more powerful wave riding, which was rewarded. On the b-side Marcilio Browne (Goya Windsurfing) faced Loick Lesauvage (Goya Windsurfing / Shama Sunglasses) and while the Brazilian may not have been at his absolute best today he still had too much firepower for 18-year-old.
Marc Paré (Simmer / Simmer Sails) was the man to end Gollito Estredo's hopes in Heat 11 with the 20-year-old really catching the eye with his wave riding – earning counting waves of 6.62 and 8.12 points. Paré will now face Thomas Traversa (Tabou / GA Sails), who came into Tenerife off of the back of his worst result in 8 years, but looked much more like his normal self today with several free-flowing, effortless looking waves.
Vice-world champion – Victor Fernandez (Fanatic / Duotone / Shamal Sunglasses) – was one of the standouts as he made the most of the conditions on offer in Heat 12. Landing a perfect double forward while also landing two frontside aerials on one wave to defeat Dario Ojeda (Flikka / Challenger Sails). The Spaniard will now face good friend and teammate Klaas Voget (Fanatic / Duotone) after the German defeated Omar Sanchez (Carbon Art / KA Sail).
Adam Lewis (Fanatic / Duotone) was one of the other standouts today in the small conditions as the Brit consistently delivered some of the most powerful hacks of the day to defeat 15-year-old Marino Gil (Goya Windsurfing). Lewis will now go up against Josep Pons (Simmer / Simmer Sails) for a place in the quarterfinals after Pons scraped through an unspectacular heat on the b-panel of Heat 13 – where he sneaked past Aleix Sanllehy (Tabou / GA Sails). Lewis won't underestimate Pons, as he is one of the best jumpers in the world, but Pons will know he will need to raise his game significantly in order to progress.
In Heat 14 Jules Denel (JP / NeilPryde) took down Dieter van der Eyken (Severne / Severne Sails) with a cleanly landed one-hand backloop and some excellent wave riding – with the pick of the bunch consisting of 4 aggressive frontside snaps. Meanwhile, local legend Alex Mussolini (RRD / RRD Sails) successfully progressed past a potentially tricky opponent – when facing U20 champion – Noah Vocker (Fanatic / Duotone / Maui Ultra Fins). Mussolini will be pleased to have made it through today and will no doubt be looking forward to tomorrow's conditions which are anticipated to be much better.
Due to some issues with the jet-ski, Heat 15 proved to be the final heat of the day and event organiser Dany Bruch (Bruch Boards / Flight Sails / AL360 / Shamal Sunglasses) successfully overcame Arthur Arutkin (Fanatic / Duotone), who had looked very impressive in the first round. Bruch will now face Ricardo Campello (Brunotti Boards / Point-7), who looked on song – landing a double forward and a sick frontside 360 off of a nice section to end the hopes of Morgan Noireaux (JP / S2Maui).
That means that the first heat up tomorrow morning will be Men's Heat 16, which will see a massive heat between teammates – Leon Jamaer (JP / NeilPryde) and Robby Swift (JP / NeilPryde / SWOX), while Ben Proffitt (Simmer / Simmer Sails) will face a tough task against Philip Köster (Starboard / Severne / Maui Ultra Fins)
On paper tomorrow should be the best day of the contest – conditions-wise – and with that in mind the skippers' meeting has been called for 08:30am with a first possible at 9am (GMT+1). Don't miss any of what should be an enthralling day of action by tuning into www.pwaworldtour.com.
To stay up to date with all the latest developments from Tenerife — including the live stream, elimination ladders, entry list, images and live ticker simply click HERE and scroll to the bottom of the page.
Result Girl's U13+15 – 2018 Tenerife PWA World Cup
1st Alexia Kiefer Quintana (Fanatic / Duotone)
2nd Maria Morales (Goya Windsurfing)
Result Girl's U17 – 2018 Tenerife PWA World Cup
1st Julia Pasquale (Fanatic / Duotone)
2nd Alexia Kiefer Quintana (Fanatic / Duotone)
3rd Mar de Arce (Loftsails)
Result Girl's U20 – 2018 Tenerife PWA World Cup
1st Julia Pasquale (Fanatic / Duotone)
2nd Tessa van der Meer
3rd Coraline Foveau
4th Nikki van der Meer
Result Boy's U13 – 2018 Tenerife PWA World Cup
1st Tobias Bjørnaa (Fanatic / Duotone)
2nd Carlos Kiefer Quintana (Fanatic / Duotone)
Result Boy's U17 – 2018 Tenerife PWA World Cup
1st Takuma Sugi (Tabou / GA Sails)
2nd Marino Gil (Goya Windsurfing)
3rd José Casanova (Fanatic / Duotone)
4th Adrian Artiles (Goya Windsurfing / Simmer Sails)
Result Boy's U20 – 2018 Tenerife PWA World Cup
1st Noah Vocker (Fanatic / Duotone / Maui Ultra Fins)
2nd Valentino Pasquale (Fanatic / Duotone)
3rd Baptiste Cloarec (Severne / Severne Sails)
4th Adam Warchol (Quatro / Goya Windsurfing)
Source: PWA
600
true
thumbnails
bottomright
300
true
800
none

600
true
dots
under
150
true
800
https://www.sualtigazetesi.com/wp-content/plugins/thethe-image-slider/style/skins/white-square-2
5000

fade

https://www.sualtigazetesi.com/dadd-sunum-her-yonuyle-teknede-enerji-ve-enerji-sistemleri-zafer-turkmen/

5000

fade

https://www.sualtigazetesi.com/riza-epikmen-schuco-bayk-kis-trofesi-2-ayak-yarislari-oncesi-duygu-ve-dusunceleri/

5000

fade

https://www.sualtigazetesi.com/the-bodrum-cup-turkiyeyi-yelkencilik-dunyasinda-temsil-etti/

5000

fade

https://www.sualtigazetesi.com/banu-oney-ile-denizden-denize-marmarisden-seattlea-yelkenli-tekne-ile/

5000

fade

https://www.sualtigazetesi.com/rsx-kadinlar-sinifinda-2020-tokyo-olimpiyat-oyunlari%e2%80%99ndayiz/