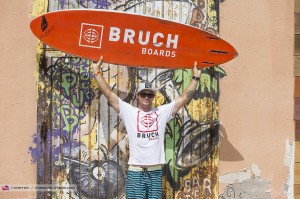 Day 1: Event Organiser Dany Bruch Talks Bruch Boards & The Week Ahead
After the sailors registered for the latest wave event – the Tenerife PWA World Cup – they were promptly released with a lack of swell and extremely light winds on offer. And with a much more promising forecast to come from tomorrow onwards the decision was made to call a lay day.
In the morning we caught up with event organiser – Dany Bruch (Bruch Boards / Flight Sails / AL360 / Shamal Sunglasses) – who has been organising the event here in Tenerife since 2011 and is embarking on a new adventure with his own line of boards:
Can you tell us a bit about Bruch Boards and what they are going to bring to the market?
"The idea is to have a semi-custom brand, so basically a semi-custom board means that the boards are built in a custom board factory, but there will be an established range. Right now I have two wave board ranges ready.
One is with a pintail outline, which is a bit more technical and offers incredibly high performance and then the second one has a square tail, which is much more of an allrounder – which offers excellent plug 'n' play performance, while still performing extremely well, but it's easier to just step and go as it is slightly less technical.
Literage-wise we'll be having something around 65l to 105l – (65, 75, 80, 85, 95 & 105l) for both ranges.
We will have two constructions available – one full carbon for high performance and the other slightly cheaper glass construction with carbon reinforcements. They will be made in Thailand, but not in the Cobra Factory. It's a much smaller factory than Cobra and for me it has additional benefits because things are more supervised, they have high quality checks which means the product should be 100% perfect.
They work with CNC machines, so everything is directly implemented from the 3D-shaping program. That's the idea, but then there's always the option to create something completely bespoke and special if someone wants it.
Obviously, the development is not finished yet… I have two ranges for now, but I'm also working on a special wave board, similar to the Black Box, but much better.
Also I have the idea to expand into free-ride and slalom. I already have free-ride ideas and have produced a prototype, but that still needs to be refined and decide which sizes. I'm currently thinking about 3 sizes to start with and they'll be easy going boards."
How did you come up with the name?
"Uhhhfffff… that was a lot of thinking…. But in the end, after a bit of thinking I thought why should I try and come up with a brand name and then try and build up the association with me, when it would be much easier and effective to just use my name."
And how about the logo?
"It's actually a tattoo that I have on my lower leg / ankle, which means family… so join the Bruch family.
The designer, as we are using my name, was looking for something that you could take a characteristic from, so after some thought we eventually decided upon this."
As the organiser of the Tenerife PWA World Cup – excited for the event again this year?
"Very excited. This year everything has been a bit more calm and relaxed as we had a bit more time to prepare everything. From our side we have a few more staff members, which obviously helps spread the workload."
What's your take on how the forecast is shaping up for the week ahead?
"It's looking pretty good now. I had a few sleepless nights last week when the forecast was looking really bad, but thankfully that's completely changed now and I think it's looking really good. From tomorrow the wind will start and then from Tuesday onwards I think we could already be on. Even if the wind is slightly lighter than usual, August is never flat, so there will almost definitely be waves around. But usually on this sort of forecast, the wind should accelerate quite a bit from the predicted figures too. Thursday-Saturday definitely looks on with a solid forecast."
Anything else you'd like to add about the Bruch boards?
"The Bruch Boards website is still under development and we are aiming to have the first boards finalised for December and then start production at the beginning of next year – meaning boards should be available to order around October. For now we'd like to get the name out there and raise the profile of the brand.
One of the things I would like to do is to promote Bruch Boards by holding test tours around Europe this winter and spring. Possibly waiting for a forecast and then going somewhere like England to test the boards with some shops and then to France, Germany & Holland etc. I'd rather try and let people demo the board and let the performance speak, rather than just talking the boards up."
Thanks, Dany. Good luck for the event and the future with Bruch Boards.
The sailors will meet again tomorrow morning for a mandatory skippers' meeting at 10am with the action commencing from 11:30am (GMT+1) onwards.
To stay up to date with all the latest developments from Tenerife — including the live stream, elimination ladders, entry list, images and live ticker simply click HERE and scroll to the bottom of the page.
Source: PWA
600
true
thumbnails
bottomright
300
true
800
none

600
true
dots
under
150
true
800
https://www.sualtigazetesi.com/wp-content/plugins/thethe-image-slider/style/skins/white-square-2
5000

fade

https://www.sualtigazetesi.com/dadd-sunum-her-yonuyle-teknede-enerji-ve-enerji-sistemleri-zafer-turkmen/

5000

fade

https://www.sualtigazetesi.com/riza-epikmen-schuco-bayk-kis-trofesi-2-ayak-yarislari-oncesi-duygu-ve-dusunceleri/

5000

fade

https://www.sualtigazetesi.com/the-bodrum-cup-turkiyeyi-yelkencilik-dunyasinda-temsil-etti/

5000

fade

https://www.sualtigazetesi.com/banu-oney-ile-denizden-denize-marmarisden-seattlea-yelkenli-tekne-ile/

5000

fade

https://www.sualtigazetesi.com/rsx-kadinlar-sinifinda-2020-tokyo-olimpiyat-oyunlari%e2%80%99ndayiz/