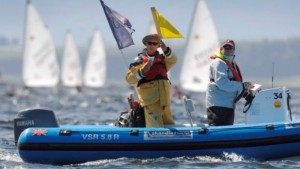 Noel M. Field, Jr. is currently a US SAILING judge emeritus, and as he recognizes the shortage of judges, he has some suggestions for persons organizing regattas. Initially published in 2016, here is his updated memo:
1. The first and perhaps most important suggestion is to ask for and sign up judges for summer regattas no later than the preceding month of May. I find that during the summer I have received requests to be a judge at times when I have already agreed to serve at another regatta.
2. Most regattas have persons who are members, running the races, serving as race officers, or on mark boats, and taking care of most administrative matters. However, most of the judges are GUESTS of the host yacht clubs. How often the organizers forget that fact!
However, perhaps the second most important suggestion I can make is for the hosts to remember that the JUDGES ARE GUESTS and should be treated as such. This suggestions also applies if the host organization is importing race officers from other clubs who should also be treated a guests.
A year or so ago I served as chief judge at a regatta with over 250 boats. One person I knew well was imported to serve as a PRO for one of the several fleets. While the club was providing me with all meals and appropriate parking, the club had failed to provide this person with meals including evening meals and breakfasts.
3. Since the judges are guests, they should be provided with the following:
• Food, including either the meals or a stipend to pay for meals and possibly drink tickets.
• Convenient parking, when the competitors may well take up most of the readily available parking spots near the club house.
• Housing, if the event runs over several days, it is appropriate for the host club to have the guests provided with housing preferably with members.
• Perhaps reimbursement for travel expenses.
• Some form of gift. This could be a cap, a T-shirt, or some other item. Often a club is selling T-shirts at the event. When the event is over, if there are still T-shirts unsold, it doesn't cost the club very much to give away unsold T-shirts to the guests.
4. To keep judges happy, it is very helpful if the organizer provides a bright jury secretary and an assistant for the jury secretary who can be a runner to take items to be posted on the notice board and to the scorers and to help find competitors who are involved in the protests about to be heard or who may be called as witnesses. Also, if the host club doesn't have all the appropriate forms, it is helpful to let the judges know so that they can be prepared to bring the appropriate forms to the event.
5. While judges traditionally have not been paid for their services and do not expect to be paid, I will add that I have a good friend who serves as a referee for lacrosse and field hockey games. As she often receives over $100 for an afternoon's work as a ref, she gives me a kidding about why I am willing to serve without any pay at all.
Hopefully, if judges are well treated by regatta organizers, our numbers will increase without the need for regatta organizers to add to their expenses by paying a fee for judges.
Source: sailingscuttlebutt
600
true
thumbnails
bottomright
300
true
800
none

600
true
dots
under
150
true
800
https://www.sualtigazetesi.com/wp-content/plugins/thethe-image-slider/style/skins/white-square-2
5000

fade

https://www.sualtigazetesi.com/dadd-sunum-her-yonuyle-teknede-enerji-ve-enerji-sistemleri-zafer-turkmen/

5000

fade

https://www.sualtigazetesi.com/riza-epikmen-schuco-bayk-kis-trofesi-2-ayak-yarislari-oncesi-duygu-ve-dusunceleri/

5000

fade

https://www.sualtigazetesi.com/the-bodrum-cup-turkiyeyi-yelkencilik-dunyasinda-temsil-etti/

5000

fade

https://www.sualtigazetesi.com/banu-oney-ile-denizden-denize-marmarisden-seattlea-yelkenli-tekne-ile/

5000

fade

https://www.sualtigazetesi.com/rsx-kadinlar-sinifinda-2020-tokyo-olimpiyat-oyunlari%e2%80%99ndayiz/