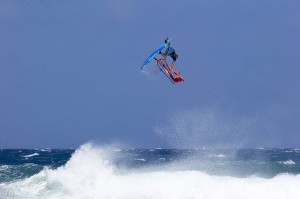 Jaeger Stone Talks Contests, Conditions, Setup and That Pushloop Forward
Jaeger Stone (Starboard / Severne / SWOX / Shamal Sunglasses) is back in contention for a place on the overall podium after backing up a solid 6th place in Pozo Izquierdo with his first podium finish since 2016 in Tenerife, which saw the Australian fight back through the double elimination to claim 2nd place having finished 4th in the single. After a bright start to the season, and plenty of talking points, we caught up with Jaeger for an interview:
Hey Jaeger, so, after the Canaries you find yourself tied in joint 4th with Brawzhi and in with a shot of regaining a place on the overall podium… what was your goal coming into this season?
My goal coming in to this season was to just try and enjoy windsurfing, learn and progress as much as I could. It's definitely nice to be in the position I'm in but I haven't really thought too much about rankings at this stage.
Last year it seemed like you didn't really do too much wrong, but you were on the wrong side of quite a few very close calls… it must have been nice to get back onto the podium in Tenerife? Did you change your approach at all or just carried on as you were and put it down to competition?
Yeah, I was really happy to win a couple of heats in Tenerife and get a podium finish. As everyone knows the level of windsurfing has really gone up a few notches in terms of the tricks everybody is doing but also the consistency. I think there are always going to be close heats that either go your way or don't. As long as I've sailed the way I want to sail then there's not much else I can do and I just have to accept those that I lose, take what I can from them and move on. I felt like I was sailing well last year but if I'm honest at times I didn't really enjoy myself or windsurfing as much as I normally do. I definitely enjoyed moments and know I'm so lucky I get to do what I do but I think I was just too windsurf focused, forgot to have fun and burnt myself out a little.
I really enjoy having other interests in my life and having a bit of variety, whether it's Physiotherapy, surfing, diving, trying to learn Spanish or just exploring a different place with friends. This year I've tried to prioritise a little bit of everything and have been trying to teach myself to not feel guilty if I don't feel like going windsurfing for a day. I guess I've tried to approach it how I feel like I always have (other than last year), which is to try and learn as much as I can from myself and those around me, not overly care about certain things, have fun and sail as if I have nothing to lose.
In Pozo you earned the highest jump score of the contest with that pushloop forward against Philip – what was going through your head during and after that?
Haha yeah, that was pretty cool to get that score. I never thought I'd get a 10 (or 11) point jump before potentially one day getting a 10 in waveriding but it gives me a little bit of confidence and motivation. Personally I don't think that push-forward was great technically, it was just kind of crazy because it was so windy and I went high, got pushed backwards and drifted really far downwind. Before the move all I was thinking was that I was having a terrible heat and I wanted to do a push-forward so I better commit, and during the move there's only that split second of realisation/commitment. Afterwards I didn't think much of it, it felt big and I was happy to land it because it kind of reset my heat and I had a good 2-3min to end my heat with. I think the best video of it was the one on the LiveStream because it's zoomed out and puts it into perspective more, but if you're practicing at home I wouldn't recommend basing your attempts off that one. After that push-forward I realised I was making some little mistakes and got to work on them after the event, which to me felt much smoother and like the best I've ever done. Rather than the score I think I was happiest that the top guys I look up to thought it was pretty nuts and that I had started committing myself more consistently to those harder jumps.
In Tenerife, online some people were questioning whether the heats should continue, for example you versus Philip, but you both agreed you should compete, right? What's your thoughts about competing when conditions aren't necessarily amazing?
Yeah, Duncan [Coombs] has a hard job as Head Judge. There are always going to be tough decisions that not everyone will agree with. Right before Philip and I were about to start our heat Duncan gave us the option of postponing or continuing. The forecast for the following day was a 50/50, Philip was clear that he wanted to continue sailing and that he thought it was good enough and I was happy either way, neither of us had anything to lose by sailing. I tried to step back from getting too caught up in the decisions on whether we sailed or not. It was a tough event conditions wise because it was so variable but I think that makes it interesting. As long as it's not glassy and there is equal opportunity for waves everyone on Tour is always prepared, has the equipment and skills to sail in almost anything. We're generally spoilt for wind and waves in the Canaries but if those lighter/smaller conditions were in Sylt we would run in a heartbeat. Plus at the moment we only have 3 confirmed events on Tour, conditions are never guaranteed so I think as long as the sailors are happy we should be trying to make the most out of every chance we get, try to promote and support the sport, events and organisers as much as possible.
Fans always like to know what the pros are riding, so what was your setup in the Canaries? And did you change board / fin / sail setup between Pozo and Tenerife?
Pozo was absolutely nuclear so my priority there was to try and feel in control as much as possible. Over the entire week I only used my 3.0, 3.3 and 3.6 Severne Sails S-1 Pro and 72L Starboard Ultrakode. I was just trying to survive and this setup allowed me to feel comfortable which I think is one of the most important things in those conditions.
As I said above Tenerife was really variable so you had to be ready to adapt and have a few options on standby. I sailed my earlier heats on my 4.4 or 4.8 and my 76L Ultrakode as a thruster which is my moderate wind set-up. During the double elimination I sailed every heat on the new 79L Starboard A.I.R. which is a Starboard and Stone Surf Designs shape that we've been working on since about 2012. It fits in to the short, parallel outline waveboard category inspired by surfboards/kiteboards to encourage faster and easier turns in mediocre conditions. I sailed this as a quad because I was looking for something that felt lively and quick in the conditions we were competing in. When the waves are small and full like Tenerife was I feel like the quad, just has a touch more zip to it and I can generate more speed on the wave. Using that board with the new 4.8 and 5.2 S-1 Pro that basically weigh nothing, I felt like I could plane in just about anything and move around pretty easily which gave me more opportunities to catch waves.
You've got a bit of a gap before Sylt, what are you up to between then and now?
I'm at home now in W.A. for 5 weeks or so before heading back to Europe. I'm going to surf, dive/fish and hang with my family and friends. Hopefully I'll sneak up to Gnaraloo for some early season seabreezes with the SV gang. It's still a bit cold and green here for the seabreezes to start blowing consistently but there will be a few opportunities so will make the most of those. I'll also be doing 2 weeks of Physiotherapy work to keep my brain ticking along ha ha.
Thanks Jaeger, hope you score some wind and waves in WA – see you in Sylt!
Source: PWA
600
true
thumbnails
bottomright
300
true
800
none

600
true
dots
under
150
true
800
https://www.sualtigazetesi.com/wp-content/plugins/thethe-image-slider/style/skins/white-square-2
5000

fade

https://www.sualtigazetesi.com/tayk-sunum-kuzey-kutup-dairesinden-guney-kutup-dairesine-gronland-ve-antarktika-prof-dr-talat-kiris/

5000

fade

https://www.sualtigazetesi.com/dadd-sunum-her-yonuyle-teknede-enerji-ve-enerji-sistemleri-zafer-turkmen/

5000

fade

https://www.sualtigazetesi.com/riza-epikmen-schuco-bayk-kis-trofesi-2-ayak-yarislari-oncesi-duygu-ve-dusunceleri/

5000

fade

https://www.sualtigazetesi.com/the-bodrum-cup-turkiyeyi-yelkencilik-dunyasinda-temsil-etti/

5000

fade

https://www.sualtigazetesi.com/banu-oney-ile-denizden-denize-marmarisden-seattlea-yelkenli-tekne-ile/

5000

fade

https://www.sualtigazetesi.com/rsx-kadinlar-sinifinda-2020-tokyo-olimpiyat-oyunlari%e2%80%99ndayiz/