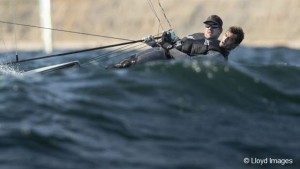 Weymouth, England (May 13, 2019) – The opener for the 49er and 49erFX Europeans delivered conditions that some competitors described as Tokyo-Lite. In other words, the sunny skies and 16-knot easterly winds on a challenging but manageable swell were a softer version of what competitors might expect if Enoshima delivers some of the big Pacific surf conditions that could arrive for next year's Olympic Games.
49erFX: Junior World Champions show skiff ladies the way
Vilma Bobeck and Malin Tengstrom became contenders as the young Swedes, who won the Junior World Championship in 2018, today showed how in heavy weather, they are contenders with the world's best.
"We suspected we could perform like this, as we'd had some good training sessions, but taking two wins and then sailing through the fleet to recover to a third is beyond our expectations," commented the plucky helm Bobeck.
The duo started well in the first two races, and couldn't be reeled in, taking wire-to-wire victories in both races. In the final race of the day, they started poorly but moved up throughout the race passing on every leg.
Bobeck, the helm, is a towering figure, almost the tallest sailor in the fleet. Together with the average sized Tengstrom, the duo were the only 49erFX female team to compete with the top two male teams at the 2018 Junior Worlds, which was a very windy regatta in Marseille, France.
This season they have finished between 8th and 21st through Miami, Vilamoura, Palma, and Genoa, but almost all of the racing this season has been in light winds. Today, they got their time to shine.
Among the ten teams chasing them are the Olympic Champions, three other World Champions and two further European Champions. Holding their leading position won't be easy, but today was a great way for a young team to make a mark.
49er Men: Kiwis leading the charge around a square course
Logan Dunning Beck and Oscar Gunn from New Zealand started with a 4th followed by a trio of bullets in their third of the qualifying fleet, which totals 96 international entries from nations as diverse as Oman and India.
After a discard, the Kiwis top the leaderboard with 3 points, one point ahead of their fellow Kiwis and training partners, Pete Burling and Blair Tuke, returning to the same waters where they won an Olympic silver medal at London 2012 seven years ago.
Dunning Beck said the key to success was pretty straightforward – get a good start, do minimum tacks upwind, one gybe downwind. Sailing a square course, with one tack and one gybe, sounds easy enough except that everyone's fighting for to do the same, simple thing. Which makes it not so simple. Maybe it's the strong training program back in the New Zealand summer that's paying dividends now for the Kiwis.
Still, it's early days in the regatta, and on equal points with Burling and Tuke are Spain's Diego Botin and Iago Lopez.
It was a pretty impressive day for the Phillips brothers from Australia, particularly in the first three races with scores of 1,2,1 before a less memorable 15th in the last race of the afternoon. "Nice to be back in Weymouth," said Sam, crewing for brother Will. "You don't miss many days sailing in Weymouth, it's nearly always good here."
The Phillips missed most of the 2018 season after Sam broke his foot in a bone-crunching nose-dive at 35 knots in the now-defunct SuperFoiler circuit which lit up Australia just over a year ago. The Princess Sofia Trophy in Palma a few weeks ago was their first competitive 49er outing together in a year, so to find themselves near the front of this world-class fleet after the first day is a welcome return to form for the brothers.
Just behind the Phillips brothers are the Rio 2016 bronze medalists from Germany, Erik Heil and Thomas Ploessel. Just a week ago the 2017 European Champions, Dylan Fletcher and Stu Bithell, were racing at 47 knots across San Francisco Bay in a SailGP F50 catamaran, but the Brits are pleased to be back on home waters with a "boring" opening day, according to Fletcher, which puts them in sixth overall. "Nothing special, just solid, which is fine for day one," he said.
The 2019 Volvo Europeans for the Olympic 49er and 49erFX Classes will be on May 13 to 19 in Weymouth, England.
North American Results:
Top ten or top position
49er (4 races): 19th Nevin Snow/ Dane Wilson (USA)
49erFX (3 races): 12th Alexandra ten Hove/ Mariah Millen (CAN)
Competing from North America:
49er:
Canada: William Jones/ Evan DePaul
USA: Andrew Mollerus/ Ian MacDiarmid, Judge Ryan/ Hans Henken, Ian Barrows/ Mitchell Kiss, Nevin Snow/ Dane Wilson, Harry Melges/ Finn Rowe
49erFX:
Canada: Alexandra ten Hove/ Mariah Millen
USA: Stephanie Roble/ Maggie Shea, Paris Henken/ Anna Tobias
Competition Schedule
Monday 13 May – Qualifying Races
Tuesday 14 May – Qualifying Races
Wednesday 15 May – Qualifying Races
Thursday 16 May – Qualifying or Fleet Races
Friday 17 May – Fleet Races
Saturday 18 May – Fleet Races
Sunday 19 May – Fleet Races, Medal Races
Source: Port Tack Racing / sailingscuttlebutt
600
true
thumbnails
bottomright
300
true
800
none

600
true
dots
under
150
true
800
https://www.sualtigazetesi.com/wp-content/plugins/thethe-image-slider/style/skins/white-square-2
5000

fade

https://www.sualtigazetesi.com/dadd-sunum-her-yonuyle-teknede-enerji-ve-enerji-sistemleri-zafer-turkmen/

5000

fade

https://www.sualtigazetesi.com/riza-epikmen-schuco-bayk-kis-trofesi-2-ayak-yarislari-oncesi-duygu-ve-dusunceleri/

5000

fade

https://www.sualtigazetesi.com/the-bodrum-cup-turkiyeyi-yelkencilik-dunyasinda-temsil-etti/

5000

fade

https://www.sualtigazetesi.com/banu-oney-ile-denizden-denize-marmarisden-seattlea-yelkenli-tekne-ile/

5000

fade

https://www.sualtigazetesi.com/rsx-kadinlar-sinifinda-2020-tokyo-olimpiyat-oyunlari%e2%80%99ndayiz/