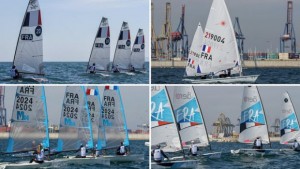 From March 11-15, 2019, the D-Zero, Laser, Melges 14 and RS Aero were put through their paces at Sea Trials for the Men's and Women's One Person Dinghy Equipment for the Paris 2024 Olympic Sailing Competition.
World Sailing launched a tender process in May 2018 which invited Class Associations and Manufacturers to tender for the Men's and Women's One Person Dinghy.
Eight tenders were received and a Board of Directors appointed Working Party recommended that the Laser be included as a full option in the Sea Trials alongside the D-Zero, Melges 14 and RS Aero .
Real Club Nautico Valencia (ESP) hosted representatives of each manufacturer and class as well as an evaluation panel and 11 international sailors with Olympic and World Championship experience.
Throughout the week sailors were able to test and sail each boat. On water rotations allowed the sailors to continuously sail throughout each day and they were guided by class representatives who helped the sailors achieve the maximum potential of the boats.
Over the five day trial, sea states and wind conditions varied allowing the boats to be tested in light winds and up to 18 knots. Sailors sailed the boats separately and against the other boats on trial. On the final day, the evaluation panel, with the permission of the International Laser Class Association focused on testing the D-Zero, Melges 14 and RS Aero.
Every sailor sailed the boats in mixed conditions to evaluate each one on its own merits.
Each boat was evaluated against the criteria in the Invitation to Tender and the evaluation panel looked into multiple areas to address suitability for the event.
The evaluation panel also received presentations from manufacturers and the class on the following:
• Production methods and quality control to achieve standardization of the equipment world-wide.
• Cost and their capacity or plans to supply equipment world-wide.
• Suitability to serve as pathway classes and as youth equipment.
Furthermore, International Measurers were on hand to check the supplied equipment and evaluate the quality and standardization of the equipment among the fleet.
What's Next?
The evaluation panel at the Sea Trials brought together a wide range of knowledge including members from the re-evaluation working party, World Sailing committees, Board of Director, Coaches Commission, Medical Commission, and World Sailing technical team.
They will now write a report and make a recommendation on what equipment should be adopted for the Men's and Women's One Person Dinghy at the Paris 2024 Olympic Games.
This recommendation will be presented to the Equipment Committee at the 2019 Mid-Year Meeting in May. The Equipment Committee will review the recommendation and then make their own to World Sailing's Council, the final decision making body of World Sailing, who will make a decision on the equipment that will be adopted.
Source: World Sailing / sailingscuttlebutt
600
true
thumbnails
bottomright
300
true
800
none

600
true
dots
under
150
true
800
https://www.sualtigazetesi.com/wp-content/plugins/thethe-image-slider/style/skins/white-square-2
5000

fade

https://www.sualtigazetesi.com/deniz-kuvvetleri-kupasi-oncesi-murat-tan-atilla-gokova-yaris-ekibi-roportajlari/

5000

fade

https://www.sualtigazetesi.com/tayk-sunum-kuzey-kutup-dairesinden-guney-kutup-dairesine-gronland-ve-antarktika-prof-dr-talat-kiris/

5000

fade

https://www.sualtigazetesi.com/dadd-sunum-her-yonuyle-teknede-enerji-ve-enerji-sistemleri-zafer-turkmen/

5000

fade

https://www.sualtigazetesi.com/riza-epikmen-schuco-bayk-kis-trofesi-2-ayak-yarislari-oncesi-duygu-ve-dusunceleri/

5000

fade

https://www.sualtigazetesi.com/the-bodrum-cup-turkiyeyi-yelkencilik-dunyasinda-temsil-etti/

5000

fade

https://www.sualtigazetesi.com/banu-oney-ile-denizden-denize-marmarisden-seattlea-yelkenli-tekne-ile/

5000

fade

https://www.sualtigazetesi.com/rsx-kadinlar-sinifinda-2020-tokyo-olimpiyat-oyunlari%e2%80%99ndayiz/