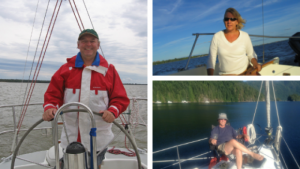 Sail Canada presented the 2018 Volunteer of the Year Award to David Everett, Julian Hatherell, and Carole Presseault.
David Everett, Julian Hatherell and Carole Presseault have dedicated years of service to Sail Canada. 2018 marked their retirement from the Sail Canada Audit Committee after more than a decade in this fundamental role.
There are so many volunteers who contribute countless hours, performing a variety of roles, who are essential to the success of Sail Canada. Some of these roles are more high profile than others, that of an audit committee, more of a behind the scenes role, is a very important function of ensuring good governance of any organization.
In addition to their most recent roles as Audit Committee members, David, Julian and Carole have all volunteered on a number of fronts.
David, in addition to countless volunteer roles outside of sailing, has served on the Board of the Royal Vancouver Yacht Club, is a past president of BC Sailing as well as a past president of Sail Canada, marking over three decades of volunteer contributions to sailing.
Julian has served sailing for many years. Starting his sailing volunteer career as a protest committee chair at the Royal St. Lawrence Yacht club, he also spent a number of years on the Sail Canada Board and more recently enjoying a rotation of positions on the Board of Gimli Yacht Club most recently being their wooden Optimist repairman.
Carole's volunteer career includes serving as a member of the Board of Directors of the Institute of Governance, the Forum for Young Canadians and as director and chair of the Government Relations Institute. Carole is a proud member of Nepean Sailing club and appreciates the trust the Sail Canada Board of directors has placed on her and her fellow committee members.
The Volunteer of the Year Award was established in 1991. This award recognises volunteers for their outstanding contributions to sailing activities at Sail Canada member clubs, Sailing Schools and Regattas. The contribution can be related to activities by the candidate(s) over a period of years or to a specific event or program during a particular year.
The candidate(s) must:
a) Have shown leadership qualities with respect to the event or activity.
b) Be a Canadian citizen or permanent resident of Canada.
c) The award cannot be awarded to a current director or employee of Sail Canada.
Source: Sail Canada / sailingscuttlebutt
600
true
thumbnails
bottomright
300
true
800
none

600
true
dots
under
150
true
800
https://www.sualtigazetesi.com/wp-content/plugins/thethe-image-slider/style/skins/white-square-2
5000

fade

https://www.sualtigazetesi.com/deniz-kuvvetleri-kupasi-oncesi-murat-tan-atilla-gokova-yaris-ekibi-roportajlari/

5000

fade

https://www.sualtigazetesi.com/tayk-sunum-kuzey-kutup-dairesinden-guney-kutup-dairesine-gronland-ve-antarktika-prof-dr-talat-kiris/

5000

fade

https://www.sualtigazetesi.com/dadd-sunum-her-yonuyle-teknede-enerji-ve-enerji-sistemleri-zafer-turkmen/

5000

fade

https://www.sualtigazetesi.com/riza-epikmen-schuco-bayk-kis-trofesi-2-ayak-yarislari-oncesi-duygu-ve-dusunceleri/

5000

fade

https://www.sualtigazetesi.com/the-bodrum-cup-turkiyeyi-yelkencilik-dunyasinda-temsil-etti/

5000

fade

https://www.sualtigazetesi.com/banu-oney-ile-denizden-denize-marmarisden-seattlea-yelkenli-tekne-ile/

5000

fade

https://www.sualtigazetesi.com/rsx-kadinlar-sinifinda-2020-tokyo-olimpiyat-oyunlari%e2%80%99ndayiz/