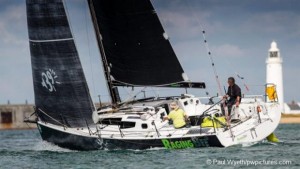 Perhaps it is because people are becoming increasingly time poor, or because it neatly side-steps the problem of keeping a large crew together, but one area of offshore racing undeniably gaining popularity is doublehanding.
This unique discipline of the sport has been recognized by World Sailing with the announcement that a 'Mixed Two Person Keelboat Offshore' event will be introduced to the Olympics for Paris 2024.
The biennial 605 nm Rolex Fastnet Race, among the elite and storied offshore tests in the sport, is witnessing the growth too. There were 45 entries in 2013, 53 in 2015, and 57 in in the last race. Currently, 63 doublehanded competitors are entered for the start on August 3.
The range of boats in IRC Two Handed spans from Mark Stevens' Hinckley 51 Kiva down to Will Sayer's Sigma 33 Elmarleen. In between there are Sun Fast 3200s and 3600s, JPK 10.10s and 10.80s, J/122s, J/109s, and J/105s, and A-35s along with others such as Sigmas, Swans, Figaro IIs, and Figaro 3s.
So, what is the attraction of racing doublehanded? Deb Fish has been racing offshore for around 20 years and shorthanded for 12 and with Rob Craigie for the last seven aboard their trusty Sun Fast 3600 Bellino.
"It is more of a challenge," she explains. "I'd done the Fastnet and the ARC a couple of times fully crewed plus the delivery back a couple of times. Racing doublehanded is good, because you are always busy. You have to do everything."
Rob Craigie agrees: "You are very much more involved with the boat. With a whole crew – you are usually sitting on the rail, which is a bit dull and I didn't like that."
Like any partnership, vital to doublehanding is there being the 'right' dynamic between the two sailors, whether this is down to having a similar approach, commitment, degree of seriousness etc. As Fish points out: "You don't want to be dragging someone along. So, it is like 'If you need me, wake me up. If you tack, I'll change sides…'"
Given the relatively fresh news about Olympic sailing's latest discipline, a British crew has been fast to start their campaign. Hannah Diamond and Henry Bomby start their campaign for Paris 2024's Mixed Two Person Keelboat Offshore event in this year's Rolex Fastnet Race aboard a Sun Fast 3300 Fastrak XII, lent to them by UK Jeanneau importer Sea Ventures.
Then there is the Rolex Fastnet Race's IMOCA 60 fleet, which currently stands at 24 boats, including many of the world's top shorthanded offshore sailors. They are all racing the Rolex Fastnet doublehanded as training for this autumn's Transat Jacques Vabre.
Background: The biennial 605 nm Rolex Fastnet Race is organized by the Royal Ocean Racing Club (RORC) with just 7 boats sailing the first race in 1925. A record-sized fleet of 362 boats started the 2017 race, 12 more than 2015. The 2019 race, which has 462 entrants, will be the 48th edition when it starts on August 3.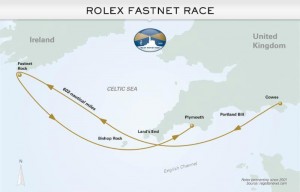 Source: RORC / sailingscuttlebutt
600
true
thumbnails
bottomright
300
true
800
none

600
true
dots
under
150
true
800
https://www.sualtigazetesi.com/wp-content/plugins/thethe-image-slider/style/skins/white-square-2