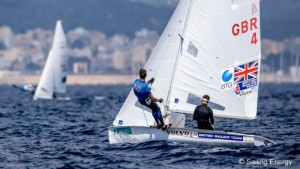 Majorca, Spain (April 3, 2019) – As the split from qualifying to finals racing arrived today for the 10 Olympic classes at the Trofeo Princesa Sofia Iberostar, so the strongest breeze of the regatta so far arrived as if on cue. The step up to gold fleet racing can be a blessing or a curse.
It is the time for the top ranked sailors to move up to their A game. And for those who have posted a series of promising qualifying results, or maybe have done well in Miami where the fleet strength and depth is not the same, if they are looking to convert training advances to real results, strong finishes in the first few gold fleet races today were vital.
Such was the case today in the Men's 470 class. Miami world cup winners Jordi Xammar and Nico Rodriguez, Spain's fleet leaders when they went afloat in the morning, plummeted to a 20th and 25th place finish. European champions Anton Dahlberg and Frederik Bergstrom of Swden move to the top of the standings with their fifth and eighth.
But with the breeze up to 12kts at times, 2012 silver medallist Luke Patience and Chris Grube had their best day for some months as the low scoring duo in the class today, their pair of fourth places promoting them to third.
Patience and Grube enjoy the brisker winds, as the Scots helm Patience is not really a fan of the increasing levels of kinetics which seem required in the class in light airs.
"They used to say that experience pays off in this class, but the 470 is so physical these days," notes Patience. "And we are old men now, spending half the evening in physio, but I do think it (the kinetics) is a bad thing for the class.
"It looks stupid. The 470 is a traditional boat and we should be doing traditional sailing. Believe me I am not complaining, not moaning. The reality is that it adds a greater element of fitness and it is nice to have an excuse to go to the gym."
Looking where the fleet is at now, 15 months from the Olympics Patience maintains everyone in the class seem to peak in different ways. "This is my third Olympic cycle, you see trends where boats produce a very good start to the four year cycle and they fall away and then you see others building up into it."
Australia's 2016 silver medallists Mat Belcher and Will Ryan moved up the 470 standings with a pair of solid sevenths and are now 11th their scoreline, still affected by their DSQ from Race 1.
The top of the 49er fleet is tight after three more qualifying races were completed. GBR's 2017 World Champions Dylan Fletcher and Stuart Bithell are just one point clear of the Argentina's Yago and Klaus Lange, winners here last year.
"At the important moments we chose the right positions on the race course," Klaus Lange recalled. "We had a really good winter of training with the Austrian squad in Argentina. We have made progress and for us we have to work perfectly as team we are really strong.
"Also, in the winter we became active working against plastics and did two massive beach clean ups in Argentina with a lot of sailors involved. Klaus and I opened our eyes and realized that if we don't do anything then the young kids wont be able to keep sailing in the future."
Their Austrian training partners Benjamin Bildstein and David Hussl won two from three races today and are third overall while reigning world champions Sime and Mihovil Fantela of Croatia moved up to fifth with a 12pts aggregate.
British skiff sailors top the FX fleet too, counterparts Charlotte Dobson and Saskia Tidey had a dream 2,1,1 from their first three finals races to to hold Rio gold medallists Martine Grael and Kahena Kunze four points astern in second.
"We had good starts and as soon as we could get clear then we were really fast," explained Dobson. "Once you get clear in gold fleet it is good. We would like just a little bit more wind to really be able to stretch but we have good confidence after the winter and have momentum after Miami. We have been using the new TruSail programme which has helped a lot. This year is about (Olympic) selection to start with, but we figure you go out to win regattas and it looks after itself."
In the Laser, Norway's Hermann Tomasgaard still leads the men, rallying to a ninth after 23rd place wobble in the first Finals race.Adding to the strong showing for the British team overall today, Lorenzo Chiavarini won the second contest and lies second.
Defending Palma champion Anne Marie Rindom is firmly in the winning groove in the Radials, on course to defend her 2018 win with a 17pts margin over second. USA's past world champion Paige Railey won the first race but was forced out of the second race by two yellow flag penalties.
"She is OK but will not need to be super careful over the next five races," USA coach Steve Mitchell confirmed.
The Kiwis Andy Maloney and Josh Junior cemented their duopoly in the Finn class, holding the top two places after a light winds pair of races.
"It's pretty cool to be back in Europe, and its probably the first time we have lined up against a lot of these guys since the worlds in Aarhus," notes Junior in second. "It's a chance for us to measure up and see how we are going. We're really enjoying it and it's good to be racing at the front. We've certainly won a few races, so far so good.
"I think we are both going quicker than we were before, and that's keeping us in the game, and just staying in phase with the shift and staying in the right part of the pressure on the shifts is really key. You just have to get out in front and try to stay there.
"We've been working a lot on trying to get faster in the light air breeze, the sort of range we've had, so and we've put a lot of effort into that. I think we've made some progress and would certainly like some more, but we're certainly getting there. It's just about time on the water really – putting the hours and the effort in to it."
Racing for the ten Olympic events is from April 1 to 6.
North American Results (Canada, Mexico, and USA):
Top ten or top position
• 470 Men (6 races): 41st Stuart McNay/ David Hughes (USA).
• 470 Women (6 races): 21st Nikole Barnes/ Lara Dallman-Weiss (USA).
• 49er Men (6 races): 12th Andrew Mollerus/ Ian MacDiarmid (USA)
• 49erFX Women (9 races): 9th Paris Henken/ Anna Tobias (USA).
• Finn (6 races): 29th Caleb Paine (USA).
• Laser Men (6 races): 3rd Chris Barnard (USA), 8th Charlie Buckingham (USA).
• Laser Radial Women (6 races): 3rd Erika Reineke (USA), Paige Railey (USA).
• Nacra 17 Mixed (6 races): 11th Riley Gibbs/ Anna Weis (USA).
• RS:X Men: (6 races): 10th Pedro Pascual (USA).
• RS:X Women: (6 races): 10th Farah Hall (USA).
North American Entries (Canada, Mexico, and USA):
• 470 Men: Stuart McNay/ David Hughes (USA).
• 470 Women: Kathleen Tocke/ Charlie Bess, Nikole Barnes/ Lara Dallman-Weiss, Carmen Cowles/ Emma Cowles, Atlantic Brugman/ Nora Brugman (USA).
• 49er Men: William Jones/ Evan Depaul (CAN); Nevin Snow/ Dane Wilson, Harry Melges/ Finn Rowe, Judge Ryan/ Hans Henken, Andrew Mollerus/ Ian MacDiarmid, Ian Barrows/ Joseph Kiss (USA).
• 49erFX Women: Alexandra Ten Hove/ Mariah Millen (CAN); Stephanie Roble/ Margaret Shea, Kate Shaner/ Charlotte Mack, Paris Henken/ Anna Tobias (USA).
• Finn: Tom Ramshaw, Kyle Martin (CAN); Eric Anderson, Caleb Paine, Jack Jennings, Luke Muller (USA).
• Laser Men: Forrest Wachholz, Robert Davis, Justin Norton, Norman Struthers, Luke Ruitenberg, Hugh Macrae (CAN); Juan Ignacio Perez Soltero, Yanic Gentry (MEX); Marek Zaleski, Malcolm Lamphere, Charlie Buckingham, Chris Barnard, Paul Didham (USA).
• Laser Radial Women: Clara Gravely, Coralie Vittecoq, Maura Dewey, Sarah Douglas (CAN); Christina Sakellaris, Erika Reineke, Paige Railey, Hanne Weaver, Lillian Myers (USA).
• Nacra 17 Mixed: Allie Surrette/ Max Flinn (CAN); Riley Gibbs/ Anna Weis, Bora Gulari/ Louisa Chafee, Ravi Parent/ Caroline Atwood, Sarah Newberry/ David Liebenberg (USA).
• RS:X Men: Ignacio Berenguer (MEX); Pedro Pascual (USA).
• RS:X Women: Mariana Aguilar, Cristina Ortiz Vivas (MEX); Farah Hall, Carolina Mendelblatt (USA).
Source: Trofeo SAR Princesa Sofía / sailingscuttlebutt
600
true
thumbnails
bottomright
300
true
800
none

600
true
dots
under
150
true
800
https://www.sualtigazetesi.com/wp-content/plugins/thethe-image-slider/style/skins/white-square-2
5000

fade

https://www.sualtigazetesi.com/tayk-sunum-kuzey-kutup-dairesinden-guney-kutup-dairesine-gronland-ve-antarktika-prof-dr-talat-kiris/

5000

fade

https://www.sualtigazetesi.com/dadd-sunum-her-yonuyle-teknede-enerji-ve-enerji-sistemleri-zafer-turkmen/

5000

fade

https://www.sualtigazetesi.com/riza-epikmen-schuco-bayk-kis-trofesi-2-ayak-yarislari-oncesi-duygu-ve-dusunceleri/

5000

fade

https://www.sualtigazetesi.com/the-bodrum-cup-turkiyeyi-yelkencilik-dunyasinda-temsil-etti/

5000

fade

https://www.sualtigazetesi.com/banu-oney-ile-denizden-denize-marmarisden-seattlea-yelkenli-tekne-ile/

5000

fade

https://www.sualtigazetesi.com/rsx-kadinlar-sinifinda-2020-tokyo-olimpiyat-oyunlari%e2%80%99ndayiz/