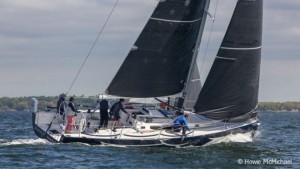 The Edlu Race, first sailed in 1956, is one the must-do events on western Long Island Sound. Starting off the Larchmont Yacht Club breakwater, its 32-mile round trip course to the north shore of Long Island gets the season started, and the 2019 edition on May 11 embraced the rise in shorthanded sailing
Beyond the two divisions of doublehanded teams were two divisions of Plus One, a concept where the crew size is limited to one more person than the 10s digit of hull length. For example, boats in the 30 to 39 foot range had four people, offering a compromise to get boats on the water without the need for a full crew.
Driving the Plus One concept is UK Sailmaker's Adam Loory who has worked with Larchmont Yacht Club, the Storm Trysail Club, and Stamford Yacht Club to include Plus One divisions in their regattas.
In this year's Edlu, Mother Nature tested the crews thoroughly as New York's Long Island Sound winds were as fickle as ever. A good 10-15 knot North-Northwesterly breeze steadily died and was replaced by a southerly which then got replaced by the northerly. Both patience and sail handling were tested.
Thus far, Plus One feedback has been positive.
"It was as much fun as I expected, which is to say tons!" noted Todd Aven, skipper of the J/92 Thin Man. "Until this year, I've always raced the Edlu doublehanded. Doubling our crew size to four made it much easier for us to adapt to the constantly changing conditions without getting exhausted or taking a long time for evolutions."
Josh Reisberg, owner of the J/120 Abilyn, found the Plus One format kept the crew engaged throughout the race. "In large part, everybody on a racing sailboat wants to contribute in a meaningful way and be part of the problem-solving process," said Reisberg. "At the fully-crewed level, problem-solving is quite siloed, with some just not being involved beyond pulling lines and serving as ballast.
"But in Plus One, nobody served as rail meat. Nobody was siloed. Everybody had distinct and numerous jobs. And that's why, I think, everybody got off the boat with a grin from ear to ear—because everybody felt that they meaningfully contributed, and perhaps learned a bit more about their own personal capacity for resourcefulness."
Upcoming Plus One races on Long Island Sound are the 180-mile Block Island Race, the 20-mile New York Athletic Club's Henry Abbott Distance Race, Block Island Race Week, Round Gardners Island Race, and the Stamford Denmark Race.
In a world where it's tougher and tougher to pull together a crew on a regular basis, and where many people aren't comfortable with the doublehanded option, the Plus One format offers a format for fewer crew, more to do on the boat, and more possibly more fun too.
Source: sailingscuttlebutt
600
true
thumbnails
bottomright
300
true
800
none

600
true
dots
under
150
true
800
https://www.sualtigazetesi.com/wp-content/plugins/thethe-image-slider/style/skins/white-square-2
5000

fade

https://www.sualtigazetesi.com/dadd-sunum-her-yonuyle-teknede-enerji-ve-enerji-sistemleri-zafer-turkmen/

5000

fade

https://www.sualtigazetesi.com/riza-epikmen-schuco-bayk-kis-trofesi-2-ayak-yarislari-oncesi-duygu-ve-dusunceleri/

5000

fade

https://www.sualtigazetesi.com/the-bodrum-cup-turkiyeyi-yelkencilik-dunyasinda-temsil-etti/

5000

fade

https://www.sualtigazetesi.com/banu-oney-ile-denizden-denize-marmarisden-seattlea-yelkenli-tekne-ile/

5000

fade

https://www.sualtigazetesi.com/rsx-kadinlar-sinifinda-2020-tokyo-olimpiyat-oyunlari%e2%80%99ndayiz/