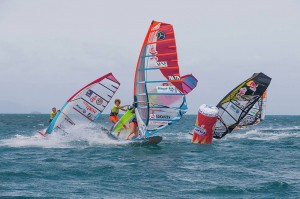 Delphine Cousin Questel Raring to go For Start of Season as 26-Year-Old Sets Sights on World Title No.3
Delphine Cousin Questel (Starboard / S2Maui) is a two-time world champion in slalom having won titles in 2013 and '14. For the last few seasons Cousin Questel has been consistently involved in the title race – finishing twice as the vice-world champion (2015 and '17), while completing the podium in 2016. Cousin Questel signed off 2017 with a clinical victory in New Caledonia, which saw her win 5 out of the 8 races completed, and she'll now be looking to carry that form in the opening events of the new season in Japan (10th-15th May) and South Korea (19th-24th May). And with Sarah-Quita Offringa (Starboard / NeilPryde / Maui Ultra Fins) out of the running for this year's title, Cousin Questel with start the season as the favourite as the only previous competitor to have won a world crown. We recently caught up for an interview with Delphine which you can read below:
Hey Delphine, how's it going and how has your winter been?
I am fine !

My winter has been really good with 2 months in St Barth for the beginning of my training. It was perfect with a lot of wind and so a lot of time on the water! This winter I decided to push my physical preparation and I feel good ! I spent 2 weeks in Lanzarote also to work on the start procedure.
The start of the 2018 season is just a couple of weeks away – starting in Japan and Korea – how are you feeling ahead of the new campaign?
I feel me great. We already had a French national event than I won so it's always good to begin the year in this way ! The season should be short this year with our 3 events in 2 months so I have to be ready for the 1st event in Japan!
It's now official that Sarah-Quita [Offringa] will be taking a timeout and therefore not competing during the Asian leg of the tour… which improves your chances of winning a third world title… do you see that as a positive or would you prefer to have had the chance to beat her this year? I mean last year your had your chance in Denmark to win the event in dramatic fashion and then you dominated in New Caledonia, so surely it would've been nice to have another battle…
Of course I would have preferred than Sarah-Quita compete this year! I am little bit upset but it's her choice, so we have to respect it. There is a lot of others girls on the tour and I am absolutely convinced there will be a great battle between us.
Having said that the standard on the women's world tour has been increasing every year, so it still looks as though they'll be an exciting year ahead – particularly with Lena Erdil and Marion Mortefon… would you say that those two are probably your biggest threats for the coming season?
Marion and Lena will be my opponents, but they are not the only ones! A lot of women are able to win a race and if we have events with not a lot of races everything and anything can happen! I hope we have really good events with a lot of races, good wind and nice battles. We shouldn't have a discard this year so you can't make any mistakes when looking to win the World title.
Last year you suffered some bad luck in Korea – will you be doing anything differently or just treating it as one of those things?
Unfortunately sometimes luck is not with you and you can't fight with that. I am really positive for this year and I will do all my best to take another world title!
And finally when will you be heading to Asia?
I should arrive in Japan only 2 days before the event. I hope to have some wind before the event to test the spot and be ready…
Thanks Delphine. See you in Japan.
Source: PWA
600
true
thumbnails
bottomright
300
true
800
none

600
true
dots
under
150
true
800
https://www.sualtigazetesi.com/wp-content/plugins/thethe-image-slider/style/skins/white-square-2
5000

fade

https://www.sualtigazetesi.com/dadd-sunum-her-yonuyle-teknede-enerji-ve-enerji-sistemleri-zafer-turkmen/

5000

fade

https://www.sualtigazetesi.com/riza-epikmen-schuco-bayk-kis-trofesi-2-ayak-yarislari-oncesi-duygu-ve-dusunceleri/

5000

fade

https://www.sualtigazetesi.com/the-bodrum-cup-turkiyeyi-yelkencilik-dunyasinda-temsil-etti/

5000

fade

https://www.sualtigazetesi.com/banu-oney-ile-denizden-denize-marmarisden-seattlea-yelkenli-tekne-ile/

5000

fade

https://www.sualtigazetesi.com/rsx-kadinlar-sinifinda-2020-tokyo-olimpiyat-oyunlari%e2%80%99ndayiz/