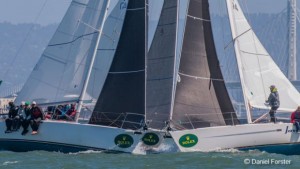 Registration is open for the 55th annual Rolex Big Boat Series to be raced on San Francisco Bay from September 12-15, 2019. The fall classic is known for breeze-on sailing, iconic venue, and the chance to win a Swiss-made Rolex Oyster Perpetual Submariner Chronometer.
"Last year we saw 28 J/105s on their own starting line, and the J/88 class made their Rolex Big Boat Series debut," says Susan Ruhne, Regatta Chair. "Plus, there was great Grand Prix action in the Pac52 class and super-close handicap racing in the three ORR classes. The Express 37 class, which has long been one of the backbones of this regatta, saw just a single point separating the first- and second-place finishers."
Racing takes place on two sections of the Bay—the Treasure Island starting area and the Alcatraz starting area—and the Race Committee splits each class' time between these two starting lines in order to test each teams' speed and boat-handling skills in all tides, currents and wave patterns.
Any class with six entries by August 1, 2019, will receive their own One Design start. One Design classes that fail to reach this critical mass will be welcome to race in the regatta's ORR classes, alongside mono-hulls greater than 35' LOA with a current fully or partially measured ORR certificate.
J/70s are invited with a minimum of 15 boats registered by August 1, 2019.
"We're excited to bring back the J/70s as a One Design class," says Ruhne. "In 2016 they were there largest One Design fleet to compete, qualifying for the Commodore's Cup Perpetual Trophy. Since then, the West Coast J/70 fleet has been building in anticipation of their 2020 Worlds held in Southern California."
The top Corinthian and top professionally-crewed J/70 teams at the 2019 Rolex Big Boat Series will both win berths to the 2020 J/70 Worlds.
While handicap racing is a longstanding pursuit, it takes time for new rules to become well understood by the sailing community and the Offshore Rating Rule, or ORR, is no different. In an effort to help Rolex Big Boat Series competitors better understand this handicap system, StFYC is hosting handicap guru Jim Teeters at the clubhouse on February 20, 7-9pm, for a presentation and to answer questions.
"We're the only club in Northern California that's really using ORR, and there are a lot of misunderstandings about the rule," says Ruhne. "We're trying to be as open and helpful to our competitors as we can be."
The session is free and open to any sailors interested in attending.
Provided that Mother Nature cooperates, StFYC will conduct a total of seven races, with two races per day for the first three days of racing, followed by Sunday's longer Bay Tour course, featuring a grand-finale finishing line just off of StFYC's clubhouse.
Details: https://rolexbigboatseries.com/
Source: Amanda Witherell / sailingscuttlebutt
600
true
thumbnails
bottomright
300
true
800
none

600
true
dots
under
150
true
800
https://www.sualtigazetesi.com/wp-content/plugins/thethe-image-slider/style/skins/white-square-2
5000

fade

https://www.sualtigazetesi.com/tayk-sunum-kuzey-kutup-dairesinden-guney-kutup-dairesine-gronland-ve-antarktika-prof-dr-talat-kiris/

5000

fade

https://www.sualtigazetesi.com/dadd-sunum-her-yonuyle-teknede-enerji-ve-enerji-sistemleri-zafer-turkmen/

5000

fade

https://www.sualtigazetesi.com/riza-epikmen-schuco-bayk-kis-trofesi-2-ayak-yarislari-oncesi-duygu-ve-dusunceleri/

5000

fade

https://www.sualtigazetesi.com/the-bodrum-cup-turkiyeyi-yelkencilik-dunyasinda-temsil-etti/

5000

fade

https://www.sualtigazetesi.com/banu-oney-ile-denizden-denize-marmarisden-seattlea-yelkenli-tekne-ile/

5000

fade

https://www.sualtigazetesi.com/rsx-kadinlar-sinifinda-2020-tokyo-olimpiyat-oyunlari%e2%80%99ndayiz/