One million pieces of trash – well 1,000,114 to be exact. It's hard to imagine!
That's roughly the weight of 16 and a half jet fighters, or 10 humpback whales or 205 family cars.
Yet that is exactly what scuba divers all around the world have done. They've dived into the places they love the most and removed and reported the trash they've found as part of Project AWARE®'s unique citizen science survey Dive Against Debris®.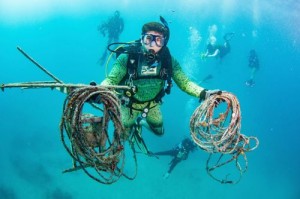 This huge is milestone in the fight against marine debris and shines a light on the global marine litter crisis.
As part of our work to create positive change for the ocean through community action, Project AWARE launched Dive Against Debris® in 2011. It has seen nearly 50 thousand divers from 114 countries take part in an effort both to clean up the ocean and build evidence to convince decision-makers and influence policy change.
This milestone comes at a time of unprecedented focus on the issue of plastic pollution and its impact on the health of the ocean. Scientists estimate some 20 million tonnes of plastic waste could enter the ocean every year. In 2017 the United Nations and national governments stepped up efforts to eliminate plastic waste. The European Commission for example recently adopted the first-ever Europe-wide strategy on plastics, part of the transition towards a more circular economy to keep plastics and their value in the economy, avoid waste and reduce marine litter.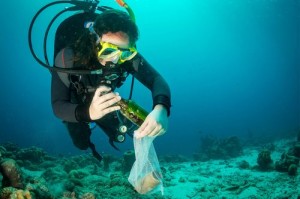 But we know there's a lot more we need to do and that there is a lot of trash that goes unreported. If you're a diver then grab your fins and dive on in. It's time to join the Dive Against Debris team! Report your Dive Against Debris data. Help us remove and report another one million items of trash by the end of 2020. We know we can do it!
Key Statistics on Dive Against Debris®:
One million pieces of rubbish removed and reported since 2011
● 49,188 – Scuba divers
● 5,351 – Surveys
● 114 – Countries around the world
● 5,597 – Entangled or dead animals
● 64% – Plastic waste
● 307,064 kgs / 676,959lbs – Total weight
Kaynak: sport diver
600
true
thumbnails
bottomright
300
true
800
none

600
true
dots
under
150
true
800
https://www.sualtigazetesi.com/wp-content/plugins/thethe-image-slider/style/skins/white-square-2
5000

fade

https://www.sualtigazetesi.com/dadd-sunum-her-yonuyle-teknede-enerji-ve-enerji-sistemleri-zafer-turkmen/

5000

fade

https://www.sualtigazetesi.com/riza-epikmen-schuco-bayk-kis-trofesi-2-ayak-yarislari-oncesi-duygu-ve-dusunceleri/

5000

fade

https://www.sualtigazetesi.com/the-bodrum-cup-turkiyeyi-yelkencilik-dunyasinda-temsil-etti/

5000

fade

https://www.sualtigazetesi.com/banu-oney-ile-denizden-denize-marmarisden-seattlea-yelkenli-tekne-ile/

5000

fade

https://www.sualtigazetesi.com/rsx-kadinlar-sinifinda-2020-tokyo-olimpiyat-oyunlari%e2%80%99ndayiz/