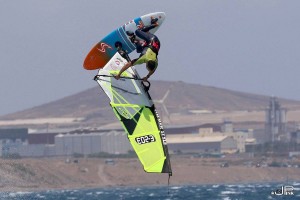 Josep Pons Talks Double Rotations and his Love for Coaching
Last week we had Josep Pons (Simmer / Simmer Sails) outline the most fundamental mistakes he sees recreational sailors makes, while also looking at the prerequisites for the forward. This week we have Pons on hand again to talk a bit about double rotations (double forwards and pushloop forwards), while also sharing his enjoyment of coaching.
Josep Pons on double forwards and pushloop forwards: "For the combined moves such as double forwards and pushloop forwards it is necessary to have 100% control of the simple moves. If you have a perfect forward loop and a perfect pushloop, you will be ready to try them.
When I have a double forward session I explain the same technique as I use for a simple forward or a planing forward, the only difference is you need some more wind and speed. If you can do perfectly controlled planing forwards you are ready to try the double forward. The key of a double forward is how you pull the first forward, the first loop determines how you will turn the second one. So, if you want to go for a double forward, make sure you have a fully controlled and perfect forward loop.
On the pushloop forward, apart from being able to perform a perfect pushloop and lateral forwards, we must be able to stop a simple pushloop. If you can't, you are not ready for the move. As soon as you have it controlled we will need strong wind and steep wave."
As well as competing you also coach some of the top sailors in the world… who have you taught and what do you enjoy about coaching?
"During the last 3 years I had many of the top professional windsurfers training with me. Some I work with physical training and others just in the water with technical sessions. Some of them are Marcilio Browne, Robby Swift, Jaeger Stone, Marc Pare, John Skye, Moritz Mauch, Julian Salmonn, Flo Jung, Graham Ezzy, Caterina Stenta….I really love to work with them because it makes you to analyse every single movement to understand the mistakes and to know how to correct them. Sometimes it is difficult, also because in the end they are your opponents during the heats, but when you see them improving and getting better results it make me really happy."
Thanks Pons.
If you are interested in being coached by Josep Pons you can contact him via the following links:
Website: www.ponstraining.com
email: ponstraining@gmail.com
Facebook: www.facebook.com/ponstraining or www.facebook.com/josepe203
Photo Credit: Jose Pina
{Edited by Umut Dincer}
600
true
thumbnails
bottomright
300
true
800
none

600
true
dots
under
150
true
800
https://www.sualtigazetesi.com/wp-content/plugins/thethe-image-slider/style/skins/white-square-2
5000

fade

https://www.sualtigazetesi.com/dadd-sunum-her-yonuyle-teknede-enerji-ve-enerji-sistemleri-zafer-turkmen/

5000

fade

https://www.sualtigazetesi.com/riza-epikmen-schuco-bayk-kis-trofesi-2-ayak-yarislari-oncesi-duygu-ve-dusunceleri/

5000

fade

https://www.sualtigazetesi.com/the-bodrum-cup-turkiyeyi-yelkencilik-dunyasinda-temsil-etti/

5000

fade

https://www.sualtigazetesi.com/banu-oney-ile-denizden-denize-marmarisden-seattlea-yelkenli-tekne-ile/

5000

fade

https://www.sualtigazetesi.com/rsx-kadinlar-sinifinda-2020-tokyo-olimpiyat-oyunlari%e2%80%99ndayiz/