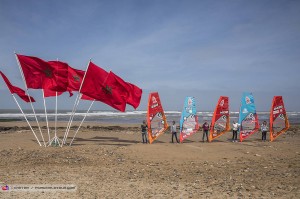 Day 1: Majestic Morocco Welcomes World's Best Female Wave Sailors to Moulay Bouzerktoun
The doors opened for the first time on the 2018 PWA World Tour as majestic Morocco welcomed 16 of the best female wave sailors in the world, from 8 different countries, to the shores of Moulay Bouzerktoun for the first ever PWA World Cup event in Morocco – marking a momentous occasion for everyone involved.
After registration and rigging their sails the women were promptly released shortly after the skippers' meeting at 12:30pm with the wind coming from the southwest rather than the predominant northeasterly direction.
With plenty of downtime we caught up with last year's World No.4 – Lina Erpenstein (Severne/ Severne Sails) – for an interview, which you can read below:
Last year you enjoyed your best year so far finishing 4th overall – how was 2017 overall for you and did it surpass your expectations?
"I was super happy with the result and the whole year in total. I mean Gran Canaria was a dream come true for me as I earned my first podium. And then heading into Tenerife I had higher expectations after the first stop. I felt like I was sailing alright, but I didn't finish how I wanted, but then I was happy with my result in Sylt and how I sailed there. Overall it was just a really great year for me."
What do you think happened in Tenerife that you weren't so happy about?
"I think I just made some wrong decisions during the heats and I think I learned a lot from that because sailing in a heat involves a lot of tactics and I made some mistakes in those aspects, so I'm actually happy about everything…"
So do you think your experience has made you better equipped for this season after last year's experience?
"I think you are better equipped everyday, so yeah I think so."
Is this your first time in Morocco and what are your initial impressions?
"Actually I have a nice story about Morocco because I've been here already with my family. We visited a few of the cities and one day we passed through the Sidi Kaouki and that has special memories for me as that's the first beach where I first got planing, so this is the place on this earth where I decided I wanted to windsurf and since then I haven't been able to stop doing it.
But I'd never been to Moulay itself before now and so far I've really enjoyed it here, it's a nice place."
And it's pretty cool to have a girls only event to open the calendar?
"Yes I think so… I mean in the beginning it was meant to be a men's and women's event, so at the start I was maybe doubting it a bit, but now as we are here with all the girls and having been on the water together sharing some sessions it's really cool. Also it's nice to have the focus on women's windsurfing and I think it could be a good chance for us to show how well we are sailing and that it's worth watching us as well."
Obviously this is a starboard tack event and last year all the events were port tack – how are you feeling about that and how have you been preparing?
"In the first place I'm really happy that we have a starboard tack event as I think it makes the whole tour and all the results more interesting and fairer. For me personally, I'm not such a starboard tack favourite as it's definitely not my better side. But I've been practising quite a lot over the last two weeks in Tarifa – that was pretty much a crash course in starboard tack, training everyday with a few of the local Tarifa boys who rip. In the end I've found it really fun improving my sailing on the other side and in the end it's just a translation to the other side, so you can analyse your own sailing and put it right. Overall I've been enjoying it."
Over the winter you moved to Severne boards – how are you finding the new gear and what would you say your favourite setup is?
"I really, really, really like the Nano. It's a super playful board and I think it suits the conditions we have at home because I move to Northern Germany – Kiel – so I sail a lot in the Baltic Sea where we have smaller and mushy waves. The board also has several tuning options, so I think you can really make it work in the waves that we have at home.
Favourite setup at the moment would probably have to say 78l Nano and 4.5m Blade."
The last few winters you've been going to Western Australia but this year you weren't able to make it – what was it like staying in Europe for winter for the first time in a while?
"It was a bit hard to be honest… I was back in Northern Germany, scrolling through Instagram feeds and Facebook pages and just seeing beautiful pictures from the places you've been the year before. But even watching photos from South Africa was hard – especially when I had to wake up in the morning and go to uni riding my bike through sunny Kiel. In the end it was also really nice, but just different. We still had a really good winter and managed to get a lot of time on the water – a bit colder, but just as fun."
Over the summer will you have time to train for the Canaries or will you be studying at uni?
"I finish my year of studies in July and then I have until October to train again before going back to uni. In that time I plan to go to the Canaries and maybe some other trips. But for now I'm just excited for the event [in Morocco]."
Thanks Lina. Good luck for the rest of the week and season.
The current forecast looks as though tomorrow will be another quiet day, but then Tuesday afternoon offers the potential to begin the contest, before a massive swell is expected to arrive on Wednesday – 4.6m @ 18 seconds- accompanied by strong northeasterly trade winds, which could produce extremely testing and hardcore conditions. The skippers' meeting has been called for 10am tomorrow with a first possible start of 10:30am (GMT+1).
To stay up to date with all the latest developments from Morocco — including elimination ladders, entry list, images and live ticker simply click HERE and scroll to the bottom of the page.
Source: PWA
600
true
thumbnails
bottomright
300
true
800
none

600
true
dots
under
150
true
800
https://www.sualtigazetesi.com/wp-content/plugins/thethe-image-slider/style/skins/white-square-2