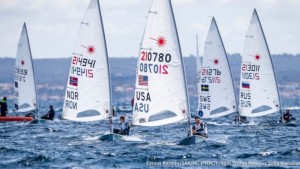 Majorca, Spain (April 5, 2019) – When the medal races start tomorrow for the 10 Olympic classes racing at the Trofeo Princesa Sofia Iberostar there will be no pressure on Britain's 49er pair Dylan Fletcher and Stuart Bithell as the 2017 world champions have clinched the class title at the showcase Olympic classes regatta with a day to spare.
Fletcher and 470 Olympic silver medalist Bithell finish the Finals series for the record sized 108 boat men's skiff fleet with a margin of 24 points on their Spanish friends and training partners Diego Botin and Iago Lopez. Ten-year veterans of the 470 class, Dahlberg and Bergstrom, current European champions, go into the ten boat medal race with a cushion of 25 points.
For the British and the Swedish duos, who were both runners up in their respective classes at January's Miami World Cup event, such solid back-to-back results represent a strong statement to their national selectors with regard to the key Olympic test regatta later in the summer.
"We are really happy. We played it a bit safe in the last race. When we first started sailing together we won Miami with a day to spare and to do it here with the whole fleet here, including Pete (Burling) and Blair (Tuke) (Olympic gold medalists) then this really means something," said Fletcher.
"We had a tricky year last year and we worked hard over the winter, so to come back here and have everything firing like we want it feels pretty good. We are stoked.
"We made some changes to our equipment over the winter. We were a bit strapped for cash last season and we did not buy many sails, and in this one design classes, the smallest things make a difference.
"We have some slightly different kit. Stu is doing a great job making the boat go fast. And maybe some of the F50 sailing is helping too! It makes decisions a little easier at ten knots rather than 30kts," said Fletcher who steers the Great Britain F50 SailGP foiling catamaran.
He added: "Pete and Blair have been working hard in New Zealand for eight months but I think the level of the class has moved on, it showed last time when Nathan (Outterrifge) and Goobs (Iain Jensen) took time off. They were caught up by the fleet.
"Pete and Blair are still amazing sailors, I don't think there will be tougher challengers for the Olympic gold and I am sure will keep rising, but it is nice to gains we have made against them. They were certainly not quicker than us. Last cycle they had a performance advantage."
Andrew Mollerus/ Ian MacDiarmid (USA) dropped to 17th overall today in the 49er fleet, missing the top ten for the medal race.
Sweden's 470 duo Anton Dahlberg and Frederik Bergström also secured overall victory in a strong division at this key season opening event before their medal race. Relief was the most evident emotion for the Swedish 470 pair as they came ashore.
The team lost a second place in the penultimate Finals race to a black flag disqualification. "We were OK with that as our discard was a tenth, so a 25 point lead still is super nice," said crew Bergstrom. "It's been a really tough week. Even if the result it looks like it does, before the medal race.
"It maybe looks like we were sailing brilliantly. But occasionally we do, but in reality it's been fighting all the time. We haven't won a single race but have been in the top ten every race and have had to fight for that top ten result every single race we've done."
Looking at the strengths and weaknesses of their overall game, the Swede evaluates, "We are happy where we are but can still make gains. The key is strategy, race management and speed. Our weaknesses are small details. That BFD this shouldn't be allowed to happen in an important race. It could cost too much. Most important is consistency in starts and in speed, sailing is about consistency."
Brazil's Olympic gold medalists Martine Grael and Kahena Kunze are in the box seats for the overall win in the FX skiff class, leading into the Medal race by 17 points they need only a solid final race to be assured of an impressive return to the class after Grael competed in the Volvo Ocean Race with Akzo Nobel.
A capsize near to the finish line of a breezy, on-the-edge final race perhaps cost them a chance of winning the women's class before the medal race. "We missed out there," said Grael. "With the rain coming through, it was pretty windy with big shifts on the race course. But it was fun. I guess we have to wait for tomorrow now."
Grael and Kunze lost no time in getting back to the FX after the Volvo Race finished but helm Grael says they are still getting back to fitness. "We did the worlds, the test events in Japan and Miami. We are getting back to it, missing a bit in the strong winds and that was maybe a little bit evident today. These last two days we have felt the lack of training in the strong breeze," she added.
Just as Grael and Kunze carry a 17pts advantage into the medal race the same margin that Nacra 17 2016 silver medalists Jason Waterhouse and Lisa Dalmanin. Rio gold winners Hannah Mills with Eilidh McIntyre in the 470 have 13pts in hand as they head into the 470 showdown.
Olympic champion Giles Scott is looking to close down his six points deficit in the Finn behind New Zealand's Andy Maloney.
It is close in both Laser and Radial fleets. Chris Barnard (USA) goes in with a 12 pts advantage with Charlie Buckingham (USA) in fifth in the Laser fleet.
In the Radial fleet, after a RET, 16, 24 Anne Marie Rindom has seen her big early margin slip to just four points. Barnard's compatriots are in the top ten going into tomorrow. American Erike Reineke is second, Paige Railey (USA) finished seventh.
The RS:X men's win should boil down to a head to head between class leader Michael Cheng of Hong Kong and China's Hao Chen. Also going into the medal race is Pedro Pasqual Suitt (USA), in fifth after today. China's Yue Tan has the gold secured in the women's RS:X.
Racing for the ten Olympic events is from April 1 to 6.
North American Results (Canada, Mexico, and USA):
Top ten or top position
• 470 Men (10 races): 38th Stuart McNay/ David Hughes (USA).
• 470 Women (10 races): 20th Nikole Barnes/ Lara Dallman-Weiss (USA).
• 49er Men (12 races): 17th Andrew Mollerus/ Ian MacDiarmid (USA)
• 49erFX Women (15 races): 13th Paris Henken/ Anna Tobias (USA).
• Finn (10 races): 31st Caleb Paine (USA).
• Laser Men (10 races): 1st Chris Barnard (USA), 5th Charlie Buckingham (USA).
• Laser Radial Women (8 races): 2nd Erika Reineke (USA), 7th Paige Railey (USA).
• Nacra 17 Mixed (15 races): 13th Riley Gibbs/ Anna Weis (USA).
• RS:X Men (10 races): 5th Pedro Pascual (USA).
• RS:X Women (10 races): 12th Farah Hall (USA).
North American Entries (Canada, Mexico, and USA):
• 470 Men: Stuart McNay/ David Hughes (USA).
• 470 Women: Kathleen Tocke/ Charlie Bess, Nikole Barnes/ Lara Dallman-Weiss, Carmen Cowles/ Emma Cowles, Atlantic Brugman/ Nora Brugman (USA).
• 49er Men: William Jones/ Evan Depaul (CAN); Nevin Snow/ Dane Wilson, Harry Melges/ Finn Rowe, Judge Ryan/ Hans Henken, Andrew Mollerus/ Ian MacDiarmid, Ian Barrows/ Joseph Kiss (USA).
• 49erFX Women: Alexandra Ten Hove/ Mariah Millen (CAN); Stephanie Roble/ Margaret Shea, Kate Shaner/ Charlotte Mack, Paris Henken/ Anna Tobias (USA).
• Finn: Tom Ramshaw, Kyle Martin (CAN); Eric Anderson, Caleb Paine, Jack Jennings, Luke Muller (USA).
• Laser Men: Forrest Wachholz, Robert Davis, Justin Norton, Norman Struthers, Luke Ruitenberg, Hugh Macrae (CAN); Juan Ignacio Perez Soltero, Yanic Gentry (MEX); Marek Zaleski, Malcolm Lamphere, Charlie Buckingham, Chris Barnard, Paul Didham (USA).
• Laser Radial Women: Clara Gravely, Coralie Vittecoq, Maura Dewey, Sarah Douglas (CAN); Christina Sakellaris, Erika Reineke, Paige Railey, Hanne Weaver, Lillian Myers (USA).
• Nacra 17 Mixed: Allie Surrette/ Max Flinn (CAN); Riley Gibbs/ Anna Weis, Bora Gulari/ Louisa Chafee, Ravi Parent/ Caroline Atwood, Sarah Newberry/ David Liebenberg (USA).
• RS:X Men: Ignacio Berenguer (MEX); Pedro Pascual (USA).
• RS:X Women: Mariana Aguilar, Cristina Ortiz Vivas (MEX); Farah Hall, Carolina Mendelblatt (USA).
Source: Trofeo SAR Princesa Sofía / sailingscuttlebutt
600
true
thumbnails
bottomright
300
true
800
none

600
true
dots
under
150
true
800
https://www.sualtigazetesi.com/wp-content/plugins/thethe-image-slider/style/skins/white-square-2
5000

fade

https://www.sualtigazetesi.com/dadd-sunum-her-yonuyle-teknede-enerji-ve-enerji-sistemleri-zafer-turkmen/

5000

fade

https://www.sualtigazetesi.com/riza-epikmen-schuco-bayk-kis-trofesi-2-ayak-yarislari-oncesi-duygu-ve-dusunceleri/

5000

fade

https://www.sualtigazetesi.com/the-bodrum-cup-turkiyeyi-yelkencilik-dunyasinda-temsil-etti/

5000

fade

https://www.sualtigazetesi.com/banu-oney-ile-denizden-denize-marmarisden-seattlea-yelkenli-tekne-ile/

5000

fade

https://www.sualtigazetesi.com/rsx-kadinlar-sinifinda-2020-tokyo-olimpiyat-oyunlari%e2%80%99ndayiz/