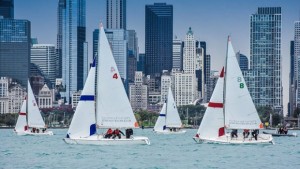 The 52nd U.S. Match Racing Championship has attracted eight teams of both men and women skippers and crew to compete in J/22s for the coveted Prince of Wales Bowl. Racing will be held October 4-6 in San Francisco, CA.
Only a team that is 100% U.S. citizens or resident aliens throughout the Championship Finals may be declared the U.S. National Champion. However, the Prince of Wales Bowl, a perpetual trophy, will be awarded to the winner of the Championship Finals, regardless of nationality.
Hosted by the St. Francis Yacht Club, Pearson Potts (Boston, Mass.) and his team returns to this year's event after winning the Prince of Wales Bowl at the 2018 U.S. Match Racing Championship in Chicago on Lake Michigan last October.
Potts also claimed the title of National Champions at the 2017 event in Oyster Bay, NY, though it was David Storrs and an international crew that won the Finals and was awarded the Prince of Wales Bowl.
Potts, the #2 ranked match racer in the United States, will be joined by crewmates Robert Savoie (Bristol, R.I.), Lucas Adams (Middletown, R.I.), and Tim Siemers (Maple Grove, Minn.). Savoie crewed for Potts in 2018 and 2017.
"Let the fiberglass and the Yankee flags fly," said Potts. "We are excited to have the targets on our backs as defending champions of the Prince of Wales trophy. It is what drives us. We are also hoping for an epic battle royale in the stormy seas of San Francisco Bay. Bring it on!
Potts is a major advocate of match racing. "We enjoy the symphony of sounds from action-packed racing, the winches grinding, the feet stomping, the waves crashing and the blocks turning.
"We enjoy the camaraderie of sailing with a group of friends on a boat and improving with that same group. We enjoy match racing as the closest thing sailing will be understood as a contact sport and its non-apologetic ruthlessness. We enjoy the simplicity of win or lose."
Two of the top women match racers in the country will be competing this week, including three-time U.S. Women's Match Racing Champion, Nicole Breault (San Francisco, Calif.) of the St. Francis Yacht Club. She is the #1 ranked women's match racer in the country and #4 in the World. Breault is racing this week with Hannah Burroughs (San Francisco, Calif.), Dana Riley Hayes (San Rafael, Calif.), and Jack Barton.
"I am eager to take on some of the top U.S. match racers here in my home waters," said Breault. "I've historically had my hands full with this field of competitors, and I love the challenge. Plus, I have the home team edge going into the first matches.
"I am sailing with two long time connections to Vela Racing, Dana Riley and Hannah Burroughs. We have a successful track record of getting around the course together in some spirited match racing, so our tune-up practices are enough to recharge our muscle memory on the J/22s.
"Our new teammate for this event is Jack Barton, hailing from the north shore of the Bay and fine-tuned as a match racer in his own right. We went head-to-head in last year's Prince of Wales Bowl at Chicago Yacht Club, and we are both psyched to join forces for this one."
Breault was also feeling positive about having two women skippers racing this week. "We are dang good and belong in the game," she added.
The 2019 U.S. Women's Match Racing Champion, Allie Blecher (Long Beach, Calif.), and her team representing the California Yacht Club, including Beka Schiff (Long Beach, Calif.), Molly Noble (Hood River, Ore.), and Alicia Blumenthal (Bellport, N.Y.) will be competing this week. Blecher is the #2 ranked women's match racer in the nation.
Invitations to race at this Championship were delivered to the 2018 champion, the top ranked U.S. female match racer, the winner of the 2019 U.S. Women's Match Racing Championship, and winners from U.S. Match Racing Championship Qualifier events at Oyester Bay, NY; San Francisco, CA; Detroit, MI; San Diego, CA, Rochester, NY; Chicago, IL; and Long Beach, CA.
Teams will be racing along the San Francisco Bay City Front.
"St. Francis has one of the best venues in the world to match race, because the breeze aligns perfectly with the clubhouse, allowing for front row seats as the teams duel their way around the course," said Graham Biehl, Race Director of the St. Francis Yacht Club. "The big breeze and tough conditions we are known for also adds to the excitement."
Event details – Entry list – Photos
Racing Format (subject to change)
First Stage – Round Robin
Second Stage – Quarterfinals
Third Stage – Semifinals
Fourth Stage – Finals and Petite Finals
Source: US Sailing

Kaynak: https://www.sailingscuttlebutt.com/2019/10/01/match-racing-nationals-in-san-francisco/
Bizi Sosyal Medyada Takip Edin !
600
true
thumbnails
bottomright
300
true
800
none

600
true
dots
under
150
true
800
https://www.sualtigazetesi.com/wp-content/plugins/thethe-image-slider/style/skins/white-square-2