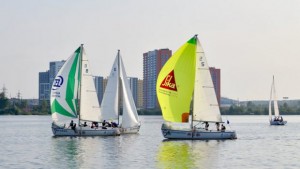 Ekaterinburg, Russia (August 16, 2019) – The fourth day of the Youth Match Racing World Championship started with a dead calm but in the afternoon a light breeze started cutting the aquatory of the Verkh-Isetsky pond and later wavelets covered it in full.
"The minimal wind around 4-5 knots started blowing," said umpire Veniamin Gusev. "That was the wind we needed to have the racing started."
Two more flights were completed, but only one third of the second Round Robin races has been held. Tomorrow is the last day of the event and what the wind will offer will decide much.
"So far, it`s been like long day, lots of waiting around," shared Jack Parkin, the American skipper in fifth. "It's nice that the hotel is right here. It`s super easy. We've been waiting while we`ll see a little bit more wind. But it hasn't made sailing super well."
The New Zealand team led by Nick Egnot-Johnson defeated the Championship leader, Team Australia, in one of their races. "It was good to beat the Australian team today, they are our rivals, because we're sailing them a lot from back time. So, good win to have. But we had another race against the Americans where we had a bad start. So, we had a good one and a bad one today."
The forecast for tomoroow is again for very light winds.
Day Four Results:
1. Tom Grimes, Cruising Yacht Club of Australia Team (AUS) – 14 wins of 16 races
2. Nick Egnot-Johnson, Royal New Zealand Yacht Squadron / Team KNOTS (NZL) – 12 of 16
3. Jeppe Borch, Borch Racing Team (DEN) – 9 of 14
4. Igor Tarasiuk, HRM Racing Youth Team (POL) – 10 of 14
5. Jack Parkin, Riverside Yacht Club, Stanford Sailing Team (USA) – 11 of 16
6. Matt Whitfield, Penarth YC / Dragon Racing Team (GBR) – 9 of 14
7. Rocco Attili, RBYS Racing Team (ITA) – 7 of 14
8. Aurélien Pierroz, Société des Régates du Havre Team (FRA) – 7 of 16
9. Måns Holmberg, Holmberg Racing Team (SWE) – 6 of 14
10. Mark Abdrakipov, MyWind Team (RUS) – 4 of 16
11. Jakub Halouzka, Team CZE Zdenek Dybal (CZE) – 1 of 16
12. Kodai Mutsuda, Kobe University Team (JPN) – 0 of 14
The format was for a double round robin series, after which the top teams would advance to the knockout rounds for semi-final, petit-final, and final matches. Racing is being held August 13-17 in the Ricochet 747.
Event details: http://2019ymrwc.komatek-club.ru/
Source: Natalya Saltanova / sailingscuttlebutt
600
true
thumbnails
bottomright
300
true
800
none

600
true
dots
under
150
true
800
https://www.sualtigazetesi.com/wp-content/plugins/thethe-image-slider/style/skins/white-square-2
5000

fade

https://www.sualtigazetesi.com/deniz-kuvvetleri-kupasi-oncesi-murat-tan-atilla-gokova-yaris-ekibi-roportajlari/

5000

fade

https://www.sualtigazetesi.com/tayk-sunum-kuzey-kutup-dairesinden-guney-kutup-dairesine-gronland-ve-antarktika-prof-dr-talat-kiris/

5000

fade

https://www.sualtigazetesi.com/dadd-sunum-her-yonuyle-teknede-enerji-ve-enerji-sistemleri-zafer-turkmen/

5000

fade

https://www.sualtigazetesi.com/riza-epikmen-schuco-bayk-kis-trofesi-2-ayak-yarislari-oncesi-duygu-ve-dusunceleri/

5000

fade

https://www.sualtigazetesi.com/the-bodrum-cup-turkiyeyi-yelkencilik-dunyasinda-temsil-etti/

5000

fade

https://www.sualtigazetesi.com/banu-oney-ile-denizden-denize-marmarisden-seattlea-yelkenli-tekne-ile/

5000

fade

https://www.sualtigazetesi.com/rsx-kadinlar-sinifinda-2020-tokyo-olimpiyat-oyunlari%e2%80%99ndayiz/