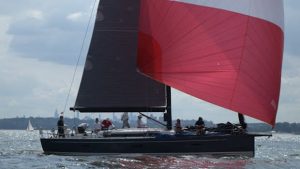 Larchmont, NY (July 18, 2021) – In this first post-pandemic summer, Larchmont Race Week confirmed that it is the most important annual regatta on Long Island Sound.
In its 123rd edition, 140 senior boats competed on the weekends of July 10-11 and July 17-18, 260 juniors sailed July 12-13 for the 94th Junior Race Week with another 175 Optimist sailors competing on July 14. Add to that LYC's hosting the Storm Trysail Junior Safety-at-Sea seminar on July 16.
As is the case with many 2020 regattas, new protocols and racing options highlighted the regatta, but the racing and the fun were abundant.
After a slow start on the first weekend, when typical Long Island Sound July winds limited the number of races sailed, the wind returned for the Juniors and remained through the second weekend.
Some notable elements of Larchmont Race Week that have evolved to keep the event fresh included a pursuit race for some of the racer/cruisers on the first weekend and the final day Around Execution Rocks Race, initiated a few years ago comprised of a single, multi-class start with a navigator's course around the local fabled lighthouse. This year, with winds of 10+ knots, a new, longer course was sailed.
"Race Week is back!" said co-chair Steve Leicht. "We had a solid, better than expected turnout this year and I can't wait for the 124th Larchmont Race Week when the sailing community will be back in full swing. I also have to congratulate the Club staff and hundreds of LYC volunteers for supporting this complex, nine-day event."
In the end, it was Ideal 18 sailors and LYC Flags Rob Dailey and Steve Leicht who received the Anne Kathleen Cullen Memorial Trophy for best overall performance during Race Week. The Charles Vanderlaan Trophy for best overall performance in the racer/cruiser division went to Rob Fryer of American Yacht Club sailing his Flying Tiger 10M. The Monte-Sano Trophy for best performance by a LYC racer/cruiser went to Cory Eaves in his J/109.
Additionally, LYC's Rear Commodore Chris Schoen raced his XP 44 Phantom (above photo) in the Ex Rx Race establishing the record for the new long course. Phantom was truly the Flag Ship this day with LYC's Commodore Rob Dailey, Vice Commodore Steve Leicht, Former Commodore Andy Donnellan, and former Fleet Captain Buttons Padin in the crew.
"It was a great day to be on the water," said Schoen, "and we're going to take the case of Mt. Gay Rum we won for setting the course record and have Monte-Sano Coolers (the iconic LYC libation) served to everyone on the Front Lawn. It's our way of thanking everyone for coming back to Larchmont Race Week. Here's to next year!"
Class winners were:
Viper 640: Cardwell Potts/Ted Ferrarone – Larchmont YC
Etchells: Chris Marx – Larchmont YC
Shields: Com Crocker / Kurt Weisenfluh– Larchmont YC
J/88: Iris Vogel – Huguenot YC
IOD: Jennifer Miller – Horseshoe Harbor YC
S Boats: Bob Mehlich – Larchmont YC
Ideal 18: Rob Dailey/Steve Leicht – Larchmont YC
Vanguard 15: Casey Klingler – Larchmont YC
J/105: Paul Beaudin – Harlem Yacht Club
Laser: Jean Fillion – American Yacht Club
Laser Radial: Wyatt Bischoff – Larchmont YC
PHRF (Spin.): Rob Fryer – American Yacht Club
Expressly for Fun Pursuit Race (Spin): Justin Scagnelli/Tim Price– Huguenot YC
Expressly for Fun Pursuit Race (Non-spin): LYC Junior Sailing – Larchmont YC
It's been said that "sailing is the stuff that happens before the party." This was truly the case during the 123rd Larchmont Race Week, with dinners or parties most nights attracting hundreds of participants. On the racecourse this morning there was more than one sleepy sailor after the previous night's rum and beer specials followed by a southern BBQ and a great cover band. Larchmont Race Week…it continues to be an iconic regatta.
Source: scuttlebutt – https://www.sailingscuttlebutt.com/2021/07/18/larchmont-race-week-is-back/
600
true
thumbnails
bottomright
300
true
800
none

600
true
dots
under
150
true
800
https://www.sualtigazetesi.com/wp-content/plugins/thethe-image-slider/style/skins/white-square-2
5000

fade

https://www.sualtigazetesi.com/deniz-kuvvetleri-kupasi-oncesi-murat-tan-atilla-gokova-yaris-ekibi-roportajlari/

5000

fade

https://www.sualtigazetesi.com/tayk-sunum-kuzey-kutup-dairesinden-guney-kutup-dairesine-gronland-ve-antarktika-prof-dr-talat-kiris/

5000

fade

https://www.sualtigazetesi.com/dadd-sunum-her-yonuyle-teknede-enerji-ve-enerji-sistemleri-zafer-turkmen/

5000

fade

https://www.sualtigazetesi.com/riza-epikmen-schuco-bayk-kis-trofesi-2-ayak-yarislari-oncesi-duygu-ve-dusunceleri/

5000

fade

https://www.sualtigazetesi.com/the-bodrum-cup-turkiyeyi-yelkencilik-dunyasinda-temsil-etti/

5000

fade

https://www.sualtigazetesi.com/banu-oney-ile-denizden-denize-marmarisden-seattlea-yelkenli-tekne-ile/

5000

fade

https://www.sualtigazetesi.com/rsx-kadinlar-sinifinda-2020-tokyo-olimpiyat-oyunlari%e2%80%99ndayiz/