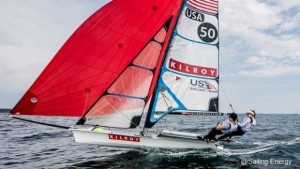 Bristol, RI (March 26, 2019) – Kilroy Realty Corporation (Kilroy Realty), an industry-leading commercial real estate company, has partnered with US Sailing as a primary sponsor of the US Sailing Team.
Kilroy Realty will support the US Sailing Team at major international events, including Selection Events, World Championships, and the World Cup Series in the lead up to the Olympic Games Tokyo 2020.
"Our partnership creates a strong platform that will advance the competitiveness of our Team," said Jack Gierhart, Chief Executive Officer of US Sailing. "Kilroy Realty is committed to supporting our athletes' Olympic dreams, and I am confident that our sailors will be wonderful ambassadors to promote Kilroy Realty's brand and core values of leadership, innovation, and sustainability."
The US Sailing Team features the top-performing athletes in 10 Olympic classes. This partnership will support the athletes by funding the advancement of technology, innovative fitness training, high-level coaching, research and development, as well as vital campaign costs such as specialized support personnel and high-performance equipment upgrades.
"At Kilroy Realty, our corporate giving program reflects a core belief that strong communities, growing industries, and a healthy planet are critical for a thriving future," said John Kilroy, Chairman and CEO of Kilroy Realty. "We pride ourselves on our commitment to programs that promote these ideals, including competitive sports, sustainability initiatives, innovative technology, and women in leadership. These programs provide an opportunity for people, communities, and organizations to achieve their dreams."
Kilroy Realty has a history of supporting US Sailing Team athletes and philanthropic efforts to grow sailing in the United States through US Sailing. Currently, Kilroy Realty sponsors Stephanie Roble and Maggie Shea, a 49erFX doublehanded pair on the US Sailing Team. With this support, Roble Shea Sailing is competing at a high-level at major 49erFX events around the world.
"Kilroy Realty appreciates and understands the resources and support required to organize successful Olympic sailing campaigns," said Malcolm Page, Chief of U.S. Olympic Sailing. "Our athletes will benefit immensely from this partnership.
"Over the past several years, our athletes, coaches, and staff have done an outstanding job of increasing the value of the US Sailing Team brand. This partnership is a result of that hard work. We are grateful for Kilroy Realty's generosity and commitment to the sport of sailing in the United States."
To learn more about the US Sailing Team…click here.
Source: US Sailing / sailingscuttlebutt
600
true
thumbnails
bottomright
300
true
800
none

600
true
dots
under
150
true
800
https://www.sualtigazetesi.com/wp-content/plugins/thethe-image-slider/style/skins/white-square-2
5000

fade

https://www.sualtigazetesi.com/deniz-kuvvetleri-kupasi-oncesi-murat-tan-atilla-gokova-yaris-ekibi-roportajlari/

5000

fade

https://www.sualtigazetesi.com/tayk-sunum-kuzey-kutup-dairesinden-guney-kutup-dairesine-gronland-ve-antarktika-prof-dr-talat-kiris/

5000

fade

https://www.sualtigazetesi.com/dadd-sunum-her-yonuyle-teknede-enerji-ve-enerji-sistemleri-zafer-turkmen/

5000

fade

https://www.sualtigazetesi.com/riza-epikmen-schuco-bayk-kis-trofesi-2-ayak-yarislari-oncesi-duygu-ve-dusunceleri/

5000

fade

https://www.sualtigazetesi.com/the-bodrum-cup-turkiyeyi-yelkencilik-dunyasinda-temsil-etti/

5000

fade

https://www.sualtigazetesi.com/banu-oney-ile-denizden-denize-marmarisden-seattlea-yelkenli-tekne-ile/

5000

fade

https://www.sualtigazetesi.com/rsx-kadinlar-sinifinda-2020-tokyo-olimpiyat-oyunlari%e2%80%99ndayiz/