................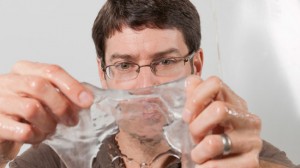 Researchers at the University of Guelph have figured out what makes the slime secreted by the hagfish so strong, hoping it can lead to the commercial development of stronger fibres.
Prof. Douglas Fudge and his team used electron microscopes and 3D imaging to examine the cell structure of the gelatinous substance produced by the prehistoric bottom-dwelling fish.
They found that 15-centimetre-long protein threads are coiled in a pattern resembling skeins of yarn, which grow and fill the cells.
The threads are an "incredibly strong" super fibre, lead researcher Prof. Douglas Fudge said. And when stretched, the protein molecules "snap into different arrangements, becoming stronger and tougher."
They have proved stronger than any synthetic versions attempted so far.
The researchers hope clues as to how they're made could help scientists develop better ones, which could one day have commercial uses.
Kaynak: http://www.underwatertimes.com/link.php?url=http://cnews.canoe.ca/CNEWS/Science/2014/04/04/21580836.html
600
true
thumbnails
bottomright
300
true
800
none

600
true
dots
under
150
true
800
https://www.sualtigazetesi.com/wp-content/plugins/thethe-image-slider/style/skins/white-square-2