................
Tina Plattner and co., led the regatta going into the final day, but stumbled in the day's first race and dropped to second overall. "Every time you go out and every race you start is a new challenge," said Plattner, sailing under the colors of South Africa, "and we try to really start every race from scratch again and say every race is a new race and it doesn't matter where we just finished let's try and race a new race."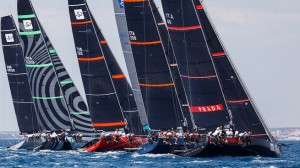 The back of Luna Rossa's black beauty is deep in talent, including Vasco Vascotto as tactician and Francesco Bruni helming. After a disappointing showing in the series' first regatta, they found their footing in Croatia with enough low-point scores to get overall win. "It's good for the team to be high level racing and going through design decisions, on this boat you've got to produce boat speed to win regattas and you've got to make good decisions on the water and that's good to go through," said Spithill. "Obviously the boats we'll race in the America's Cup will be vastly different than these, but it's still good to go out under pressure and win regattas. This is the highest level right now of monohulls, we need to look at some sort of level of foiling class and get out there under pressure racing as well, but it's good to go through."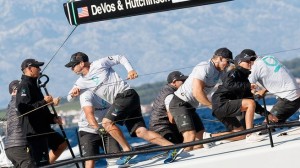 Owner/drive helmsman Doug DeVos and quite a few of the Quantum Racing Team have resources spread across the eponymous 52 and the developing America's Cup challenge for the New York YC, American Magic, and with Dean Barker off the helm and into the strategist role, all the pressure was on DeVos to deliver. "It does feel like I have been away, but I love being back on the water," said DeVos before the regatta started, "But the boat is so well set-up, and the work is done to have everything in place. To a large extent I can come back in and you don't have to work on too many things. You have to just find the groove.
Tony Langley's team won the series' second race before taking a nosedive as the regatta progressed. "We sailed pretty well today but what is particularly gratifying is to have a bunch of young guys on board and they really have been working extremely hard to get up to the standard required here, and so today in a way endorses what we have done," said Langley on the opening day. "Some of what we have done has been forced upon us because of what happened. We could have put together a crew, we can do that any time, put to put together a crew is something else. So what we elected to do was to get a bunch of youngsters on board and go out there with not too much expectation and to just get some of these young guys an exposure to this level of sailing."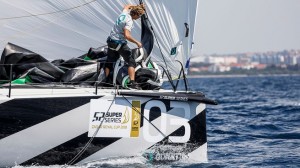 "It was disappointing to hit Platoon and break our prodder off but at that point if you said we were going to then pass four boats in the race I would have thought you are crazy," said Hutchinson. "But we sailed a really good race from there. And we came off the water averaging a five. Doug kept us all nice and relaxed, at certain times things don't click and then it is about how you react as a team."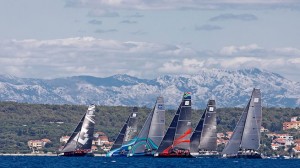 Race 4 in Zadar, a 20-miler along Croatia's stunning shoreline belonged to Takashi Okura's U.S.-flagged Sled. "Both coastal races we have had really good starts and they have set us up for the rest of the race and that was the case today again," said tactician Ray Davies. "Then it is relatively easy because the rest of the pack slows each other down. It was a very, very challenging race and Platoon really did sail exceptionally well and, in the end, we only just won. Every point is critical. We are thrilled with how it is going, our speed is good but this is like one design racing, all of the speeds are so similar that this is now about doing the basics really well, start well and stay out of trouble."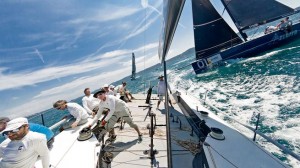 Platoon's Victor Mariño, summed one difficult day as such: "[It] was tough because it was very unstable wind and big shifts, we had good starts, but in the end, we were not so lucky or didn't choose exactly the right places so in the end we were spit out, but it was not too bad because we recovered in the end. It was a difficult day of racing and to not be last or second last is a really good result for everyone in the competition. Everything is practice for Cascais [for the World Championship], so the strategy is not only to look at the results here of the racing, but to learn about the boat and keep learning." ​
Source: sailing world
Diğer Konular
600
true
thumbnails
bottomright
300
true
800
none

600
true
dots
under
150
true
800
https://www.sualtigazetesi.com/wp-content/plugins/thethe-image-slider/style/skins/white-square-2

Bu konu şimdiye kadar