................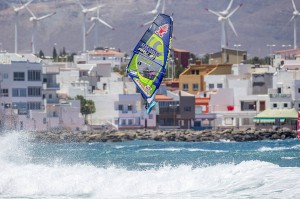 Sarah-Quita Offringa On The Season So Far, Looking Ahead To The GCWWF & Sailing In One of the Most Challenging Places on Earth
Earlier in the week we caught up with Sarah-Quita Offringa (Starboard / NeilPryde / Maui Ultra Fins) to see how she's feeling about the season so far and what's to come in Pozo with the Gran Canaria Wind & Waves Festival starting 15th July. The Aruban has made a fine start to the season, winning the opening women's freestyle event of the year in Portugal, while also claiming second place in Morocco to head into Pozo ranked 2nd in the current wave rankings.
Sarah-Quita Offringa on 2018 so far: "You know, the year is unfolding quite nicely! I've already had a wicked wave competition in Morocco and I'm still floating after this super challenging freestyle/slalom event in Portugal two weeks ago.
So, it's perfect to get back into waves again for this event. I'm excited to sail in Pozo again. This is one of the most challenging places on Earth to sail at. And although it can be quite hardcore this is a place where I get to sail with the best in the world for a couple of weeks before the event itself starts, so it's the best motivation to improve. And really… all I really want is to improve. It's like the fun gets multiplied the better you get!
You have also spent a bit more time in Pozo this year, right?
Yes I planned my trip so I would have at least 4 weeks of sailing here. To give myself time to not only adapt but also improve in these conditions.
We didn't get the best of the best conditions before, but since a week or so Pozo has been ON. And I've had some really, really fun sessions already sailing 3.7m and 3.3m. After those sessions, my trip here is already worth it!
I'm still trying to get more confidence jumping when I'm really overpowered.
But It's quite comforting to hear that the guys are also not always comfortable jumping when it's mega strong!
Apart from Ricardo [Campello] maybe, it doesn't look like he's having confidence issues hahaha.
Anyway, wave riding has been really fun as well. A lot of girls are here already and I'm just excited to push and get pushed to a higher level by the other girls.
Thanks Sarah-Quita, good luck for the comp.
Source: PWA
600
true
thumbnails
bottomright
300
true
800
none

600
true
dots
under
150
true
800
https://www.sualtigazetesi.com/wp-content/plugins/thethe-image-slider/style/skins/white-square-2