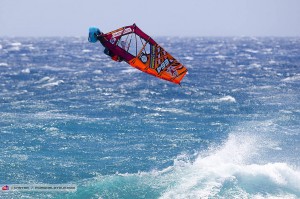 Day 3: Daida Moreno Shines To Take Down Women's Single Elimination While Men's Double Elimination Begins
Just as the men did yesterday, the women laid down the gauntlet on Day 3 of the 2018 Gran Canaria Wind & Waves Festival as they showcased some of the highest level of female competition sailing seen – with top performances throughout the field as the standard on the women's world tour continues to go from strength-to-strength. However, despite the girls raising the bar there was still nothing they could do, on this occasion, to stop the legendary Moreno twins – Daida (Starboard / Severne / Maui Ultra Fins) and Iballa (Starboard / Severne / Maui Ultra Fins) – from claiming the top two places in the single elimination, which was eventually won by Daida, although they both had to survive some close calls.
Wave
Women's
Single Elimination
Daida Moreno (Starboard / Severne / Maui Ultra Fins) started her campaign in explosive fashion as the multiple-time world champion posted the highest scoring heat of the day – 34.99 points out of a possible 40 – to send out warning signs to her rivals. Against Oda Johanne (Starboard / Severne / Maui Ultra Fins), Daida landed a big backloop and a stalled forward, but it was her wave riding that was even more impressive as she produced an almost perfect wave score – 19.12 points out of 20 – as she landed a variety of powerful turns with frontside aerials and takas to set the tone.
Daida maintained that high level of performance throughout as she dispatched of Nicole Bandini (Fanatic / Duotone) in the next heat, before holding her nerve to edge an incredibly close seminal against – Sarah-Quita Offringa (Starboard / NeilPryde / Maui Ultra Fins) – to book her place in the final.
Reigning world champion – Iballa Moreno (Starboard / Severne / Maui Ultra Fins) – faced a stern first test in Heat 12b against Steffi Wahl (Sailloft Hamburg) as the German started strongly, with her powerful and aggressive wave riding really catching the eye, and it wasn't until towards the end of the heat that Iballa was able to assert as she saved her best jump and best wave ride until last to advance.
Having passed that test Iballa then saw off Arrianne Aukes (Fanatic / Duotone / Maui Ultra Fins) in the next round, before defeating Justyna Sniady (SImmer / Simmer Sails / AL360) in an exciting semifinal which saw Iballa begin with a bang – landing a big pushloop and backloop – to set up the Winners' Final against Daida.
During the final, the wind cranked up another notch which left both Iballa and Daida looking fairly overpowered. Both women began strongly with Daida quickly racking up two solid wave scores – 7.12 points & 7.25 points – while Iballa landed a big clean backloop, as did Daida. With the wind picking up it became a bit of a battle to remain in control at times but Daida was able to land a powerful stalled forward, while Iballa stuck a pushloop at the third time of asking, in the final minute, to leave almost nothing between them in the jump stakes. However, Iballa, who is usually so strong and reliable on the wave struggled in the final, while, as already mentioned, Daida was able to rack up two solid waves to claim a decisive victory in the end.
Sarah-Quita Offringa continues to close the gap between herself and the Moreno twins – as proved by pushing Daida all the way in the semifinal and in the end Offringa missed out by just 0.39 of a point. Offringa performance well throughout and seems to have tweaked pushloops dialled, which makes her an even more dangerous proposition, while her wave riding remains fluid and powerful. The 14-time world champion completes the podium for the single elimination after defeating Justyna Sniady in the battle for third and fourth, will no doubt be gagging for another shot at breaking into the top 2 and beyond.
Justyna Sniady will be delighted with her day's work after the Pole produced her best performance date in a single elimination as she secured 4th place with a series of eye-catching displays. Herself and Lina Erpenstein (Severne / Severne Sails) contested some hard-fought battles last season and Sniady will be happy to have come out on top of a very tight affair today to progress into the top 4.
Erpenstein had to be at her best in her first heat of the day to defeat an on form Nayra Alonso (Fanatic / Severne) and she produced the goods to do just that with a stalled forward, tweaked pushloop and some aggressive turns doing the job, so she will probably be slightly disappointed she couldn't do the same against Sniady. The German certainly had her chances but couldn't land her second counting jump, so the 21-year-old has to settle for joint 5th in the single alongside Caterina Stenta (RRD / RRD Sails / Maui Ultra Fins), Nicole Bandini and Arrianne Aukes.
Based on performances elsewhere in the single elimination the latter three will face extremely tough challenge to maintain their current ranking with the likes of Steffi Wahl and Nayra Alonso both looking incredibly dangerous, while Maaike Huvermann (Starboard / Severne / Maui Ultra Fins) and Oda Johanne (Starboard / Severne / Maui Ultra Fins) have shown that they have the jumping prowess to be a threat and there should be some interesting matchups to come in the double elimination.
Men's
Double Elimination
After the completion of the women's single elimination, the men's double elimination began as the wind continued to crank, while the swell pulsed through for a while. After a further three and half hours of competition, the opening two rounds have been completed.
Moritz Mauch (Severne / Severne Sails) was involved in the first heat of the double elimination and the German produced a masterclass in wave riding to earn the first 10 of the competition after landing a fully planing goiter, frontside 360 and a frontside hack to progress. The 22-year-old then ended the hopes of Ben Proffitt (Simmer / Simmer Sails) in the next round and will now face Marc Paré (Simmer / Simmer Sails) in round 3. Mauch is undoubtedly one of the most sailors in terms of wave riding, but whether he can produce the jumping to trouble Paré remains to be seen.
Elsewhere, Florian Jung (Starboard / Gun Sails), local boy Omar Sanchez (Carbon Art / KA Sail) and Thomas Traversa (Tabou / GA Sails) all made successful starts to their comebacks. As did Camille Juban (Quatro / Simmer Sails) after winning a tight second-round matchup against Kenneth Danielsen (Flikka / Simmer Sails), while Amado Vrieswijk is also into the third round, but will need to improve his wave riding when going up against Dieter van der Eyken (Severne / Severne Sails) in a rematch from the single.
Leon Jamaer (JP / NeilPryde) may have produced the highest scoring heat of the first round – 27.87 points – but that's as good as it got for the German, who suffered a shock defeat to the hugely talented Marino Gil (Goya Windsurfing), who caused the upset of the day. Take nothing away from the 15-year-old though as it was Gil sailing well, rather than Jamaer having a shocker, with Gil landing a massive stalled forward and a floaty backloop, while also managing to bust out a frontside 360 in the challenging conditions. Gil is certainly one of the most exciting up and coming talents in the windsurfing world right now.
Gil wasn't the only 15-year-old to enjoy the taste of victory though as Japan's Takuma Sugi (Tabou / GA Sails) took down Antoine Albert (Goya Windsurfing). However, Julian Salmonn (Bruch Boards / Gun Sails) then ended the youngster's hopes and will now face Jules Denel (JP / NeilPryde).
The plan was to complete the third round as well, but with the tide becoming too full the waves backed off so the decision was made to release the sailors shortly after 7pm. They will meet again at 9am tomorrow morning with the action commencing from 9:30am (GMT+1) onwards.
You can stay up to date with all the latest developments from Gran Canaria— including the live stream, elimination ladders, entry list, images and live ticker simply by clicking HERE and scrolling to the bottom of the page.
Result Women's Single Elimination – Gran Canaria Wind & Waves Festival
1st Daida Moreno (ESP – Starboard / Severne / Maui Ultra Fins)
2nd Iballa Moreno (ESP – Starboard / Severne / Maui Ultra Fins)
3rd Sarah-Quita Offringa (ARU – Starboard / NeilPryde / Maui Ultra Fins)
4th Justyna Sniady (POL – Simmer / Simmer Sails / AL360)
5th Caterina Stenta (ITA – RRD / RRD Sails / Maui Ultra Fins)
5th Nicole Bandini (ITA – Fanatic / Duotone)
5th Lina Erpenstein (GER – Severne / Severne Sails)
5th Arrianne Aukes (NED – Fanatic / Duotone / Maui Ultra Fins)
Result Men's Single Elimination – Gran Canaria Wind & Waves Festival
1st Philip Köster (GER – Starboard / Severne / Maui Ultra Fins)
2nd Marcilio Browne (BRA – Goya Windsurfing)
3rd Victor Fernandez (ESP – Fanatic / Duotone / Shamal Sunglasses)
4th Alex Mussolini (ESP – RRD / RRD Sails)
5th Jose 'Gollito' Estredo (VEN – Fanatic / Duotone)
5th Ricardo Campello (VEN – Point-7)
5th Adam Lewis (Fanatic / Duotone / SWOX)
5th Jaeger Stone (AUS – Starboard / Severne / SWOX / Shamal Sunglasses)
9th Marc Paré (ESP – Simmer / Simmer Sails)
9th Dany Bruch (GER – Bruch Boards / Flight Sails / AL360)
9th Dieter van der Eyken (BEL – Severne / Severne Sails)
9th Robby Swift (GBR – JP / NeilPryde / SWOX)
9th Antoine Martin (FRA – NeilPryde)
9th Jules Denel (FRA – JP / NeilPryde)
9th Aleix Sanllehy (CAT – Tabou / GA Sails)
9th Josep Pons (ESP – Simmer / Simmer Sails)
Source: PWA
600
true
thumbnails
bottomright
300
true
800
none

600
true
dots
under
150
true
800
https://www.sualtigazetesi.com/wp-content/plugins/thethe-image-slider/style/skins/white-square-2
5000

fade

https://www.sualtigazetesi.com/dadd-sunum-her-yonuyle-teknede-enerji-ve-enerji-sistemleri-zafer-turkmen/

5000

fade

https://www.sualtigazetesi.com/riza-epikmen-schuco-bayk-kis-trofesi-2-ayak-yarislari-oncesi-duygu-ve-dusunceleri/

5000

fade

https://www.sualtigazetesi.com/the-bodrum-cup-turkiyeyi-yelkencilik-dunyasinda-temsil-etti/

5000

fade

https://www.sualtigazetesi.com/banu-oney-ile-denizden-denize-marmarisden-seattlea-yelkenli-tekne-ile/

5000

fade

https://www.sualtigazetesi.com/rsx-kadinlar-sinifinda-2020-tokyo-olimpiyat-oyunlari%e2%80%99ndayiz/