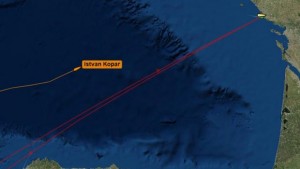 (March 18, 2019; Day 261) – American/Hungarian Istvan Kopar and his Tradewind 35 yacht Puffin was within 250 miles of the Golden Globe Race finish line and expected to reach Les Sables d'Olonne around 09:00 UTC on March 21.
Kopar was making 5.1 knots, having managed to cover 120 miles during the previous 24 hours – a remarkable performance given the steering problems that have plagued his solo circumnavigation almost from the start on July 1 last year. He continues to have issues, reporting yesterday that his replacement rudder blade on his wind vane self steering is too short and being lifted out of the water as his yacht traverses the waves.
The latest weather forecast suggests the current north westerly winds will decrease overnight, slowing progress to around 100 miles during the next 24 hours. Then tomorrow the wind is predicted to become very light, suggesting a 70 mile day before building again on March 20 but turning north easterly to turn the last 70 miles into a challenging beat to windward.
5th placed Finnish sailor Tapio Lehtinen and his barnacle infested Gaia 36 Asteria remains trapped in a challenging wind hole in the South Atlantic. He has managed to cover less than 400 miles during the past eight days – an average of just 50 miles. At this rate, he will not finish before mid-May, but reports that all is well onboard.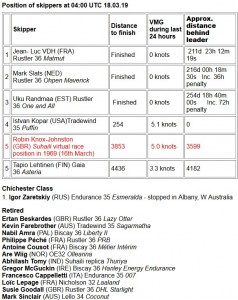 Relative positions of Lehtinen and Knox-Johnston in their virtual race around the Globe.
Background:
The 2018 Golden Globe Race started for 17 skippers from Les Sables d'Olonne on Sunday July 1, 2018, with the inaugural solo non-stop around the world yacht race expected to take 9-10 months to complete.
The event marks the 50th anniversary of the Sunday Times Golden Globe solo non-stop round the world race in 1968-69 when rules then allowed competitors to start from ports in northern France or UK between June 1st and October 31st.
A notable twist to the 2018 Golden Globe Race format is how entrants are restricted to using the same type of yachts and equipment that were available in that first race, with the premise being to keep the race within financial reach of every dreamer.
The rules allow for one breach of the strict solo, non-stop un-assisted circumnavigation without the aid of modern electronic navigation aids regulations that make this Race unique. However, those that do move down to the Chichester Class as if, like Sir Francis Chichester in 1966-67, they have made one stop during their solo circumnavigation.
Those who breach the rules for a second time are deemed to have retired from the GGR Event and the organisers have no responsibility or obligation to them.
Source: GGR / sailingscuttlebutt
600
true
thumbnails
bottomright
300
true
800
none

600
true
dots
under
150
true
800
https://www.sualtigazetesi.com/wp-content/plugins/thethe-image-slider/style/skins/white-square-2
5000

fade

https://www.sualtigazetesi.com/tayk-sunum-kuzey-kutup-dairesinden-guney-kutup-dairesine-gronland-ve-antarktika-prof-dr-talat-kiris/

5000

fade

https://www.sualtigazetesi.com/dadd-sunum-her-yonuyle-teknede-enerji-ve-enerji-sistemleri-zafer-turkmen/

5000

fade

https://www.sualtigazetesi.com/riza-epikmen-schuco-bayk-kis-trofesi-2-ayak-yarislari-oncesi-duygu-ve-dusunceleri/

5000

fade

https://www.sualtigazetesi.com/the-bodrum-cup-turkiyeyi-yelkencilik-dunyasinda-temsil-etti/

5000

fade

https://www.sualtigazetesi.com/banu-oney-ile-denizden-denize-marmarisden-seattlea-yelkenli-tekne-ile/

5000

fade

https://www.sualtigazetesi.com/rsx-kadinlar-sinifinda-2020-tokyo-olimpiyat-oyunlari%e2%80%99ndayiz/