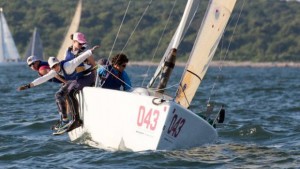 The MudRatz youth program continues to go from strength to strength in exposing young people to the sport of sailing, and while their foundation is in the Optimist and Club 420, it is their commitment to diverse ideas and opportunities which sets them apart.
The MudRatz, which primarily serves Connecticut and the New England region, has seen the growth of their offshore program extend their reach. Last year was the start of their Swan 48 program which had an open application for the 2018 Newport Bermuda Race and 2019 Marblehead-Halifax Race that accepted applicants from outside the area.
Serving an age range from 8 to 23 years, new for 2019 is the donation of two keelboats, the Holland 40 Hotspur and Farr 40 Bellerphon, which will join their fleet of 3 Melges 20s, 2 Melges 24s, and a Swan 48 Dreamcatcher.
The MudRatz is a volunteer-run organization whose mission is to provide youth sailors with opportunities to race on boats they otherwise may never sail and provide them with excellent coaching to give them the best chance to learn, improve, and continue to love and participate in the sport after junior sailing.
With the new keelboat additions to their fleet, the MudRatz plan to take on Storm Trysail Club's Block Island Race Week this upcoming June with the new Farr 40.
"The plan for the Farr 40 is to start an additional keelboat and offshore sailing platform geared towards short course racing and tactics for the MudRatz," said Taylor Walker, the program's designated Farr 40 project manager.
"We will be accepting and selecting applicants based on enthusiasm, effort and sailing experience just like we did for Dreamcatcher and its campaign for The Newport to Bermuda Race last year."
All sailors interested in joining the MudRatz Offshore Sailing Team for Block Island Race Week on the Farr 40 Bellerphon or for other future endeavors should click here for more information and to complete the online application. Applicants must also submit their sailing resumes to RatzFarr40@gmail.com by April 1, 2019.
"As for the Holland 40 Hotspur, we will be using her as a community sailing platform for Connecticut and New England sailors," said Chief Executive MudRat Brandon Flack. The intention is to have current MudRatz members who have offshore racing experience from the 2018 Newport to Bermuda Race to give back to the sport by donating their time to coaching youth sailors in disciplines of our sport they otherwise would not have access to.
On how the program has been able to grow so quickly and successfully, Flack says it all comes down to an inability to say no. "When something comes our way like a boat donation that can give us the chance to provide youth sailors with life changing experiences how could we say no?" he notes.
"So we say yes and figure out how to make it happen. We give the kids real responsibilities to put the campaigns together instead of just spoon feeding them opportunities. We give them real ownership in their experiences."
Keep up with the MudRatz here: https://mudratz.com
Source: Laura Beigel / sailingscuttlebutt
600
true
thumbnails
bottomright
300
true
800
none

600
true
dots
under
150
true
800
https://www.sualtigazetesi.com/wp-content/plugins/thethe-image-slider/style/skins/white-square-2
5000

fade

https://www.sualtigazetesi.com/deniz-kuvvetleri-kupasi-oncesi-murat-tan-atilla-gokova-yaris-ekibi-roportajlari/

5000

fade

https://www.sualtigazetesi.com/tayk-sunum-kuzey-kutup-dairesinden-guney-kutup-dairesine-gronland-ve-antarktika-prof-dr-talat-kiris/

5000

fade

https://www.sualtigazetesi.com/dadd-sunum-her-yonuyle-teknede-enerji-ve-enerji-sistemleri-zafer-turkmen/

5000

fade

https://www.sualtigazetesi.com/riza-epikmen-schuco-bayk-kis-trofesi-2-ayak-yarislari-oncesi-duygu-ve-dusunceleri/

5000

fade

https://www.sualtigazetesi.com/the-bodrum-cup-turkiyeyi-yelkencilik-dunyasinda-temsil-etti/

5000

fade

https://www.sualtigazetesi.com/banu-oney-ile-denizden-denize-marmarisden-seattlea-yelkenli-tekne-ile/

5000

fade

https://www.sualtigazetesi.com/rsx-kadinlar-sinifinda-2020-tokyo-olimpiyat-oyunlari%e2%80%99ndayiz/