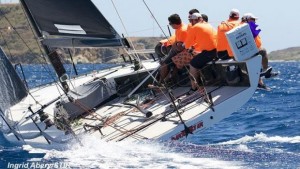 St Thomas, USVI (March 22, 2019) – Caribbean perfect sailing conditions spelled a great day of racing for the 50-plus boats competing in the first day of the 46th St. Thomas International Regatta (STIR).
Warm trade winds blew an average of 12 to 15 knots with occasional gusts to 20 knots, seas were relatively calm at 2 to 4 feet, and the bright sun made for a balmy 80's Fahrenheit. A notable feature of the day was the planned round-the-island-, rocks- and cays-style courses that offered highly competitive racing in an extraordinarily scenic setting.
"The courses were awesome," says St. John's Mike Feierabend, who with his all St. John crew helmed his J/24, Bravissimo, to first after today's two races in the CSA Spinnaker 2 class. "We really love going around the islands. The wind angles on the courses set by the race committee were especially nice."
The four-boat CSA Spinnaker 2's races were each nearly 10-nautical miles and wove around Dog Rock, Little St. James, and Packet Rock off St. Thomas' east end. Meanwhile, the eight boats in CSA Spinnaker 1 raced in the same vicinity, but these larger vessels were able to stretch their legs to a greater extent on a duo of longer courses that extended to Buck and Capella island's off St. Thomas southern Caribbean Sea shore.
"We sailed well today," says Antigua's Pamala Baldwin, who raced aboard her J/122 Liquid. Liquid, crewed by several aspiring professional race boat crew, is second in class, yet tied at 5 points with class leader, St. Thomas' Peter Corr's King 40, Blitz. "We had a one-hour debrief yesterday after the Round the Rocks race and worked out the tweaks. Four of our sailors are new to the boat and we really came together as a team today."
Flying Jenny, the USA's Sandra Askew's C&C 30, also had a productive day, finishing third in the CSA Spinnaker 1 class. Meanwhile, Puerto Rico's Jonathan Lipuscek's MC38 Dark Star was fourth.
"Great courses that were just the right distance with good angles to make it interesting," says Lipuscek, who is sailing his new MC38, for the second year in STIR. "Conditions were perfect for us. Great competition. This is what we liked best about today's racing. We're still learning the boat and continue to learn something new each day."
Rob Butler's Canadian-based Reflex 38, Touch2Play Racing, finished the day first in the CSA Non-Spinnaker class. This class sailed the same courses as the CSA Spinnaker 2 class.
Close sailing in the one-design IC24 class is a trademark as the 18-boat fleet sailed 5 races on windward-leeward courses set in Great Bay.
"I like sailing my Melges 24 because it's fun, but its even more incredible to have nearly 20 boats on the start line in the IC24 class," says St. Maarten's Frits Bus, sailing on Island Water World. "It's unbelievable how close the racing is. You can take the lead one minute and the next be six boat lengths behind."
Puerto Rico's Ramon Gonzalez and his team on Sembrador are leading the IC24 class, with four bullets and a seventh.
In the Beach Cat class, St. John's Dane Tarr is in the lead aboard his Nacra 18 Infusion, Family Cruiser. The Beach Cats sailed the same courses as the IC24s.
Round-the-island courses are something that USA-based Principal Race Officer Dave Brennan has been setting for the past several years at STIR.
"Sailing here is special and even more so when racing around the islands rather than marker buoys," says Brennan. "These types of courses make it more fun for the average sailor, who wants to sail with friends, especially those who don't have a lot of expertise with windward-leeward courses. We really work hard to set different types of courses each day. It's more fun this way and truly something special."
Competition will continue tomorrow and finish on Sunday, March 24. Racing starts at 11 a.m. each day.
Event information – Race details – Results – Facebook
Day One Results (Top 3)
CSA – Spinnaker Racing 1 (CSA – 8 Boats)
1. Blitz, King 40 40, Peter Corr , Mona Vale, NSW, AUS – 4 -1 ; 5
2. Liquid, J 122 40, Pamela Baldwin , Jolly Harbour, ANU – 3 -2 ; 5
3. Flying Jenny, C&C 30 30, Sandra Askew , Salt Lake City, UT, USA – 2 -6 ; 8
CSA – Spinnaker Racing 2 (CSA – 4 Boats)
1. Bravissimo, J 24 24, Mike Feierabend , St. John, VI, USA – 1 -2 ; 3
2. Bad Girl, J 100 32.8, Mackenzie Bryan , Christiansted, VI, USA – 5 -1 ; 6
3. Such Fast, 1D35 35, David Garman , Renton, WA, USA – 2 -4 ; 6
CSA – Non-Spinnaker (CSA – 6 Boats)
1. Touch2Play Racing, Reflex 38 38, Rob Butler , Collingwood, Ont, CAN – 1 -1 ; 2
2. Spirit of Juno, Farr 65 18, Arran Chapman , Falmouth, St. Pauls, ANT – 3 -2 ; 5
3. Wild T'ing, Dufour 40 40'4, Lawrence Aqui , St. Thomas, USVI, USA – 2 -3 ; 5
IC 24 (One Design – 18 Boats)
1. Sembrador, IC 24 24, Ramón Gonzalez Bennazar , Salinas, PR, USA – 1 -1 -1 -7 -1 ; 11
2. Orion, IC 24 24, Fraito Lugo , Ponce, PR, USA – 3 -5 -7 -1 -2 ; 18
3. Compinche, IC 24 24, Javier Enrique Pérez , San Juan, PR, USA – 5 -3 -5 -11 -3 ; 27
Beach Cats (Portsmouth – 3 Boats)
1. Family Cruiser, Nacra 18 Infusion 18, Dane Tarr , St John, U.S. Virgin Islands, USA – 1 -1 -1 -3 -1 ; 7
2. Golden Lion, Hobie 16 16, Tyler Rice , St. Thomas, Vi, USA – 2 -2 -3 -2 -2 ; 11
3. White Sails, Hobie 16 16, Naomi Laing , St Thomas, VI, USA – 3 -3 -2 -1 -3 ; 12
Background: STIR, celebrating its 46th anniversary this year, is a globally-recognized regatta renowned for its fantastic racing, first-class race committee and friendly can-do attitude towards its competitors.
Source: Carol Bareuther / sailingscuttlebutt
600
true
thumbnails
bottomright
300
true
800
none

600
true
dots
under
150
true
800
https://www.sualtigazetesi.com/wp-content/plugins/thethe-image-slider/style/skins/white-square-2
5000

fade

https://www.sualtigazetesi.com/deniz-kuvvetleri-kupasi-oncesi-murat-tan-atilla-gokova-yaris-ekibi-roportajlari/

5000

fade

https://www.sualtigazetesi.com/tayk-sunum-kuzey-kutup-dairesinden-guney-kutup-dairesine-gronland-ve-antarktika-prof-dr-talat-kiris/

5000

fade

https://www.sualtigazetesi.com/dadd-sunum-her-yonuyle-teknede-enerji-ve-enerji-sistemleri-zafer-turkmen/

5000

fade

https://www.sualtigazetesi.com/riza-epikmen-schuco-bayk-kis-trofesi-2-ayak-yarislari-oncesi-duygu-ve-dusunceleri/

5000

fade

https://www.sualtigazetesi.com/the-bodrum-cup-turkiyeyi-yelkencilik-dunyasinda-temsil-etti/

5000

fade

https://www.sualtigazetesi.com/banu-oney-ile-denizden-denize-marmarisden-seattlea-yelkenli-tekne-ile/

5000

fade

https://www.sualtigazetesi.com/rsx-kadinlar-sinifinda-2020-tokyo-olimpiyat-oyunlari%e2%80%99ndayiz/