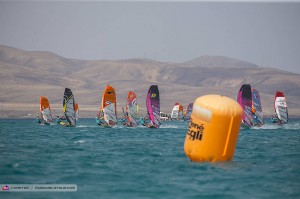 Day 9: A Short Burst of Wind Sees Elimination 5 Begin
The penultimate day of the 2018 Fuerteventura PWA Grand Slam – sponsored by René Egli – saw the first few heats of Elimination 5 completed in much lighter winds – 10-20 knots – before becoming too gusty and shifting direction too much to allow any further competition to be completed.
In the opening heat Nicolas Goyard (Tabou / GA Sails) claimed a clearcut victory, while 17-year-old Francesco Scagliola, Leigh Kingaby (Fanatic / Duotone) and 18-year-old Bastien Escofet (RRD / KA Sail) all successfully made into the second round.
In the second heat, Leon Belanger (Goya Windsurfing / Loftsails) and Aron Etmon (Starboard / S2Maui) shot clear of the rest of the fleet, while 15-year-old Nathan Westera looked as though he was going to qualify before Damien Cervera (Starboard / Severne) decided to try and force his way into the top 4 by attempting to try and dive inside both Westera and Tristan Kivi (Patrik / Point-7), but Cervera ended up going down, while taking Westera down in the process, which worked out well for Wojtek Brzozowski (Patrik / Sailloft Hamburg) and Kivi who secured the last two place in the top 4,
Arnon Dagan (RRD / NeilPryde) looked extremely quick in the lighter winds as well and he claimed a decisive victory in Heat 2 ahead of Mateus Isaac (JP / NeilPryde), Ingmar Daldorf (Tabou / GA Sails) and Andrea Rosati (RRD / Loftsails).
The last heat of the day proved to be Heat 5 and Sebastian Kördel (Starboard / GA Sails) successfully booked his spot in the quarterfinals as did Alexandre Cousin (Patrik / GA Sails / Chopper Fins), Basile Jacquin (RRD / Point-7) and Brzozowski, but Valentin Brault (Simmer / Simmer Sails) will have been disappointed to miss out after dropping his gybe at the third buoy when in 2nd place.
The forecast for the final day of the contest looks slightly better than today, so that should hopefully at least the 5th Elimination completed, but in the event that only one further race can be completed – Antoine Albeau (RRD / NeilPryde) would be guaranteed the victory without even sailing as he currently holds a victory as a discard. The sailors will meet again tomorrow morning at 10am for the skippers' meeting with the action commencing from 11am (GMT+1) onwards.
To stay up to date with all the latest developments from Fuerteventura — including the live stream, elimination ladders, entry list, images and live ticker simply click HERE and scroll to the bottom of the page.
Current Rankings 2018 Fuerteventura PWA Grand Slam – Men's Slalom
*After Four Eliminations
1st Antoine Albeau (FRA – RRD / NeilPryde)
2nd Matteo Iachino (ITA – Starboard / Severne / Shamal Sunglasses)
3rd Pierre Mortefon (FRA – Fanatic / Duotone / Chopper Fins)
4th Jordy Vonk (NED – Fanatic / Duotone)
5th Ross Williams (GBR – Tabou / GA Sails / Shamal Sunglasses)
6th Julien Quentel (SXM – Patrik / Avanti)
7th Arnon Dagan (ISR – RRD / NeilPryde)
8th Cyril Moussilmani (FRA – RRD / Severne)
9th Antoine Questel (FRA – Starboard / S2Maui)
10th Finian Maynard (KV – I-99)
Source: PWA
600
true
thumbnails
bottomright
300
true
800
none

600
true
dots
under
150
true
800
https://www.sualtigazetesi.com/wp-content/plugins/thethe-image-slider/style/skins/white-square-2