Alex Thomson rounded Cape Horn at 1142hrs UTC this morning describing his successful passage of the Vendée Globe solo round the world race's most notorious landmark as 'the best Christmas present ever.'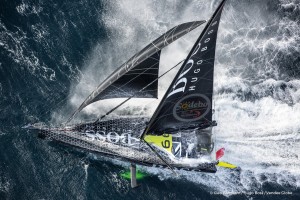 Since the solo non stop race was first raced in 1989, Thomson becomes the first skipper across all eight successive editions, to round Cape Horn on Christmas Day. He lies in second place behind Armel Le Cléac'h, passing the Horn one day 23 hours and 08 minutes after the French skipper rounded on Friday at 1234hrs UTC. Since Le Cléac'h rounded just after midday Friday, Thomson has seen the leading margin slashed from 818 nautical miles to a much more tenable 442 nautical miles at 1400hrs UTC this Sunday, Christmas Day. It is Thomson's fourth passage of the legendary cape. He sailed past just 1.5 miles off the iconic rocky island, grabbing handfuls of festive mince pies and Christmas Cake as welcome sustenance to keep his energies up as he dealt with very variable winds, rising and falling in strength between 16 and 40kts and altering in direction by up to 60 degrees. "I passed Cape Horn so I really am a happy chappy. I have had 15 to 40kts from 200 degrees to 260 degrees and so it has been quite challenging. Fortunately the seas are not too bad but it has been difficult to keep up a rhythm in these conditions and so in fact I have been eating my mince pies in between all of the gusts."
The Hugo Boss skipper confirmed: "It is the best Christmas present you can ever ask for to be getting out of the Southern Ocean especially after such a quick passage. It is a real joy to be getting out, but in some ways the Southern Ocean really does not end for another 200 miles or so or even 1000 miles to the north, but it really is a great landmark to be leaving behind us." Of his limited Christmas celebrations he said: "I managed to get a box of mince pies out and Christmas cake out, I can't do much because of the conditions aren't really allowing us, I am trying to film Cape Horn but conditions really aren't allowing us to do very much, flying down waves at 30kts is not really conducive, it is difficult to do much else. I think conditions are set to die down a little bit tonight and so I will go and search out my Christmas presents and see what Santa Claus has delivered."
Le Cléac'h has just passed east of the Falkland Islands and remains relatively slowed, making 12kts to Thomson's 16 and so the British skipper's returns should continue. "Armel has slowed down and it will be interesting to see what happens as we go north. Eventually there is a ridge and it will be interesting to see if Armel gets through that he will be gone. And if he doesn't then we will get a bit closer. So it will be interesting to see how it pans out. It is a very tricky stretch after this, to Rio can be one of the toughest parts of the race. You can get it all, big winds, no winds, the only thing you really don't get is anything to allow you to sail on starboard, it is very much a port tack up to Rio. That is really a little bit of a shame. But I have been enjoying my little bit of foiling these last few days. I have my spell of it and not the time to go back on to port has come. I am a little tired right now, I am always anxious when I am close to land on my own, so I have not really slept much in the last eight to nine hours, but I am not too bad. Physically I am OK, a few bangs, knocks, cuts and bruises, you get thrown around the boat. Mentally getting round Cape Horn is so refreshing. I am in good shape really."
The Wise Men
A big storm is expected south of Tasmania and New Zealand peaking at its worst on Tuesday evening when the active, fast moving low pressure system will contain gusts of 90 miles per hour to the north east of its centre. Consequently the skippers closest to its track are taking avoiding action. In ninth place Conrad Colman (Foresight Natural Energy) is in its track but is moving north and east to ensure he is clear of it as much as possible by tomorrow. And to the west there is a band of brothers, six skippers who are closely grouped, slowed to let the system move eastwards away from them.
In an initiative of solidarity which Irish skipper Enda O'Coineen likened to the Christmas Day truce on the Western Front in World War 1, O'Coineen, Eric Bellion (Commeunseulhomme) and Alan Roura (La Fabrique) have been sailing within a matter of a mile or two of each other, waiting together for the storm to fully form and move away from them. Rich Wilson (Great American IV) in 14th place is 46 miles ahead of Fabrice Amedeo (Newrest-Matmut) and 59 miles behind Bellion. Wilson said today: "The storm is moving east pretty quickly. We are not lined up in its sights when it is fully developed. That is lucky for all of us. There are five boats in front of me now all together. We are not quite with that trio (Bellion, O'Coineen, Roura) but it is really nice to see them grouped together and to see the solidarity. We have been in touch with some of the other skippers, with Fabrice and with Stéphane Le Diraison who is on his way to Melbourne. I have a sailing friend from Boston who lives there who has offered to help him. We have made that connection. There is a real brotherhood out here."
And the excellent progress of Catalan skipper Didac Costa continues. Because of his limited sail wardrobe now, he has lost his main gennakers, he is forced to take a more aggressive routing. But the Spanish soloist continues to have the evergreen Owen Clarke-Humphreys designed former Kingfisher on song, crossing Cape Leeuwin this morning at 0645hrs UTC, twenty days after race leader Le Cléac'h.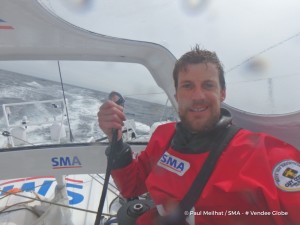 After confirming his official retirement from the race, Paul Meilhat (SMA) said today: "Since the damage to the keel mechanism on my boat five days ago and then officially retiring yesterday, I must admit it's hard going from a state where I was giving it my all with a clear goal and now when I am not sure about things and have my doubts… I'm trying to keep myself busy to forget things, hanging onto what really matters and looking after my boat. I have to focus on keeping safe and finding the best solution for the week ahead. The wind has eased off and conditions should be fairly calm in the coming days."
Quotes:
Enda O Coineen (Kilcullen Voyager Team Ireland): "With advice to slow down in order to avoid the worst of a storm, we thought we would make the most of the fact three boats were in close company so decided to have our own Christmas Party. After 50 days of racing 24/7, continually trying to go as fast as possible and to get ahead of other boats, we called a truce, down sails, slowed down, and rendez-voused in the middle of nowhere. Some 400 miles south of Tasmania, we exchanged gifts, and in my case sang some Christmas carols. I also gave Alan a memory Stick with over 100 movies and a cigar for which he was ecstatic. On receipt he bellowed back "That will be the first cigar I've ever smoked. Anyway I dispatched a small bottle of whiskey and a lucky leprechaun, but alas the throw was a foot short and despite gallant efforts from Eric it was lost to the Ocean."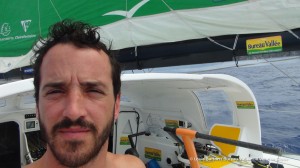 Louis Burton (Bureau Vallée): "There's quite a lot of wind, 35-40 knots and I'm sailing close to the wind. So it's quite bumpy on Bureau Vallée. The wind will be coming around to the north and it should be like that for practically four days. I didn't think I would enjoy Christmas, as it is not like ashore. The team left me some good stuff. I found some great food. I got lots of e-mails for Christmas. I should be passing Cape Horn on 3rd January."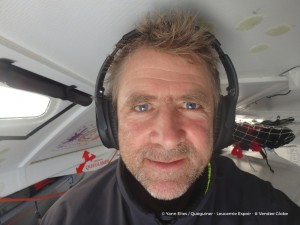 Yann Eliès (Quéguiner Leucémie Espoir): "Father Christmas brought me lots of presents, including some chocolates that I'm just eating and there was a memory stick with 30 minutes of the family, kids and friends. It was great seeing them put on their little show for 25th December. I had a tear in my eye. Yesterday I had the traditional foie gras.I am a long way south and the sea temperature is close to four degrees. I didn't sleep that well thinking I would be hearing us slamming into some ice. I haven't taken a shower since before the Cape of Good Hope. We have got out of the area of calms and are currently close to the centre of the low. It's not looking easy for the moment as the simulations show me on the edge of it for 6-7 hours and then I'll have to gybe this evening to get way from it. There are 1500 miles to go to Cape Horn, and I hope to be there on 31st and to be back in the Atlantic in 2017."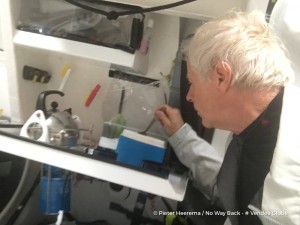 Pieter Heerema (NED) (No Way Back): "The weather is great I am going slow intentionally steering into the high pressure, because I have a huge list of things to be done which can only be done in a calm situation. I had repair the mainsail with ten patches. I have repaired three cars, on the mainsail track. The going is slow but the circumstances are fantastic. It is like a holiday cruise right now. I have let go my thoughts of the race right now. This comes as a welcome chance to prepare the boat for the Pacific. I am not completely ready but should be by the end of the day and then thereafter it is just keeping fingers crossed that a solution is found to the autopilot problems. If not then that is another reason to be in the north, because I look for a harbour in Australia and put the boat on a freighter back to Europe. Without an autopilot it is just not doable. I am not going back into the Southern Ocean without a working pilot. I have no idea what I am doing with the software."
Source: Vendee Globle
600
true
thumbnails
bottomright
300
true
800
none

600
true
dots
under
150
true
800
https://www.sualtigazetesi.com/wp-content/plugins/thethe-image-slider/style/skins/white-square-2
5000

fade

https://www.sualtigazetesi.com/deniz-kuvvetleri-kupasi-oncesi-murat-tan-atilla-gokova-yaris-ekibi-roportajlari/

5000

fade

https://www.sualtigazetesi.com/tayk-sunum-kuzey-kutup-dairesinden-guney-kutup-dairesine-gronland-ve-antarktika-prof-dr-talat-kiris/

5000

fade

https://www.sualtigazetesi.com/dadd-sunum-her-yonuyle-teknede-enerji-ve-enerji-sistemleri-zafer-turkmen/

5000

fade

https://www.sualtigazetesi.com/riza-epikmen-schuco-bayk-kis-trofesi-2-ayak-yarislari-oncesi-duygu-ve-dusunceleri/

5000

fade

https://www.sualtigazetesi.com/the-bodrum-cup-turkiyeyi-yelkencilik-dunyasinda-temsil-etti/

5000

fade

https://www.sualtigazetesi.com/banu-oney-ile-denizden-denize-marmarisden-seattlea-yelkenli-tekne-ile/

5000

fade

https://www.sualtigazetesi.com/rsx-kadinlar-sinifinda-2020-tokyo-olimpiyat-oyunlari%e2%80%99ndayiz/