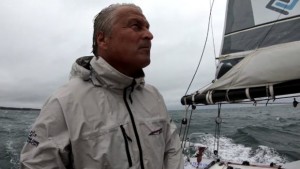 Joe Harris sailed offshore frequently in his 20s, racing to Bermuda and delivering boats to and from Europe and the Caribbean, before buying his own boat and moving to shorthanded offshore racing.
During the period 2004 to 2007, Joe earned a succession of first and second place awards for Bermuda and Transatlantic races, and in 2015-2016 successfully sailed his 40-footer, GryphonSolo2, around the world.
Joe, who is currently chairman of the Cruising Club of America's Environment of the Sea Committee, shares his sentiment for the next generation to embrace sailing as he has:
I grew up sailing and Long Island Sound out of the Indian Harbor Yacht Club and was really mentored by my dad Woody Harris. He was a great junior sailor and then went on to become a great offshore sailor, so he was anxious to see me get into the sport.
How I got involved in the Newport to Bermuda Race was by my dad getting an invitation and then asking if his kid could come along. I got some great experience racing on some amazing boats with them which I wouldn't have gotten if somebody hadn't given me a chance.
As a result, I love that CCA members are initiating youth sailing programs for that race. It's not one boat but now it's two or three or more boats that have made the commitment to get teenagers on board and gaining this experience.
Maybe the captain and navigator will be Bermuda Race veterans but pretty much the rest of the crew might be teenagers, all of whom might be good small boat sailors but maybe don't have much offshore experience. Having them work on navigation, cooking, sail changes, sail repair, boat maintenance, etc., maybe three to four months ahead of the race, has them master these skills so they are ready.
Getting through the Gulf Stream can be pretty testing as you get thrown around, possibly break something or get sick, so you want to be ready for it so you can get through to the other side and begin blasting toward Bermuda. There's no feeling like that.
I think the CCA is a group of like-minded people that love offshore sailing and adventuring and exploring and then sharing those adventures with their friends. I think they embody a spirit of excellence in seamanship, a big emphasis on safety at sea, and what I'm hoping to really bring forward is sense taking care of the sea that we enjoy being on so much.
We are seeking to advance a sense of stewardship with the new initiatives that we're rolling out which emphasize energy conservation and renewable energy. That to me is our duty to give back to the ocean that we love so much and provide us with the playground on which we explore the world.
Source: sailingscuttlebutt
600
true
thumbnails
bottomright
300
true
800
none

600
true
dots
under
150
true
800
https://www.sualtigazetesi.com/wp-content/plugins/thethe-image-slider/style/skins/white-square-2
5000

fade

https://www.sualtigazetesi.com/deniz-kuvvetleri-kupasi-oncesi-murat-tan-atilla-gokova-yaris-ekibi-roportajlari/

5000

fade

https://www.sualtigazetesi.com/tayk-sunum-kuzey-kutup-dairesinden-guney-kutup-dairesine-gronland-ve-antarktika-prof-dr-talat-kiris/

5000

fade

https://www.sualtigazetesi.com/dadd-sunum-her-yonuyle-teknede-enerji-ve-enerji-sistemleri-zafer-turkmen/

5000

fade

https://www.sualtigazetesi.com/riza-epikmen-schuco-bayk-kis-trofesi-2-ayak-yarislari-oncesi-duygu-ve-dusunceleri/

5000

fade

https://www.sualtigazetesi.com/the-bodrum-cup-turkiyeyi-yelkencilik-dunyasinda-temsil-etti/

5000

fade

https://www.sualtigazetesi.com/banu-oney-ile-denizden-denize-marmarisden-seattlea-yelkenli-tekne-ile/

5000

fade

https://www.sualtigazetesi.com/rsx-kadinlar-sinifinda-2020-tokyo-olimpiyat-oyunlari%e2%80%99ndayiz/