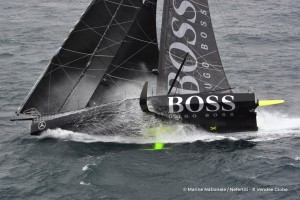 If British skipper Alex Thomson aged 42 ¾ , the second placed Vendée Globe skipper, wrote to Santa Claus?……
According to the current weather models, and as also supported today by the British skipper Alex Thomson in his Vendée LIVE call to Paris Race HQ, the two Vendée Globe solo round the world leaders Thomson and Armel Le Cléac'h should be at Cape Horn at Christmas. But, faced with probability of sailing on his unfavoured port tack for almost all of the remaining 3000 miles to the legendary 'corner' where the solo round the world race fleet turn left to climb back up the Atlantic, Thomson is rather hoping for an early Christmas present.
After snapping his starboard foil on November 19th he suffers a speed deficit in the moderate to fresh wind strengths on port gybe. Right now the Pacific Ocean is living up to its name for the two leaders, British skipper, Thomson is close to 300 miles behind leader Armel Le Cléac'h and has been racing in less than 10kts of breeze for some of today. The harsh reality is that he will likely have to wait until Rio before he can spend any sustained period on his favoured gybe, and hopefully pulling miles back on the French pacemaker Le Cléac'h. "In terms of the race, and winning the race, every mile you lose is significant," Thomson said in today's lunch time call. "Armel is a long way away from me right now. In terms of real distance he is 270 miles away. I am not really racing him. I am racing myself and trying to make the boat go as fast as possible. We will see what happens. At the moment to be truthful I am not going to catch up the miles I have lost in the next couple of days. Maybe if the wind gods are with me I can pull back a few miles, generally here the rich get richer and the poor get poorer."
He added: " I am concentrating on getting myself and the boat in the best possible condition for the final surge. I am just looking forwards to getting round Cape Horn, Christmas Day or Boxing Day will be nice, but really I just want to get off Rio, get off port tack and on to starboard." The leading duo look set to have just one small low pressure system to negotiate early in the weekend but before then mainly light winds in a messy, mixed up zone of high pressure. Reported regularly in the French media as Welsh, Thomson considers himself British, laying the Welsh or English matter to rest today: "I am British. My parents are both English. I was born in Wales. And my great grandfather owned a house where Murrayfield the Scottish rugby ground is. So I am bit of everything!"
Thomson spoke today to New Zealand yachtsman Mike Sanderson, two times winner of the Volvo Ocean Race, CEO of Doyle Sails based in New Zealand, who supply the British based team's sails. Sanderson confirmed that between Thomson's performance and that of Conrad Colman, the very first New Zealander ever to compete in the Vendée Globe, there has been a huge upsurge of interest in the solo round the world race in the ocean racing Mecca that is New Zealand. Correspondingly Colman, in 12th place 4800 miles behind anticipates passing his home islands at Christmas: "I am going to be rocking up around Christmas," Colman told Sanderson. "The heart strings will be pulling me left. But there is no doubt. There have been so many challenges so far there is no way I'm stopping in New Zealand." Sanderson affirmed, "We will be like the Team New Zealand ad here, we will be standing on the beach waving you past. It is very cool. We are all super proud in New Zealand. You have that boat punching well above its weight. You are having a fantastic race, even with some testing issues with your pilots. We have learned all about them in this house. I look forwards to waving you past. The country is Vendée Globe obsessed now thanks to you and Alex Thomson. You'd be blown away how many people are talking about the race."
JP Dick through the Bass Strait.
Jean Pierre Dick emerged from the Bass Strait this morning after detouring to miss the worst of a violent Southern Ocean storm. Rivals Yann Eliès and Jean Le Cam stayed further south and bore the brunt of some seriously big seas and winds, winds to 60kts and an unruly breaking swell of nearly eight metres at times. Dick has dropped a place to Le Cam but was back at full charge this afternoon, angled back to the south east. From being 300 miles behind, Jean Le Cam was this morning sixty miles ahead of Dick and only fifty miles behind Yann Eliès, currently directly south of Tasmania. Dick reported: "It's always strange getting back to civilisation, seeing earth and saying that we were in the Roaring Forties just a few days ago. Suddenly you are back in civilisation and it's a bit of a shock. It's quite emotional going through the Bass Strait. It's incredible to experience that in the Vendée Globe! I'm just passing Barren Island. It's very impressive with the wind getting up to 40 knots. There are steep seas. I decided to furl the headsail, as it was a bit hairy with the sandbanks around here. I'm now going down towards New Zealand to get back into the Southern Ocean. I have been busy navigating my way around over the past 24 hours and had to spend some time at the nav station. You only get this sort of excitement in the Vendée Globe. I saw the coast of Tasmania and Clarke Island, which looked amazing."
Source: Vendee Globe
600
true
thumbnails
bottomright
300
true
800
none

600
true
dots
under
150
true
800
https://www.sualtigazetesi.com/wp-content/plugins/thethe-image-slider/style/skins/white-square-2
5000

fade

https://www.sualtigazetesi.com/deniz-kuvvetleri-kupasi-oncesi-murat-tan-atilla-gokova-yaris-ekibi-roportajlari/

5000

fade

https://www.sualtigazetesi.com/tayk-sunum-kuzey-kutup-dairesinden-guney-kutup-dairesine-gronland-ve-antarktika-prof-dr-talat-kiris/

5000

fade

https://www.sualtigazetesi.com/dadd-sunum-her-yonuyle-teknede-enerji-ve-enerji-sistemleri-zafer-turkmen/

5000

fade

https://www.sualtigazetesi.com/riza-epikmen-schuco-bayk-kis-trofesi-2-ayak-yarislari-oncesi-duygu-ve-dusunceleri/

5000

fade

https://www.sualtigazetesi.com/the-bodrum-cup-turkiyeyi-yelkencilik-dunyasinda-temsil-etti/

5000

fade

https://www.sualtigazetesi.com/banu-oney-ile-denizden-denize-marmarisden-seattlea-yelkenli-tekne-ile/

5000

fade

https://www.sualtigazetesi.com/rsx-kadinlar-sinifinda-2020-tokyo-olimpiyat-oyunlari%e2%80%99ndayiz/