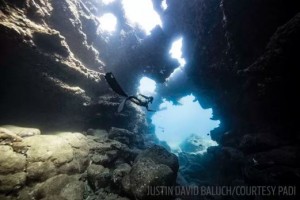 As a diver, climber, surfer, model and all-around intrepid traveler, Chelsea Yamase has seen and explored parts of the globe that many of us only ever dream of. With more than 425,000 followers on Instagram, the native Hawaiian has become a popular photographer, captivating many with her shots of picturesque landscapes and stories of underwater adventures. Whether diving lava tubes in her backyard of Kauai or venturing to untouched mountaintops in Iceland, her adventurous spirit will inspire you to escape the ordinary and get out and experience this beautiful Earth.
chelsea yamase
Palau and the Red Sea are among the dive destinations on Hawaii native Chelsea Yamase's bucket list.
Justin David Baluch/Courtesy PADI
Q: Tell us a little bit about yourself and your background. What was it like to grow up in Kauai?
CY: Growing up on Kauai shaped so much of who I am. It's a place that invites you to be outdoors and explore, but also one that can be quite rugged and unforgiving. Overall, it's just magic. My father is a commercial fisherman and my mom is a triathlete, so I spent the bulk of my childhood outdoors or doing some kind of activity. My favorite part of growing up on Kauai is how in tune people are with nature. To me, it was normal to know more about the wind and ocean patterns and what plants are edible than what new cool clothes I should be wearing.
Q: You are both an avid freediver and scuba diver. How has diving impacted your life, and do you prefer one over the other?
CY: I can't imagine not diving now. It's made me more intimate with the ocean and my own mind. Unlike surfing or boating, diving allows me to be 100 percent immersed in a different world where things don't work quite the same as we're used to. I prefer freediving over scuba. I enjoy scuba, but I don't feel quite the same level of connection or satisfaction as when it's just me and my own breath. I also don't like carrying tanks — ha! — so that was always a struggle.
Q: What are the top five places you've visited for diving?
CY: The top five that I've been to so far are Fiji, Wakatobi in Indonesia, Rangiroa in French Polynesia, Blue Hole and Ambergris Caye in Belize, and Greece.
Q: What do you think about when you're underwater?
CY: I try not to think too much. It's one of the few places in the world where I don't feel like I'm being inundated with information and distractions. I focus a lot on the way that light looks underwater; the way it dances and plays in caves is one of my favorite things. On deeper dives where I'm pushing myself freediving, I picture a square transforming into a circle then back into a square. Sounds weird, but it works for me.
Q: What's your most memorable diving experience?
CY: One of my favorite memories was when I first started freediving and a friend and I went swimming on Oahu's north shore. It's an area where you see dolphins and a lot of fish, but for some reason the ocean was remarkably quiet. Instead, we spent the morning collecting trash and any bits of fishing line floating around. Just when we were on our way in, we came across a huge baitball. The oama were docile and would part just wide enough to swim through, surrounding me as they slowly swam. I remember lying at the bottom as they crossed inches from my mask, thinking, This is so cool.
Source: sport diver
600
true
thumbnails
bottomright
300
true
800
none

600
true
dots
under
150
true
800
https://www.sualtigazetesi.com/wp-content/plugins/thethe-image-slider/style/skins/white-square-2
5000

fade

https://www.sualtigazetesi.com/dadd-sunum-her-yonuyle-teknede-enerji-ve-enerji-sistemleri-zafer-turkmen/

5000

fade

https://www.sualtigazetesi.com/riza-epikmen-schuco-bayk-kis-trofesi-2-ayak-yarislari-oncesi-duygu-ve-dusunceleri/

5000

fade

https://www.sualtigazetesi.com/the-bodrum-cup-turkiyeyi-yelkencilik-dunyasinda-temsil-etti/

5000

fade

https://www.sualtigazetesi.com/banu-oney-ile-denizden-denize-marmarisden-seattlea-yelkenli-tekne-ile/

5000

fade

https://www.sualtigazetesi.com/rsx-kadinlar-sinifinda-2020-tokyo-olimpiyat-oyunlari%e2%80%99ndayiz/