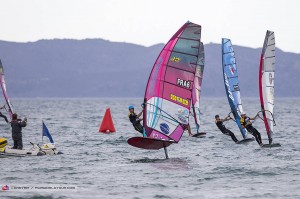 Day 1: Julien Bontemps Takes Early Event Lead With Victory in Opening Race
Registration on the inaugural day of the 2019 Catalunya PWA World Cup took place during the morning and with the sailors rigged and ready for action the first Foil Elimination of the week began a couple of hours after the opening ceremony was held.
However, things weren't particularly easy with the Tramontana fighting the local thermal for a time, while several sailors were unhappy that the first race was allowed to stand with the wind being on the limit, which may lead to the criteria for the lower end of the spectrum being reviewed.
Julien Bontemps (JP / NeilPryde), who finished 3rd here last season, made the perfect start to proceedings by claiming his first bullet of the year, and of the event, to take the overnight lead after the first day.
The Goyard brother's chased Bontemps home, but couldn't quite pass the Frenchman on this occasion. Thomas Goyard (FMX Racing / Phantom Sails / Phantom Foils), who won two out of the 3 eliminations in Japan, claimed second place just ahead of Nicolas Goyard (Tabou / GA Sails / Phantom Foils).
Mateus Isaac (JP / NeilPryde) made a solid start by securing 4th place ahead of Sebastian Kornum (JP / NeilPryde) and reigning world champion – Gonzalo Costa Hoevel (Starboard / Severne / Starboard Foil) – who recorded a 6th place, which is his best result of the season in a single race after a disappointing Japan.
Elsewhere, William Huppert (Fanatic / Duotone / LOKEFOIL) also equalled his best this season in a single race – 7th – while Alexandre Cousin (Patrik / Phantom Sails / Phantom Foils), Sebastian Kördel (Starboard / GA Sails / Starboard Foil) and Amado Vrieswijk (JP / Severne / Starboard Foil) complete the top 10.
Kiran Badloe (Starboard / Severne / Starboard Foil), who led the event in Japan after the first day of racing, made a catastrophic mistake in the semifinals to cost himself a place in the winners' final. The 25-year-old was comfortably qualifying in 4th place as he approached the finish line, but while glancing over his shoulder wiped out 20 or 30 yards before the finish line to miss out!
Antoine Albeau (JP / NeilPryde) was one of the sailors unhappy to hear that the opening elimination would stand. The 25-time world champion won his semifinal and looked prominently placed in the opening stages of the final, but then struggled in the light airs as he did in Japan.
The forecast for tomorrow shows the Tramontana continuing during the morning, but by 5pm the wind is expected to shift back to the southwest. The skippers' meeting has been called for 9am on Wednesday with a first possible start at 10am (GMT+2)
You can stay up to date with all the latest developments from Costa Brava — including elimination ladders, entry list, images and live ticker simply click HERE and scroll to the bottom of the page.
Current Ranking 2019 Catalunya PWA World Cup – Men's Foil
*After 1 Elimination
1st Julien Bontemps (FRA – JP / NeilPryde)
2nd Thomas Goyard (FRA – FMX Racing / Phantom Sails / Phantom Foils)
3rd Nicolas Goyard (FRA – Tabou / GA Sails / Phantom Foils)
4th Mateus Isaac (BRA – JP / NeilPryde)
5th Sebastian Kornum (DEN – JP / NeilPryde)
6th Gonzalo Costa Hoevel (ARG – Starboard / Severne / Starboard Foil)
7th William Huppert (FRA – Fanatic / Duotone / LOKEFOIL)
8th Alexandre Cousin (FRA – Patrik / Phantom Sails / Phantom Foils)
9th Sebastian Kördel (GER – Starboard / GA Sails / Starboard Foil)
10th Amado Vriesijk (NB – JP / Severne / Starboard Foil)
Source: PWA
600
true
thumbnails
bottomright
300
true
800
none

600
true
dots
under
150
true
800
https://www.sualtigazetesi.com/wp-content/plugins/thethe-image-slider/style/skins/white-square-2
5000

fade

https://www.sualtigazetesi.com/dadd-sunum-her-yonuyle-teknede-enerji-ve-enerji-sistemleri-zafer-turkmen/

5000

fade

https://www.sualtigazetesi.com/riza-epikmen-schuco-bayk-kis-trofesi-2-ayak-yarislari-oncesi-duygu-ve-dusunceleri/

5000

fade

https://www.sualtigazetesi.com/the-bodrum-cup-turkiyeyi-yelkencilik-dunyasinda-temsil-etti/

5000

fade

https://www.sualtigazetesi.com/banu-oney-ile-denizden-denize-marmarisden-seattlea-yelkenli-tekne-ile/

5000

fade

https://www.sualtigazetesi.com/rsx-kadinlar-sinifinda-2020-tokyo-olimpiyat-oyunlari%e2%80%99ndayiz/