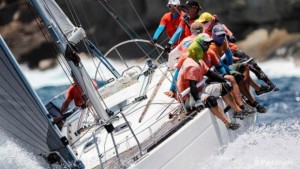 The 52nd edition of Antigua Sailing Week will commence with the Peters & May Round Antigua Race on April 27, followed by five days of competitive racing off the rugged south coast of Antigua which will wrap up on May 3, 2019.
Yachts flying the flags of 21 nations are entered with sailors from six continents; Africa, Asia, Europe, Oceania, North America and South America.
Diego Aguirre's team racing J/122 Inka have come all the way from Lima, Peru. Afanasy Isaev's team racing the 24m Grand Mistral One Design Weddell have flown in from frosty Siberia, and Phillippe Charet's A40 are from Melbourne, Australia.
The largest yachts competing will be Peter Harrison's British Farr 115 Sojana – a past winner of the Lord Nelson Trophy – and new to Antigua Sailing Week, the 100ft canting keel racing sled, SHK Scallywag, owned by Hong Kong's Seng Huang Lee and skippered by Australian David Witt.
The Antiguan National Sailing Academy's Cork 1720s at 24ft are the smallest yachts competing. NSA Spirit is skippered by Jules Mitchell and the rising stars of the Antiguan National Sailing and the Antigua Yacht Club. NSA Valiant will be skippered by Joshua Daniels and crew comprised of young Antiguan sailors from 14-20 years old.
The Youth to Keelboat Programme (Y2K) piloted in 2018 has more than 40 young sailors racing on competing yachts during the week. The next smallest yacht taking part is Speedy Nemo, the Dufour 34, owned by Raymond Magras of the famous family from St.Barths.
In the Bareboat Class, Cannon and Harvey's KHS&S Contractors will be looking to score a hat-trick having won Bareboat Overall for the past two editions. Some of the crew have been sailing together for 40 years, including two who did the 1979 Fastnet Race together. Fourteen teams, organized for the 29th year by Harmut Holtman's KH+P Yacht Charter from Germany, includes octogenarian Herbert Münzel who has participated more than 30 times at Antigua Sailing Week!
Event changes this year includes two new classes, four new racing marks, plus information about ASW Minimum Safety Rules. The new classes will be Double Handed and the High Performance Class. The new marks will facilitate longer leg coastal courses and improve options for windward leeward legs for all classes, including the Multihull Class.
Antigua Sailing Week is held annually at the end of April and the 52nd edition will commence with the Peters & May Round Antigua Race on Saturday, April 27, 2019. Following that will be five days of competitive racing off the rugged south coast of Antigua, which will wrap up on Friday, May 3, 2019.
Source: Louay Habib / sailingscuttlebutt
600
true
thumbnails
bottomright
300
true
800
none

600
true
dots
under
150
true
800
https://www.sualtigazetesi.com/wp-content/plugins/thethe-image-slider/style/skins/white-square-2
5000

fade

https://www.sualtigazetesi.com/deniz-kuvvetleri-kupasi-oncesi-murat-tan-atilla-gokova-yaris-ekibi-roportajlari/

5000

fade

https://www.sualtigazetesi.com/tayk-sunum-kuzey-kutup-dairesinden-guney-kutup-dairesine-gronland-ve-antarktika-prof-dr-talat-kiris/

5000

fade

https://www.sualtigazetesi.com/dadd-sunum-her-yonuyle-teknede-enerji-ve-enerji-sistemleri-zafer-turkmen/

5000

fade

https://www.sualtigazetesi.com/riza-epikmen-schuco-bayk-kis-trofesi-2-ayak-yarislari-oncesi-duygu-ve-dusunceleri/

5000

fade

https://www.sualtigazetesi.com/the-bodrum-cup-turkiyeyi-yelkencilik-dunyasinda-temsil-etti/

5000

fade

https://www.sualtigazetesi.com/banu-oney-ile-denizden-denize-marmarisden-seattlea-yelkenli-tekne-ile/

5000

fade

https://www.sualtigazetesi.com/rsx-kadinlar-sinifinda-2020-tokyo-olimpiyat-oyunlari%e2%80%99ndayiz/