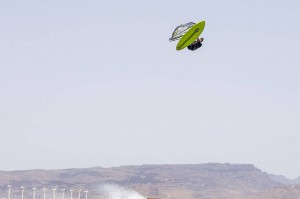 7 Things We Learned After the Canaries Leg of the Tour
After a busy month in Canaries, which saw 3 world cup events in 3 different Canary Islands – the Gran Canaria Wind&Waves Festival, the Fuerteventura PWA Grand Slam and the Tenerife PWA World Cup – we look back at a few of the things we have learned after the latest stint of the 2018 PWA World Tour.
1. Antoine Albeau (RRD / NeilPryde) and victory are synonymous with Fuerteventura
There are few record in the modern era of windsurfing that rank so highly as Antoine Albeau's record in Fuerteventura, which has seen him win all but one PWA World Cup in Sotavento since 2006 – the only man to deny Albeau the top spot on the podium over the last 13 years? Finian Maynard (I-99) in 2013.
However, while Albeau's victory in Fuerteventura this year may have seemed somewhat of a formality on paper, the manner in which he claimed his second event victory of the season was something else…Albeau won all 4 eliminations to claim his and Slalom's most dominant victory in recent years. No-one has won 4 elimination in a row since 2012 – when Albeau himself did the same in Alacati in 2012. Albeau's latest 4 elimination haul is perhaps made even more impressive by the fact that the level on the PWA Slalom World Tour is probably at the highest it has ever been. The 24-time-world champion is now tied on 40,700 points with – Matteo Iachino (Starboard / Severne / Shamal Sunglasses) – who leads the world tour having beaten Albeau more times this season (3 out of 5 events), but the title race is poised on a knife-edge heading into the final event of the season – Sylt, Germany, 28th September – 7th October.
2. The Moreno twins are still the ones that everyone has to beat – while continuing to create history both on and off the water
Daida was at her dominant best in Pozo Izquierdo and is the only windsurfer in the current era to boast a more impressive record at a single event than Antoine Albeau's in Fuerteventura. Daida's latest victory in Pozo Izquierdo was her 18th in 19 years – winning every year except 2012 when Iballa denied her.
Iballa then completed a hat-trick of event victories in Tenerife to ensure that between them the Moreno twins have won all 3 wave events between them this season and the 2018 Women's PWA Wave World Championship will belong to either Daida or Iballa again. Iballa is in the driving seat though with Daida needing to win in Sylt, while requiring Iballa to finish 3rd or worse. And while still leading the way on the water. the Moreno twins are also setting new standards and precedents off the water too. Daida and Iballa organise the Gran Canaria Wind&Waves Festival – which this year created history by becoming the first event to offer equal prize money for men and women.
3. Sarah-Quita Offringa (Starboard / NeilPryde / Maui Ultra Fins) is getting closer to the Moreno twins
Sarah-Quita Offringa has shown on 3 occasions this season that she is capable of beating either Daida Moreno (Starboard / Severne / Maui Ultra Fins) or Iballa Moreno (Starboard / Severne / Maui Ultra Fins) in competitions, which has yielded 3 second place finishes so far for 2018 – which is testament the hard work Offringa has put into developing her wave sailing. However, for now, at least the feat of beating both Daida and Iballa in the same contest remains a formula that Offringa has yet to crack.
4. Gollito Estredo (Fanatic / Duotone) is a competition machine
When it comes to competitive instincts and performing under pressure there is no-one better than Gollito Estredo. The 8-time Freestyle World Champion may have spent the months prior to the Fuerteventura PWA Grand Slam focusing more on waves than freestyle, but even so, no one could stop the Venezuelan from coming out on top again. Gollito's execution of manoeuvres was second to none – landing almost every trick completely dry – which saw him post the highest scoring heat of the event – 180.7 points against Yentel Caers (JP / Point-7) in the semifinals. The rest of the fleet may be continually closing the gap on Gollito, but when it comes to competition the 29-year-old seemingly always finds a way to raise the bar
5. Sarah-Quita Offringa remains the undisputed Queen of Freestyle
After Maaike Huvermann (Starboard / Severne / Maui Ultra Fins) pushed Offringa all the way last year in Fuerteventura – almost forcing a Super Final – most thought that this year would be the toughest year yet for Offringa to retain her PWA Freestyle World Title. However, like Gollito, Offringa is another athlete is seems capable of consistently raising her game – especially when it matters most. The now 15-time world champion brought new combos to the Women's Freestyle arena this year while sailing with even more power in the execution of her moves, which deservedly resulted with an 11th Freestyle World Championship. Offringa remains the undisputed Queen of Freestyle after extending her unbeaten run to 11 years!
6. Men's Wave Tour tougher than ever, but familiar top 2 look set to fight it out for the title…
After producing such a dominant performance in Pozo Izquierdo it seemed as though Philip Köster (Starboard / Severne / Maui Ultra Fins) was firmly on course for a 5th world title. However, with none of the top 3 in Pozo – Köster, Marcilio Browne (Goya Windsurfing) & Ricardo Campello (Brunotti Boards / Point-7) – managing to find a podium finish in Pozo that meant that things all changed at the top of the rankings.
Victor Fernandez (Fanatic / Duotone / Shamal Sunglasses), who finished 4th in Pozo, pounced to earn victory in Tenerife, while also taking control of the title race in a big turn of events… it now looks like a straight fight between Fernandez and Köster for the title with whoever beating who in Sylt likely to win the title. *Either Köster and Fernandez has won the world title since 2015.
7. Ricardo Campello shows tougher mental resolve
No-one has ever doubted Ricardo Campello's natural windsurfing ability, however, when it comes to competition it seems like the pressure can sometimes become too much for the 33-year-old to produce his best sailing at the most crucial moments. This season though it does seem that Campello is a tougher competitor – mentally and physically.
Examples of this include Campello producing a last-second win against Adam Lewis (Fanatic / Duotone / SWOX) in Pozo Izquierdo, while against Jaeger Stone (Starboard / Severne / SWOX) he recovered brilliantly from a slow start to earn an impressive victory. Slow starts in the past have often seen Campello implode, but not this season. Campello also overcame a massive mental hurdle by defeating longtime nemesis Victor Fernandez in Pozo, before claiming the scalp of Philip Köster in Tenerife. Campello may not earn the world title he so desperately craves this year, which Fernandez and Köster surely holding too much of an advantage, but looks like he is ready to challenge for the title again. Campello's exploits this season see him on course for his best finish since 2015, while also on course for a place on the overall podium for the first time since 2014.
Source: PWA
600
true
thumbnails
bottomright
300
true
800
none

600
true
dots
under
150
true
800
https://www.sualtigazetesi.com/wp-content/plugins/thethe-image-slider/style/skins/white-square-2
5000

fade

https://www.sualtigazetesi.com/deniz-kuvvetleri-kupasi-oncesi-murat-tan-atilla-gokova-yaris-ekibi-roportajlari/

5000

fade

https://www.sualtigazetesi.com/tayk-sunum-kuzey-kutup-dairesinden-guney-kutup-dairesine-gronland-ve-antarktika-prof-dr-talat-kiris/

5000

fade

https://www.sualtigazetesi.com/dadd-sunum-her-yonuyle-teknede-enerji-ve-enerji-sistemleri-zafer-turkmen/

5000

fade

https://www.sualtigazetesi.com/riza-epikmen-schuco-bayk-kis-trofesi-2-ayak-yarislari-oncesi-duygu-ve-dusunceleri/

5000

fade

https://www.sualtigazetesi.com/the-bodrum-cup-turkiyeyi-yelkencilik-dunyasinda-temsil-etti/

5000

fade

https://www.sualtigazetesi.com/banu-oney-ile-denizden-denize-marmarisden-seattlea-yelkenli-tekne-ile/

5000

fade

https://www.sualtigazetesi.com/rsx-kadinlar-sinifinda-2020-tokyo-olimpiyat-oyunlari%e2%80%99ndayiz/