................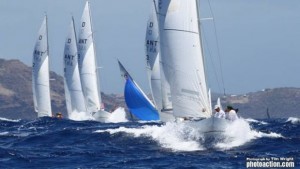 Antigua (April 20, 2019) – Race Day Two of Antigua Classic Yacht Regatta was amid vibrant sailing conditions along the southern coast of Antigua. The Race Committee led by Stephen Parry, set the Butterfly Course, with the Common Course at 20nm, and the Long Course at 30nm. The majority of the legs in the race were reaching or downwind in the warm trade winds south of east, gusting to 20 knots.
Carlo Falcone's 1938 79-foot Alfred Mylne yawl Mariella had a day to remember, taking fleet line honours for the Common Course in an elapsed time of 2 hours 30 minutes and 44 seconds. Mariella won her class ahead of the 1936 41-foot Rasmussen sloop Seefalke II, skippered by Oliver Greensmith.
And Christoph von Reibnitz's 1936 59-foot Henry Gruber yawl Peter von Seestermuehe. Mariella's astonishing speed was all the more impressive as she beat the elapsed time of the 141-foot schooner Colombia, nearly twice Mariella's water-line length.
"Mariella's designer gave her fantastic lines and I have known the boat now for over 30 years, when she is balanced, she just flies!" commented Falcone. "Today, the crew work was fantastic, almost totally flawless, and you put that all together and it is a wonderful feeling, especially racing at Classics. I was sailing with my wife and when we came in and heard Rocco's result, we were smiling even more!"
There was double delight for the Falcone family with Rocco Falcone skippering a young Antigua Yacht Club team to a narrow victory in the Dragon Class by just 21 seconds after over three hours of racing. There was a tie for second place between Eric Tulla's team racing for the New York Yacht Club, and Phil Hopton's team representing the Antigua Yacht Club.
Eighteen-year-old Rocco Falcone is the youngest son of Carlo Falcone. His father is an Olympian, and his brother Shannon has won the America's Cup twice and competed in two editions of the Volvo Ocean Race. Rocco was at the helm of the Dragon today with his close friends, who are all under 20 and young stars of the AYC: Rhone Kirby, Giles De Jager, and Louis Bavay.
"We were second to last at the first top mark, but we caught up on the reach," explained Rocco. "We have been sailing dinghies in these waters since we were small, and that knowledge really helps for sure, especially spotting the shifts.
"Yesterday we were over at the start, and that was our fault but it was still amazing. We got on the quarter wave of a big schooner, and rode the surf, hitting some serious boat speed. Winning today definitely feels good, we worked hard and we had to, we are racing against really talented teams."
Racing at Classics for the first time, Arrluuk has been home for the Frary family for the last 14 months. Steve, Trisha, and their two children Elizabeth (13) and Nathanial (11) all have very active crew positions on board and are racing at Classics with a crew of friends on the 58-foot Herreshoff ketch.
Arrluuk won class in today's race much to delight of the extended family. Patrick Illderton's 1957 52-foot S&S yawl Mah Jong, skippered by Alex Goldhill, was second.
"It is rare to get in front of a boat like Mah Jong and stay in front," smiled Steve Frary. "What is really special for myself and Trisha is that we spend so much time with the children. It is something that a lot of parents don't get to do in a normal lifestyle. On board Arrluuk we all have a say in where we will go and what we will do, and the whole family really loves the atmosphere at regattas, we are really loving it here."
In the Vintage Schooner Class, Richard West's 1928 50-foot schooner Charm III was the winner today, ahead of yesterday's winner Gerald Rainer's 1925 63-foot Herreshoff schooner Mary Rose. Charm III is a very apt name for the beautifully restored boat from Anguilla.
After a major refurbishment by her owner Richard West, the schooner was badly damaged by hurricane Irma in 2017, and underwent substantial repairs. However, on the delivery to compete at this year's Antigua Classic Yacht Regatta, the boat started to take on a significant amount of water, forcing the team of five to run for St Kitts to save the boat. Winning today's race was a 'charming' introduction to Classics.
"We were about 10 miles from Antigua on the delivery from Anguilla, when we came to the decision that we were just not going to cope with the leak," commented Richard West. "We turned downwind and headed for a haul-out in St Kitts to patch up the hull, and eventually sailed to Antigua, but too late to take part in the first day of racing.
"To win today was a great reward for the crew that have done so much in the restoration of the boat. Gerald from Mary Rose came over to us as we docked in Falmouth to congratulate us, which was very nice of him."
Racing at Classics continues tomorrow with the Kenny Coombs Memorial Cannon Race, followed by the Parade of Classic Yachts at Nelson's Dockyard.
The 32nd edition of Antigua Classic Yacht Regatta is planned for April 18-23.
Source: Louay Habib / sailingscuttlebutt
Diğer Konular
600
true
thumbnails
bottomright
300
true
800
none

600
true
dots
under
150
true
800
https://www.sualtigazetesi.com/wp-content/plugins/thethe-image-slider/style/skins/white-square-2

Bu konu şimdiye kadar