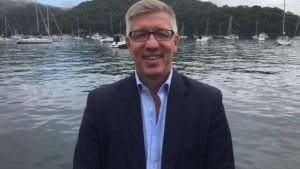 Australian Sailing has appointed Ben Houston (above) as Chief Executive Officer. As current President of Commonwealth Games Australia and as a past President of Triathlon Australia with over a decade as Supervising Counsel at Telstra, Houston is a widely respected sport and legal professional.
"Sailing has played a significant role in creating our national identity, and I am excited about the opportunity to create a stronger connection with our sport and the sailing community," said Houston.
Growing up sailing Lasers on the waters of Bundaberg in his youth, Houston brings a wealth of commercial, corporate governance and legal experience to the role.
He will set to work immediately on strengthening ties with clubs, classes and associations across the country as he continues the work done on the One Sailing governance model by previous CEO John Lee. He will also work with the athletes and coaches of the Australian Sailing Team, as they enter the business end of their preparations for next year's Olympic Games in Japan.
Houston's strong business acumen was an attraction for the selection panel, having over two decades of experience in negotiating major sports sponsorship, media and digital rights deal including working with the Telstra Group Executive to negotiate Telstra's digital rights deals as part of the multi-billion-dollar deals with the AFL and NRL.
As a former lead of Telstra's National Sponsorship program, Houston has valuable sports industry experience and was responsible for managing Telstra's multi-million-dollar sponsorship portfolio of sports and arts properties and national sporting events.
"After an extensive search, the Board of Australian Sailing could not be happier with the appointment of Ben as our next CEO," said President of Australian Sailing, Matt Allen. "He brings a unique mix of legal, commercial and governance experience along with an understanding of the needs of all of our stakeholders."
Allen also credited previous CEO Lee for the progress made under his tenure.
"John led Australian Sailing through one of the most significant changes in the governance of our sport. There can be no doubt that our sport is in a better place thanks to his work."
Houston will commence in the role first week of April.
Source: Australian Sailing / sailingscuttlebutt
600
true
thumbnails
bottomright
300
true
800
none

600
true
dots
under
150
true
800
https://www.sualtigazetesi.com/wp-content/plugins/thethe-image-slider/style/skins/white-square-2
5000

fade

https://www.sualtigazetesi.com/deniz-kuvvetleri-kupasi-oncesi-murat-tan-atilla-gokova-yaris-ekibi-roportajlari/

5000

fade

https://www.sualtigazetesi.com/tayk-sunum-kuzey-kutup-dairesinden-guney-kutup-dairesine-gronland-ve-antarktika-prof-dr-talat-kiris/

5000

fade

https://www.sualtigazetesi.com/dadd-sunum-her-yonuyle-teknede-enerji-ve-enerji-sistemleri-zafer-turkmen/

5000

fade

https://www.sualtigazetesi.com/riza-epikmen-schuco-bayk-kis-trofesi-2-ayak-yarislari-oncesi-duygu-ve-dusunceleri/

5000

fade

https://www.sualtigazetesi.com/the-bodrum-cup-turkiyeyi-yelkencilik-dunyasinda-temsil-etti/

5000

fade

https://www.sualtigazetesi.com/banu-oney-ile-denizden-denize-marmarisden-seattlea-yelkenli-tekne-ile/

5000

fade

https://www.sualtigazetesi.com/rsx-kadinlar-sinifinda-2020-tokyo-olimpiyat-oyunlari%e2%80%99ndayiz/