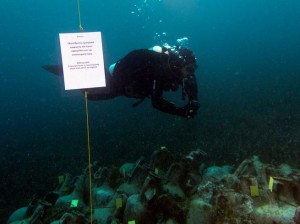 The Peristera shipwreck—located near the Greek island of Alonissos—is one of the first wrecks in Greece that will open to the public, including recreational and professional scuba divers.
The wreck was originally discovered in the 1990s and is thought to have been built in the 5th century B.C.
Up until 2005, scuba diving was largely banned in the waters around Greece except for special cases and mainly open only to archaeologists. Even then, sites like the Peristera and other ancient shipwrecks were off limits to the public.
Now there is a new initiative to create underwater museums, and the first shipwreck on display is the Peristera. The ship had its first public visitors over the weekend of April 6-7. This dive trial was the first time amateur divers were allowed to dive the wreck in preparation for its formal opening in 2020. The purpose of this dive was to receive feedback and determine any risks involved with diving the wreck itself.
The briefing includes historical information for diving the wreck that is situated at 72 to 92 feet below the surface.
"It is very impressive," said Dimitris Kourkoumelis, lead archaeologist on the project, in an interview with the Associated Press "Even I, who have been working for years in underwater archaeology, the first time I dived on this wreck I was truly impressed."
The dive site features signage suspended from the wreck around the perimeter. Divers can expect to see ancient amphoras and vases lying on the bottom of the ocean floor as well as fish, sponges and other marine critters.
Many ancient shipwrecks in Greece are still considered off limits for diving. However, this project includes three additional shipwrecks located in the Pagasetic Gulf. It's been reported by the Associated Press that those sites are presumed to open to the public by 2021.
Source: Sport Diver
600
true
thumbnails
bottomright
300
true
800
none

600
true
dots
under
150
true
800
https://www.sualtigazetesi.com/wp-content/plugins/thethe-image-slider/style/skins/white-square-2