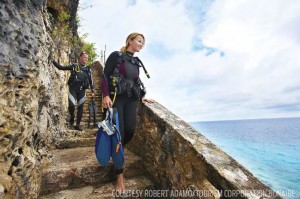 Timing is everything
To make the most of each dive, it's a good idea to ask a divemaster when to head to the sites on your list. For example, shore-diving sites such as Karpata on Bonaire's northwest coast should be done as early as possible. But the iconic Hilma Hooker wreck is less crowded in the afternoon.
So don't rush anything
You'll thank yourself later for keeping an eye on the waves and making a slow, deliberate entry. This will help keep you from getting rocked by a wave, and from being flustered before your dive. Before making your descent, give yourself another minute to breathe, take in your surroundings, and check in with your buddy. (If you're diving with a fancy camera rig, we suggest using the buddy system: One diver gears up and safely enters, then is passed the camera before his or her buddy gears up and gets in the water.)
Travel light
Make sure you have the pocket space for the essentials, and leave unnecessary gear in your room. You'll want to keep your hands free during shore entries in case an unexpected wave rolls by. If it's not waterproof, leave it in your room because unattended trucks can attract unwanted attention.
Boots are a mandatory accessory
Save your full-foot fins for the dive boat because without a rugged pair of dive boots — preferably with a thick, nonslip sole — your shore diving could be over before it begins. Rocky entries with sea urchins lead to many of Bonaire's best shore dives.
Speaking of essentials
Be sure to have the following items, especially if you're diving without a guide: dive boots, open-heel fins, a compass, a dry case (for keys and credit cards), a dive computer, an SMB, a BC with large pockets and a warm wetsuit.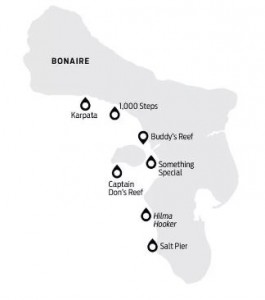 Divers Guide to Bonaire
When to go: Year-round, but lower rates are available during the summer months.
Weather: 84 to 89 degrees F year-round
Water temp: Averages in the 80s year-round
Visibility: 80 to 100-plus feet year-round
National park info: Before you can dive in Bonaire National Marine Park, you'll have to complete a checkout dive to prove your skill level and pay a $25 cash entry fee per person (the fee for snorkelers is $15).
Dive shop info: Buddy Dive Resort Bonaire offers multiple daily boat trips to Klein Bonaire. Buddy Dive's house reef is also accessible for divers who aren't staying at the resort, but night diving is only available for resort guests.
Insider tip: Buddy Dive's drive-thru filling station is open from 8 a.m. to 6 p.m., so plan your tank fills accordingly.
Source: Sport Diver
600
true
thumbnails
bottomright
300
true
800
none

600
true
dots
under
150
true
800
https://www.sualtigazetesi.com/wp-content/plugins/thethe-image-slider/style/skins/white-square-2
5000

fade

https://www.sualtigazetesi.com/deniz-kuvvetleri-kupasi-oncesi-murat-tan-atilla-gokova-yaris-ekibi-roportajlari/

5000

fade

https://www.sualtigazetesi.com/tayk-sunum-kuzey-kutup-dairesinden-guney-kutup-dairesine-gronland-ve-antarktika-prof-dr-talat-kiris/

5000

fade

https://www.sualtigazetesi.com/dadd-sunum-her-yonuyle-teknede-enerji-ve-enerji-sistemleri-zafer-turkmen/

5000

fade

https://www.sualtigazetesi.com/riza-epikmen-schuco-bayk-kis-trofesi-2-ayak-yarislari-oncesi-duygu-ve-dusunceleri/

5000

fade

https://www.sualtigazetesi.com/the-bodrum-cup-turkiyeyi-yelkencilik-dunyasinda-temsil-etti/

5000

fade

https://www.sualtigazetesi.com/banu-oney-ile-denizden-denize-marmarisden-seattlea-yelkenli-tekne-ile/

5000

fade

https://www.sualtigazetesi.com/rsx-kadinlar-sinifinda-2020-tokyo-olimpiyat-oyunlari%e2%80%99ndayiz/