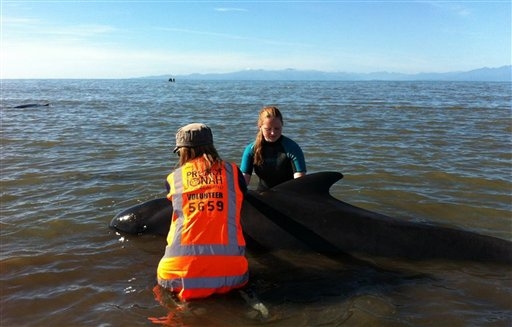 In this Tuesday photo provided by Project Jonah, stranded pilot whales are helped by volunteers at Farewell Spit on New Zealand's South Island.
By msnbc.com staff and news services
Some 33 long-finned pilot whales that were refloated Wednesday off a New Zealand beach with the help of volunteers became stranded again Thursday and will have to be euthanized, officials told TVNZ.
"Unfortunately the stranded whales are now also further along the Spit and on the extreme boundary of our ability to reach them for another rescue attempt," Kimberly Muncaster, CEO of the marine-mammal rescue group Project Jonah, told the TV station.
"The Department of Conservation has decided they will have to be put down."
John Mason, a Department of Conservation official, said the whales were physically deteriorating and in distress.
advertisement
The whales were part of a larger pod of 99 whales that beached on Monday at Farewell Spit in Golden Bay on the South Island.
Volunteers have refloated surviving whales twice only to have them restrand. Each time, more whales died.
A total of 82 whales will now have died since the stranding on Monday, according to TVNZ.
Pilot whales grow to about 20 feet, and large strandings are common during the New Zealand summer. Experts describe Farewell Spit as a whale trap due to the way its shallow waters seem to confuse whales and diminish their ability to navigate.
http://worldnews.msnbc.msn.com/
600
true
thumbnails
bottomright
300
true
800
none

600
true
dots
under
150
true
800
https://www.sualtigazetesi.com/wp-content/plugins/thethe-image-slider/style/skins/white-square-2
5000

fade

https://www.sualtigazetesi.com/dadd-sunum-her-yonuyle-teknede-enerji-ve-enerji-sistemleri-zafer-turkmen/

5000

fade

https://www.sualtigazetesi.com/riza-epikmen-schuco-bayk-kis-trofesi-2-ayak-yarislari-oncesi-duygu-ve-dusunceleri/

5000

fade

https://www.sualtigazetesi.com/the-bodrum-cup-turkiyeyi-yelkencilik-dunyasinda-temsil-etti/

5000

fade

https://www.sualtigazetesi.com/banu-oney-ile-denizden-denize-marmarisden-seattlea-yelkenli-tekne-ile/

5000

fade

https://www.sualtigazetesi.com/rsx-kadinlar-sinifinda-2020-tokyo-olimpiyat-oyunlari%e2%80%99ndayiz/