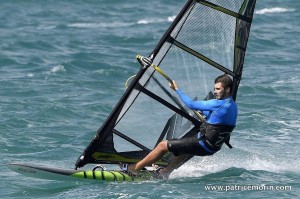 With Two-Time PWA Youth Slalom World Champion Basile Jacquin
Basile Jacquin (I-99 / Point-7) is one of the brightest young prospects on the PWA Slalom World Tour. The 20-year-old has already won two PWA Youth Slalom World Championships and is already ranked within the world's top 20 after finishing 19th in 2018 – having claimed his first top 10 finish in the season finale in Sylt. The New Caledonian has qualified for numerous Winners' Finals and clearly has all the attributes to mix it with the best in the business. You can read our latest 20 Questions feature with Basile below:
1. Why are you so passionate about windsurfing?
I started windsurfing with my dad when I was 6-7 years old, and it's so nice because this sport is so technical with all the tuning, testing, racing… There is always something to improve, which keeps you motivated!
2. What quality do you like most in other people?
I like people who want to have fun and enjoy every day!
3. What annoys or frustrates you the most?
The waiting game during an event, most of us windsurfers know what I'm saying …
4. What do you most like in yourself?
In my self ahaha I don't know.
5. What do you dislike in yourself?
I don't like when I miss an event or a race because I didn't have enough focus.
6. What has been your best moment on tour?
My best moment on the PWA was my first event in Costa Brava in 2017 I think. I managed to make 3 consecutive winner's finals and scored 2nd, 4th and a 5th places when I was 18 years old.
7. What has been your worst moment on tour?
When I won my 2 PWA Youth World Titles
8. Knowing what you know now, what advice would you have given yourself when your career started?
I think I could have said to myself, man stop going out during an event… ahaha. I miss so many good results because of that as I was perhaps a bit young to understand that I need to be 100% focused to reach my goals. But now, I know it.
But on the other side, we had some really good moments, so it's not something that I want to forget !
9. What is the best advice you have ever been given?
I think to never miss or give up during a race. I remember my first IFCA Youth World Championship in Italy. I broke my mast 10 minutes before my first heat. The time it took me to come back to the beach on a boat and to change the mast my heat had already started. But my coach pushed me to go out with 7,8 and big board (as my 8,6 mast was broke), I arrived on the starting line 1min after the start, and I managed to finish 5th and only top 4 advanced, but luckily somebody went over early and I managed to advance until the final and then went on to win it.
10. What would be your perfect day?
My perfect day, at home of course would be: morning surf sesh, Sashimi on a small island after surfing. then sick freestyle session there.
11. Which living person do you most admire?
I do not really have one person, but let's say for windsurfing I admire people who performing across all the disciplines at a high level.
12. What is your greatest fear?
To get injured during an event and to miss a complete season… I saw many guys doing it and I know that it's super hard to come back.. Congrats to Ethan [Westera] and Taty [Frans] for that.
13. What is your most treasured possession?
All my friends around the world 😉
14. If you weren't a professional windsurfer, what would you like to be?
A sports teacher, that's what I'm studying now.
15. Where is the best place you've been?
Too many places to choose from, maybe New Caledonia and Portugal.
16. Where would you most like to go to that you haven't been to yet?
Maui
17. Who would you most like to have as a dinner guest, dead or alive?
Rocky
18. First App you open in the morning?
Instagram
19. Most visited website?
PWA livestream
20. A phrase you live by?
Let's go for it !
Thanks Basile. You can keep up to date with all of Basile Jacquin's latest news and adventures via his Social Media Channels:
– Facebook: @Basile Jacquin Fra-498
– Instagram: @basilejacquin
Source: PWA
600
true
thumbnails
bottomright
300
true
800
none

600
true
dots
under
150
true
800
https://www.sualtigazetesi.com/wp-content/plugins/thethe-image-slider/style/skins/white-square-2
5000

fade

https://www.sualtigazetesi.com/deniz-kuvvetleri-kupasi-oncesi-murat-tan-atilla-gokova-yaris-ekibi-roportajlari/

5000

fade

https://www.sualtigazetesi.com/tayk-sunum-kuzey-kutup-dairesinden-guney-kutup-dairesine-gronland-ve-antarktika-prof-dr-talat-kiris/

5000

fade

https://www.sualtigazetesi.com/dadd-sunum-her-yonuyle-teknede-enerji-ve-enerji-sistemleri-zafer-turkmen/

5000

fade

https://www.sualtigazetesi.com/riza-epikmen-schuco-bayk-kis-trofesi-2-ayak-yarislari-oncesi-duygu-ve-dusunceleri/

5000

fade

https://www.sualtigazetesi.com/the-bodrum-cup-turkiyeyi-yelkencilik-dunyasinda-temsil-etti/

5000

fade

https://www.sualtigazetesi.com/banu-oney-ile-denizden-denize-marmarisden-seattlea-yelkenli-tekne-ile/

5000

fade

https://www.sualtigazetesi.com/rsx-kadinlar-sinifinda-2020-tokyo-olimpiyat-oyunlari%e2%80%99ndayiz/