................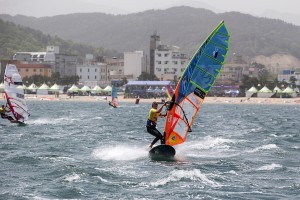 Ethan Westera on the Road to Full Fitness and Feeling Positive for 2018
Ethan Westera (Tabou / GA Sails) suffered a potentinially career threatening injury during the 2017 Fuerteventura PWA Grand Slam after a collision at one of the gybe marks, which resulted in the 20-year-old severing a tendon in his lower leg. After such a positive start to the season – 16th in Korea and being crowned IFCA Slalom World Champion – it must have been a devastating blow for the Aruban, who had aspirations of recording his best season to date. However, after a long rehabilitation process the 2016 PWA Youth Slalom World Champion is back on the water and looking forward to the 2018 season. We recently caught up for Ethan with an interview.
Hey Ethan, how's it going?
Hi everyone, I'm doing well, Just started a bit of windsurfing at the beginning of February. Since then only a positive line to the top. Feeling better day by day and also healthier. Staying on Aruba for this winter training for a better preparation mentally and physically. Really looking forward to get back to some racing!
So, everyone is aware that you suffered a really bad injury in Fuerteventura last summer, but it seems like you are on the road back to full fitness now… how hard was the rehabilitation process for you?
Yes I'm on the good road to full fitness. Still missing some strength and stretch on my foot and leg, but we are more than 100% on the good road.
About the rehabilitation it was hard I can tell you that. I never had a serious injury in my windsurfing career until this incident happened, So I didn't know what would happen. I also started the season with some nice results, so I was aiming for the best season in my windsurfing career and then everything stopped in one second.
Mentally the first 3 weeks were really heavy. I can say that I think I learned all the ins and outs of doctors, hospitals, physiotherapist , wound care. I went to many doctors and physiotherapists in Holland and Aruba that helped me get a better image about what works for me and what doesn't. During this process I learned how to have patience, care more about myself, be grateful for what I have, feel my body more and that the work never stops (never ending process). When you are injured the only thing you think of is that you want to get back to what you were doing, that could be walking, swimming and even running. When I started walking again I was the happiest guy in the world!
The Rehabilitation was also hard for me, because I needed to spend time every single day in physio sessions, gym sessions, massage sessions, wound care appointments and for me this was completely different from what I normally do and that is windsurfing.
From all the difficult things and hard moments that I passed through there is only one thing I can tell you and that is LISTEN TO YOURSELF/BODY. Don't let anybody tell you what you can and can't do.
Thank you to my team (Family, physiotherapists and doctors) for making good decisions and trusting each other.
You are now back on the water both freestyle and slalom sailing by the looks of it… how good does it feel to be back on the water doing what you love?
Yes now I'm back on the water doing freestyle, foil and slalom and I can tell you that it's amazing to be back! I'm not holding back what so ever. I'm going full throttle in every session and giving it my all every time I'm going out for a session. I went for a trip to Peru, Paracas for more than 2 weeks and I have been sailing freestyle, slalom and foil every single day! I just love it. Just got back on Aruba and now the work starts, preparing for this season. still many things to do, but I'm confident that I will be more than ready.
The start of the 2018 PWA Slalom World Tour is now 2 months away – do you expect to be able to compete on the Asian leg of the tour?
Yes it's 2 months away! Time is flying. Yes I expect that I will be more than ready to compete on the Asian leg of the tour. I will put the last pieces of the puzzle together these last 2 months and I will be there ready to fight!
Last year it looked like you were really making some progress – starting the year with a top 16 result and also being crowned IFCA World Champion – it must have been a tough pill to swallow when you got injured in Fuerte?
Yes definitely it has been tough, but I believe everything happens for a reason.
This season is another one and I will be giving my all to get back into it. The Hardest thing for me was that it felt like the whole world stopped, because my world was windsurfing. I learned that it's not only windsurfing there is so much more that you could do in this beautiful world.
You are still only 20 – which is extremely young in the world of slalom – after your injury have you had to change your goals for 2018 or are you just aiming to come back and hit the ground running and hopefully pick up where you left off?
Haven't changed anything. I have the same game plan. Come back and hit the ground running is a good one! haha. Yes I'm coming back and I will pick up where I left off or maybe even better. It all depends how I will feel in the end of these 2 months. These 2 months will be 2 key months for me. Let's see what will happen. I know many other riders are also pushing, so I will just wait and focus on myself to be ready.
What are your goals for 2018?
I'm coming in this season with no goals. I'm coming in full throttle, so of course I'm thinking of hitting the top 16 and top 10, but no goals. No pressure and just giving it my all.
Let's have some fun this year!
Thanks for the interview PWA!
Hopefully I will be seeing all of you soon again.
Regards Ethan Westera
Thanks Ethan. Glad to hear that the recovery is going well and look forward to seeing you competing again soon. Good luck with the rest of your preparation.
Source: PWA
Diğer Konular
600
true
numbers
topleft
300
true
800
http://www.sualtigazetesi.com/wp-content/plugins/thethe-image-slider/style/skins/white-square-1

1
2
3
4
5
6
7
8
9
10
11
12
13
14
15
16
17
18
19
20
21
22
23
24
25


Bu konu şimdiye kadar