Sometimes one has to gain a bit of altitude to get a better vision upon the things. Gaining height to discover that, wherever your are on the big planetary chessboard, this ultimate kind of e-venture has to be lived, shared and, for the time of a circumnavigation, embodies a spirit of sharing within the contest. If, for some of you, the race in the front lines demands strategy and constant focus, for all, any single spot gained in the ranking is a victory towards les Sables d'Olonne. As far as the leaders are concerned, they've made the junction with the Vendée Globe's second, Alex Thomson on Hugo Boss.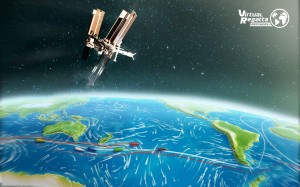 The IMOCAs' virtual cloud spread over the Indian Ocean in this 41st day of race is unfortunately not visible from space; but if Thomas Pesquet, the French spaceman living since 30 days in the ISS, could see our 438,000 boats, he would surely send very impressive pictures. Today's display made by our home illustrator shows pretty well how much the Virtual Vendée Globe fleet is stretched.
Ranking Brief
Slightly slowed down after a wind shift, the forerunners are still close hauled but in more sustained conditions. In a wind of 20kts or so, phosphorIST, Margael and NZ-Eligo IST are sailing at 13 kts, heading to southeast. The option they have taken 48 hours ago is clearly paying off and now leaves the southern pack far behind, but at this stage of the competition, everything is relative. The Pacific Ocean is all the more unpredictable that the weather systems are not as precise than in the Indian Ocean. But today's highlight is that the Virtual Vendée Globe leaders' group just caught up with the Vendée Globe's second, namely Alex Thomson, who's been slowed down a lot in these last days. Much more in the North, some modern times adventurers are trying an option far away from the ideal route, but they hope to get a NWl'ly flow very shortly, which would enable them to dash fast and well towards Cape Horn.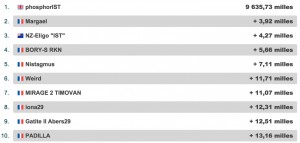 This strategy has to be watched closely because the South is nowadays rather imprecise and confused. Between the Kerguelen Islands and Cape Leeuwin, lots of competitors are sailing in sustained conditions and are showing good headways towards different goals, like the entrance into the Pacific Ocean, the 180th antemeridian or the mid-way of the race. Have a nice Weekend, everybody!
If you happen to pass by the VR news boat, do not hesitate to leave a message; this vessel is the link between the players and the editors. As we already have told, the huge success of the boat does not allow us to answer all your questions. As news go by, we'll bring you some solutions, advises, answers,and all this kind of things…
Thanks to you all for your messages. Embark for the virtual race around the world! Join us at: http://www.virtualregatta.com/
Source: Vendee Globe
600
true
thumbnails
bottomright
300
true
800
none

600
true
dots
under
150
true
800
https://www.sualtigazetesi.com/wp-content/plugins/thethe-image-slider/style/skins/white-square-2