Today for Vendée Live in English, New Zealander Mike Sanderson was present in the studio and was able to talk to Britain's Alex Thomson racing aboard his black Hugo Boss and fellow Kiwi, Conrad Colman.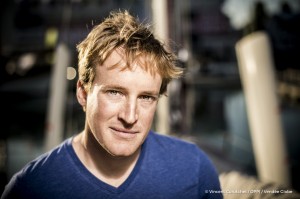 Mike Sanderson: The whole of New Zealand has adopted Alex Thomson as a Kiwi. We are living every minute of the race with you. We are so super impressed. You are having a blinder.
Alex Thomson: It is good so far. I am enjoying it. It is a shame I have not been able to hang on to Armel. It is a shame. If I still had the port foil then it could be a different story. I am enjoying it on the whole.
MS: You know how obsessive Kiwis can be about their sailing and so we have adopted Alex Thomson. It is very exciting to know you have been closer to us and now you are getting away from us, scorching across. Very soon you will be turning left and heading home.
AT: I am looking forwards to that Moose. I tell you. It will be Christmas Day or Boxing Day. But I am most, most looking forward to getting past Rio so I can get on to starboard. I can be on starboard all the way home from there. That's what I am really looking forward to.
MS: It is evident you are looking after the boat, looking after the gear. That was noticeable, the way you paced it through the last system, was very impressive.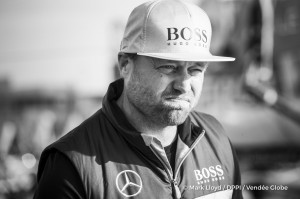 AT: Well it is vaguely warm at the moment. I might be getting a bit of Kiwi in the wind. I have light winds, less than 10kts from the NW. It is warmer than it was. I am sailing into the high pressure and then a little low. And then I have to go into a bit further to get into some real wind. I don't think I am going to get to heading back towards the Horn for about 500 miles. It is going to be a bit of a detour. It can't really be helped. There is not much I can do about it. The next day or so will be light. It will give me a chance to do a few little jobs which I have to do, to catch up with a little bit of sleep. I hope it does not go too light. But I hope to be able to relax a little bit. The pace has been frenetic since the start. We have been doing the pace of Orange in 2002. It has been stressful and hard work. So in some ways it is good, other than I am losing miles, not to be living on the edge for a while. In terms of the race, and winning the race, every mile you lose is significant.
Conrad Colman: It is a beautiful sunny day in the Southern Ocean and I am sailing under spinnaker. I have been dodging icebergs. It has been pretty cold. I have been trying to get the autopilots back on line. I don't have any wind instruments and so it is a little bit dicey when I am sailing under spinnaker. There is lots of guesswork involved in terms of wind strength and angles. So I have been soldering and connecting cables and putting on strings. And helping the boat back up. Because I am not sailing with wind (the pilot feed) then the boat wipes out a lot. It is not a problem. I am working through the user manuals and the trouble shooting guides. I spend a lot of time driving. I am tired. But the boat speed is good. I am a little bit unsure about how fast to go, considering the technical challenges that I face. That is why I sought out Arnaud Boissières to cross tacks with him and do a speed test, and so I came out with a better angle, and that gave be a big boost of confidence.
Mike Sanderson: "You are on your way home. You just have to go passed this time, that is all."
Conrad: "I know. I am going to be rocking up around Christmas. The heart strings will be pulling me left. But there is no doubt. There have been so many challenges so far there is no way im stopping in New Zealand."
MS: "It is very cool. We are all super proud in New Zealand. You have that boat punching well above its weight. You are having a fantastic race even with some testing issues. We know all about them in this house. I look forwards to waving you past."
Conrad: "Thanks Moose. You are a great inspiration to me, to me getting this far. You are the Kiwi who got closest to doing the Vendée Globe."
MS: "The country is Vendée Globe obsessed now thanks to you and Alex Thomson. You'd be blown away how many people are talking about the race. New Zealand is Vendée Globe obsessed."
Source: Vendee Globe
600
true
thumbnails
bottomright
300
true
800
none

600
true
dots
under
150
true
800
https://www.sualtigazetesi.com/wp-content/plugins/thethe-image-slider/style/skins/white-square-2
5000

fade

https://www.sualtigazetesi.com/deniz-kuvvetleri-kupasi-oncesi-murat-tan-atilla-gokova-yaris-ekibi-roportajlari/

5000

fade

https://www.sualtigazetesi.com/tayk-sunum-kuzey-kutup-dairesinden-guney-kutup-dairesine-gronland-ve-antarktika-prof-dr-talat-kiris/

5000

fade

https://www.sualtigazetesi.com/dadd-sunum-her-yonuyle-teknede-enerji-ve-enerji-sistemleri-zafer-turkmen/

5000

fade

https://www.sualtigazetesi.com/riza-epikmen-schuco-bayk-kis-trofesi-2-ayak-yarislari-oncesi-duygu-ve-dusunceleri/

5000

fade

https://www.sualtigazetesi.com/the-bodrum-cup-turkiyeyi-yelkencilik-dunyasinda-temsil-etti/

5000

fade

https://www.sualtigazetesi.com/banu-oney-ile-denizden-denize-marmarisden-seattlea-yelkenli-tekne-ile/

5000

fade

https://www.sualtigazetesi.com/rsx-kadinlar-sinifinda-2020-tokyo-olimpiyat-oyunlari%e2%80%99ndayiz/