The Virtual Vendée Globe leaders are currently slipping through a true bolthole. After this weekend's descending tack, all the fleet forerunners are at the moment sailing along the ice limit. It is a hazardous position and many have been already trapped by the Ice Exclusion Zone since they are in the southern oceans. So don't play to close to it, as the punishment is instantaneous and maybe painful.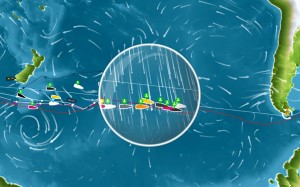 Since two days now and after a course towards southeast, the Virtual Vendée Globe leaders are all positioned along the Ice exclusion line. It's a delicate situation because the sailors' playground has hugely shrunk. Luckily for them, this limit will open ahead of their bows and plunges into the South. This godsend will open the game a little bit more but one can bet that all will follow the same route. Rankingwise, Margael is back in the lead before phosphorIST and Hurricane. All are on port beam reach in a northern 16 to 17 kts flow.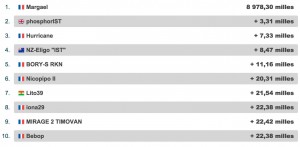 The downwind should be back within 24 to 36 hours and blow a bit stronger. Behind, under New Zealand, the players have a field day in a very sustained wind of more than 30kts with 40 kts gusts. At 150° W longitude, the conditions are weaker and the sailors are sailing as fast as the system in which they are. This kind of situation does not allow big strategies, but for the time being the advantage goes to the northerners who are sailing on the system's ridge.
Geography
This very southern course, along the Ice limit will not enable the sailors to call Nemo Point. You may have seen it and some of you have asked us why this point appeared in the Pacific Ocean; here it's the answer: this imaginary point, named after Captain Nemo, the Jules Verne's hero of Twenty Thousand Leagues Under the Sea, is in fact the most distant point from any coastline on Earth. It's also referred as the Oceanic pole of inaccessibility. The closest shore is 1,670 NM (2,688 km) away.
Sailors Words
RIVETTO
Beautiful game. Very challenging race. Thanks
Tedanki Cape
Hi from Quebec. Extraordinary Virtual Vendée. Thanks and have a nice sailing.
fredfj
It seems the North is better but the 48 hours to come will be complicated with many tacks.
coachdavid
In my opinion, the South was the wrong choice; I'm taking the lead again. I gained 80,000 ranks in ten days. 🙂
garance2014
Hello
My name is Garance, I'm 2 y.o and I'm sailing around the world with Daddy. We have lots of fun, Daddy hoists the sails and I give the heading. See you.
Hibou15
Hi! To have a more realistic game, random breakdowns should be simulated, so we could live the same things as the skippers.
If you happen to pass by the VR news boat, do not hesitate to leave a message; this vessel is the link between the players and the editors. As we already have told, the huge success of the boat does not allow us to answer all your questions. As news go by, we'll bring you some solutions, advises, answers, and all this kind of things…
Thanks to you all for your messages. Embark for the virtual race around the world! Join us at: http://www.virtualregatta.com/
Source: Vendee Globe
600
true
thumbnails
bottomright
300
true
800
none

600
true
dots
under
150
true
800
https://www.sualtigazetesi.com/wp-content/plugins/thethe-image-slider/style/skins/white-square-2
5000

fade

https://www.sualtigazetesi.com/deniz-kuvvetleri-kupasi-oncesi-murat-tan-atilla-gokova-yaris-ekibi-roportajlari/

5000

fade

https://www.sualtigazetesi.com/tayk-sunum-kuzey-kutup-dairesinden-guney-kutup-dairesine-gronland-ve-antarktika-prof-dr-talat-kiris/

5000

fade

https://www.sualtigazetesi.com/dadd-sunum-her-yonuyle-teknede-enerji-ve-enerji-sistemleri-zafer-turkmen/

5000

fade

https://www.sualtigazetesi.com/riza-epikmen-schuco-bayk-kis-trofesi-2-ayak-yarislari-oncesi-duygu-ve-dusunceleri/

5000

fade

https://www.sualtigazetesi.com/the-bodrum-cup-turkiyeyi-yelkencilik-dunyasinda-temsil-etti/

5000

fade

https://www.sualtigazetesi.com/banu-oney-ile-denizden-denize-marmarisden-seattlea-yelkenli-tekne-ile/

5000

fade

https://www.sualtigazetesi.com/rsx-kadinlar-sinifinda-2020-tokyo-olimpiyat-oyunlari%e2%80%99ndayiz/