There won't be any rest in the next days for the Virtual Vendée Globe players, being they in front, in the middle or in the back. The weather forecast should indeed make the strategy tortuous. Which route to take in order to lose the least terrain while still sailing correctly? With its light winds transition systems, the southern option seems to be quite obstructed; the salvation lies maybe in the North, with the passage of some more active fronts, although they're not as stable as in the last days.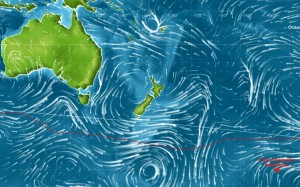 With the upcoming of the weekend and the Christmas holydays, the strategy will be the major concern, as the next days' weather complexity will not help the Virtual Vendée Globe fleet. In the race's lead, the advantage goes clearly to the northern group, made of Hurricane and Margael. At the top spot yesterday, Leszek2011 goes down to 101st. The narrow margin along the Ice limit does not ease decision-making and the upwind beating has not helped, as it was impossible to go down south. This option will definitely torment lots of competitors, as several transitions phases are about to literally block their way. The sailing – sometimes without wind or close hauled – may be hazardous. One has to anticipate and sometimes it's necessary to lose in order to gain more at long term. If the Indian Ocean has been fast and windy, the Pacific Ocean is, as for it, complex and uncertain. To be continued… But the two coming days of rest will certainly be used to work the best strategy out.
Total immersion in Virtual Regatta
Gaspard Robaglia, Victor Hugo secondary school's 9th grader in Issy les Moulineaux at has shared the daily life on the Virtual Regatta team for a week. This first contact with the business world may lead to a vocation. «As a matter of fact, it's my second Virtual Vendee Globe; in 9th grade, we have to do a job-shadowing week to observe the world of work, so I told to myself that it would be nice to do it at Virtual Regatta. During a week I went from position to position. At the beginning I thought that there were much more people behind these games. What impressed me the most and I couldn't guess it at all, it's all what you have to implement to get this rendering. It's incredible and the number of code lines to make the whole stuff work is bluffing. That's the position I liked the most. Getting the boat to evolve in her environment just by writing lines is quite interesting. I don't know if it's what I'll do later, but I find it magic. Now, I won't look in the same way the Virtual Vendée Globe when I'll play it. I'll be there again in 4 years time for the next edition but before that, I'll try to finish my race. I'm currently 95,000th, I think.»
Ranking brief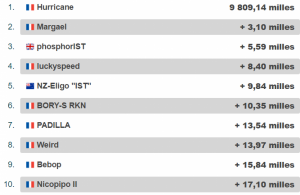 As told above, the ranking has evolved in the last 24 hours with a clear advantage for the Northerners. Hurricane is back at the controls ahead of Margael and phosphorIST. They're doing a more direct course because the southerners are sailing close-hauled toward Northeast. These conditions will last for 36 hours before they find a bit of beam and broad reach wind. The race's leaders are therefore close-hauled at 10 kts in an easterly 12 kts wind.
Sailors Words
Mouth
I'm proud to pave your way; that definitely means that my choices aren't so bad!! And I get the News live.
Kronik
Hello VR news, it's the first time I'm taking part to the Virtual Regatta's Vendée Globe and it's really great. I joined the game only 15 days ago but I've already have won 120,000 places… Yeah, let's go on! 🙂
Gi3di
Don't dream VR News, you're behind me since the beginning, and you'll stay there! No, but what do you think you are?
salbo
A quick Hi! I'm coming from 241,000th in the North of Brazil. I worked like a Trojan! Well, I have to go, fair winds to you!
Le KiKoule
So, VR, are you lagging behind? I don't deserve it; I bought a computer with USB foils 🙂
mahola
Wow! These are surfs, 24 kts, it's not half move! As a matter of fact, I wouldn't show off that much if I were on my boat.
If you happen to pass by the VR news boat, do not hesitate to leave a message; this vessel is the link between the players and the editors. As we already have told, the huge success of the boat does not allow us to answer all your questions. As news go by, we'll bring you some solutions, advises, answers, and all this kind of things…
Thanks to you all for your messages.
Source: Vendee Globe
600
true
thumbnails
bottomright
300
true
800
none

600
true
dots
under
150
true
800
https://www.sualtigazetesi.com/wp-content/plugins/thethe-image-slider/style/skins/white-square-2
5000

fade

https://www.sualtigazetesi.com/deniz-kuvvetleri-kupasi-oncesi-murat-tan-atilla-gokova-yaris-ekibi-roportajlari/

5000

fade

https://www.sualtigazetesi.com/tayk-sunum-kuzey-kutup-dairesinden-guney-kutup-dairesine-gronland-ve-antarktika-prof-dr-talat-kiris/

5000

fade

https://www.sualtigazetesi.com/dadd-sunum-her-yonuyle-teknede-enerji-ve-enerji-sistemleri-zafer-turkmen/

5000

fade

https://www.sualtigazetesi.com/riza-epikmen-schuco-bayk-kis-trofesi-2-ayak-yarislari-oncesi-duygu-ve-dusunceleri/

5000

fade

https://www.sualtigazetesi.com/the-bodrum-cup-turkiyeyi-yelkencilik-dunyasinda-temsil-etti/

5000

fade

https://www.sualtigazetesi.com/banu-oney-ile-denizden-denize-marmarisden-seattlea-yelkenli-tekne-ile/

5000

fade

https://www.sualtigazetesi.com/rsx-kadinlar-sinifinda-2020-tokyo-olimpiyat-oyunlari%e2%80%99ndayiz/