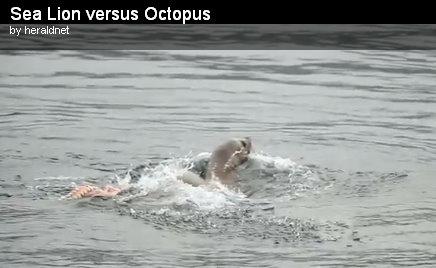 the sea lion surfacing after taking off a chunk of octopus. Click inside to see the video.
Last Wednesday, Dec. 7, Everett Herald photographer Mark Mulligan caught a rare sight on camera – a stellar sea lion feeding on an octopus. (See video inside.)
It is a seldom occurrence to witness the splendor of marine life. The limited encounters that we have with such fuels curiosity and interest.
Seattle aquarium's curator of mammals and birds, Traci Belting, shared some insight into the diet of sea lions.
"Local sea lions are opportunistic and will eat anything they can," said Belting. "In the past, necropsies on sea lions have found octopus beaks in their stomachs."
It's not uncommon for sea lions to feed on octopus, given its wide dietary patterns. Sea lions don't chew their food; the only time we are able to see them feed is when they surface to tear their prey into smaller pieces to swallow whole.
"Octopus are usually pretty evasive and make for cunning prey," said Belting.
On the other side of the world National Geographic features an article about the behavior and foraging habits of Australian sea lions.
http://www.kplu.org/
600
true
thumbnails
bottomright
300
true
800
none

600
true
dots
under
150
true
800
https://www.sualtigazetesi.com/wp-content/plugins/thethe-image-slider/style/skins/white-square-2