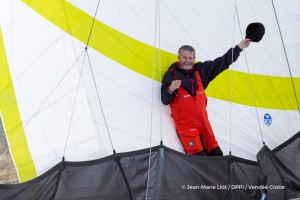 After Alan Roura (La Fabrique) and Pieter Heerema crossed the Equator at 0256 UTC during the night and at 2000 UTC yesterday evening respectively, there are now only three sailors left continuing southwards in the Northern Hemisphere – Enda O Coineen, Sébastien Destremau and Didac Costa. We talked to the Irishman, Frenchman and the Catalan sailor this morning.
Enda O'Coineen (Kilcullen Voyager Team Ireland): "I'm doing very well – I've got a very stable weather pattern. I'm looking forward to crossing the Equator and getting back in the fleet. I went very far east when I should have followed the old rule of staying west. I thought I could get back but it didn't work. But I'm on great form, my daughter delivered my granddaughter, my first granddaughter, yesterday, so that's very good news. I'm not ready to be a parent yet let alone a grandparent so I shudder at the thought! Maybe this will make me a better parent when I get back. I think the emotion is more amplified. You think an awful lot more and it's more intense because of the isolation. You think through life and all the details 24/7, and that's combined with the physical and mental activities. It is more moving – on land you've lots of other things going on so the brain doesn't have the same ability to focus. The emotional part is much deeper. Whether it's driving me harder or not I don't know – in fact, I'm being more careful to tell you the truth. Every time you get up and walk on deck you're putting yourself at risk. These boats are machines and you've got to keep them turning over."
"I'll probably cross the Equator later on this afternoon or tonight. We'll have a little bottle of champagne and a big fat cigar [at the Equator], and I've made special arrangements to have an appointment arranged with King Neptune himself. He's going to come and visit and I'm going to ask him to bless my new granddaughter. "I wouldn't say my spirits are high but I'm on good solid form. You have to manage yourself emotionally through the ups and downs but with this extreme sailing in lovely warm trade winds I'm happy on my boat. I can't complain!"
Sébastien Destremau – TechnoFirst faceOcean : "I'm in the middle of the Doldrums and am really stuck. Not a breath of air last night, a few thunderstorms, but I don't have any violent squalls for now. The forecasts hadn't predicted so little wind. Yesterday I got knocked down. In a squall, the wind suddenly came around and the boat went over with the sails on the wrong side. What fun! Horrible. The worst squall, I've seen. It's 40° in the boat, so it's tiring, but we are OK. It's only been a fortnight since we left and it feels like a thousand years. Time doesn't exist out here."
Didac Costa (One Planet One Ocean): "After almost 10 days of sailing I have the feeling of finally being in tune with the boat and the ocean. Everything is going reasonably well on board and I'm fixing everything that goes wrong. The boat maintains her potential for now. I follow the evolution of the leaders and their performance is awesome! I play and think about how 'Kingfisher' would sail with foils. The temperature in these latitudes even allows me to have a nap on the deck sometimes and, although today it is cloudy and it is drizzling at times, the last few days I have enjoyed under a radiant sun and a starry night sky. The passage by Cape Verde should not be a problem. It seems that the wind, without being strong, will be stable so I have to think about the strategy in the Doldrums and decide what longitude to cross them.
"I have eaten the last piece of fruit today. From now on, there will be only freeze-dried food. Although it is not like eating with a plate on a table, the landscape around me makes up for it!"
600
true
thumbnails
bottomright
300
true
800
none

600
true
dots
under
150
true
800
https://www.sualtigazetesi.com/wp-content/plugins/thethe-image-slider/style/skins/white-square-2
5000

fade

https://www.sualtigazetesi.com/deniz-kuvvetleri-kupasi-oncesi-murat-tan-atilla-gokova-yaris-ekibi-roportajlari/

5000

fade

https://www.sualtigazetesi.com/tayk-sunum-kuzey-kutup-dairesinden-guney-kutup-dairesine-gronland-ve-antarktika-prof-dr-talat-kiris/

5000

fade

https://www.sualtigazetesi.com/dadd-sunum-her-yonuyle-teknede-enerji-ve-enerji-sistemleri-zafer-turkmen/

5000

fade

https://www.sualtigazetesi.com/riza-epikmen-schuco-bayk-kis-trofesi-2-ayak-yarislari-oncesi-duygu-ve-dusunceleri/

5000

fade

https://www.sualtigazetesi.com/the-bodrum-cup-turkiyeyi-yelkencilik-dunyasinda-temsil-etti/

5000

fade

https://www.sualtigazetesi.com/banu-oney-ile-denizden-denize-marmarisden-seattlea-yelkenli-tekne-ile/

5000

fade

https://www.sualtigazetesi.com/rsx-kadinlar-sinifinda-2020-tokyo-olimpiyat-oyunlari%e2%80%99ndayiz/